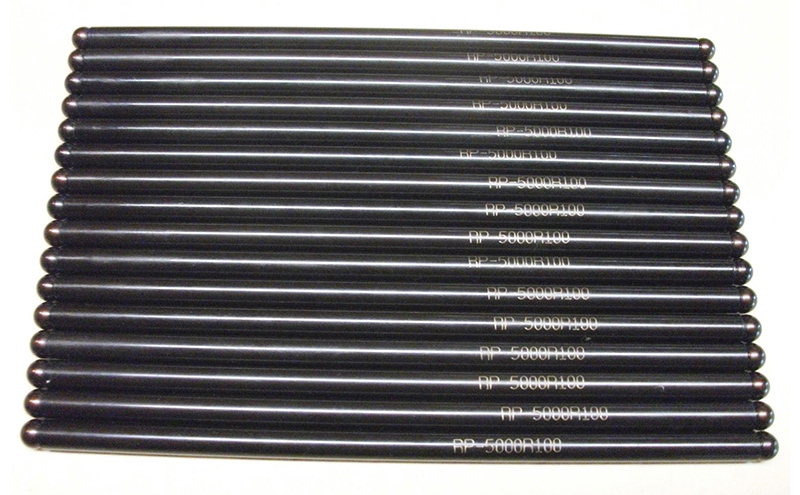 Pushrods date back to a time when car engines had a simpler design, but some modern manufacturers still use them in high-performance cars because they are compact, lightweight, and easy to maintain. Drivers who need to replace the pushrods on a new or older vehicle should understand the function of these parts and why pushrods fail. Buyers should also know how to choose the right products for their specific vehicles as well as how to choose the right pushrod material.
How pushrods work
Pushrods connect to the camshaft within an engine block and push small rocker arms that open and close the valves in an internal combustion engine. Some drivers refer to pushrod engines as overhead valve engines (OHV) because the position of the valves is in the cylinder head above the pistons. Older engines position the valves alongside the pistons.
Advantages of pushrods
Car enthusiasts regard pushrod engines as an older form of automotive technology; however, General Motors still manufactures vehicles using pushrods, such as the 2015 C7 Corvette Z06. Pushrod engines are much simpler than the modern alternative, overhead camshaft engines (OHC), which do not use pushrods. This means that pushrod engines are more affordable to build and easier to maintain. Their design is more mature, compact, and lightweight; a pushrod engine can measure several centimetres shorter than a comparable OHC engine.
Reasons why pushrods fail
Pushrods vary in length, and they can fail at either end of the rod. Some manufacturers reduce the thickness of the ends of pushrods in order to achieve the right shape, but this can lead to cracks or breaks. Pushrods, especially in high-performance cars, can experience severe abrasion from contact with hard surfaces. This means that some racing teams often only use pushrods once or twice before replacing them, while other teams use them until there are signs of wear, bending, or discolouration. Excessive heat can turn pushrods blue, which indicates that they need replacing.
Maintaining pushrods
Drivers should ensure that sufficient oil reaches the ends of the pushrods that connect to the rocker arms to prevent damage caused by excessive heat and lack of lubrication. Oil should flow through to the pushrods regardless of the position of the components within the engine block.
Types of pushrods
Buyers can find both stock and aftermarket pushrods constructed from several types of material. Manufacturers use three main metals: aluminium, steel, and chrome molybdenum.
Aluminium
Many manufacturers make stock pushrods from aluminium. These pushrods are generally only good for stock applications because they do not perform well on cars that generate high revs per minute. Aluminium pushrods are also not good for cars with dual valve springs.
Steel
Steel pushrods are heavier than aluminium versions, but they perform better. One disadvantage is that steel pushrods generate a significant amount of valve noise.
Chrome molybdenum
Manufacturers produce pushrods from thick-wall chrome molybdenum tubing, which is a type of steel alloy that has a high strength-to-weight ratio. It is much harder and stronger than standard steel because it undergoes heat treatment to increase its stiffness and strength. Chrome molybdenum pushrods also produce a great deal of valve noise. They are the most expensive type of pushrod available.
Pushrod size and weight
The most important measurement to consider when buying a pushrod is its length. Choosing the wrong length can result in excessive wear to the valve guide, a reduced valve lift, and the wrong valve-to-piston clearance. It can also interfere with the movement of the rocker arms.
Drivers should choose the largest diameter pushrod that still clears the cylinder heads. This helps to spread the load and reduce stress on the rods and reduce the vibrations in the valve train, which controls the operation of the valves.
Pushrods are on the slow moving side of the valve train, so the weight of an individual rod is less of a factor. In fact, a small increase in weight can provide a huge increase in valve train stability, which is a big benefit.
How to buy pushrods on eBay
If you need to replace the pushrods in your car, then you can find a large selection of suitable parts on eBay. Type relevant keywords into the search box located on any page to browse a list of car parts tagged with those keywords. Using a general term, such as "pushrods", generates a long list of items for sale, but using a more detailed keyword phrase, including the make and model of the vehicle in addition to the diameter of the pushrods, produces a shorter, more targeted list of potential matches.