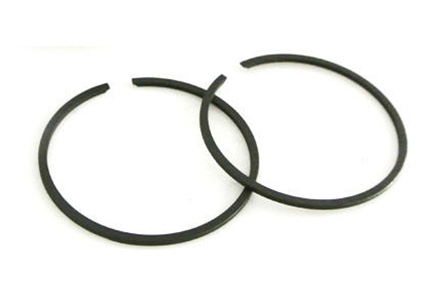 Piston rings are an integral component of internal combustion engines that perform a series of important functions. A four-stroke engine typically has three split rings fitted into grooves on the outer diameter of each piston inside the engine cylinders. Occasionally, one or more of these rings may suffer wear and require replacement. Motorists should know what type of piston rings are available and learn when to replace these parts to keep their vehicles in the best operational condition.
Purpose of piston rings
Each piston in a four-stroke car or truck engine typically has three piston rings: a top compression ring, a second compression ring, and an oil ring. This ring set performs three important functions, according to Hot Rod:
Prevents the air and fuel mixture from escaping the combustion chamber
Prevents oil from contaminating the combustion chamber
Transfers heat from the piston to the cylinder wall
The top compression ring performs most of the sealing function, so it is usually of high quality, with high heat resistance. The second compression ring has a configuration that maximises oil control.
Types of piston rings
Piston rings come in different shapes and materials. Buyers should choose parts based on their intended use.
Top compression ring
The top compression ring typically has a rectangular cross section because this simple shape helps to perform a good seal. Alternative shapes include internally bevelled or stepped. Top rings in a diesel engine may be keystone or half-keystone, which is a unique wedge shape. The top ring is subject to severe heat, so is often made from ductile iron with a molybdenum face. Thin rings are made from high-carbon steel.
Second compression ring
The second compression ring is usually made from ductile iron or cast iron. It often has a tapered running face, which means that the bottom outer edge of the ring touches the cylinder bore for better oil scraping. Alternatively, the second ring may have a tapered face with an underside bevel or step.
Oil ring
The oil ring consists of three pieces. The standard configuration is an expander sandwiched between two steel rails with a wear coating on the periphery for durability.
OEM vs. aftermarket piston rings
When replacing piston rings, motorists can buy original equipment manufacturer (OEM) components or aftermarket components manufactured by third parties. Both choices have distinct advantages.
OEM piston rings
OEM piston rings are the stock components fitted on all vehicles as standard. The manufacturer of the vehicle produces these parts or another company in partnership with the manufacturer. Sourcing OEM piston rings usually involves going directly to a seller that offers like-for-like replacements. The buyer does not have a range of buying choices and the product is certain to be of the same high standard as the original component.
Aftermarket piston rings
When motorists buy aftermarket piston rings, they have a much wider choice of products from third party manufacturers. This means that motorists need to research these parts carefully to ensure that they fit the vehicle correctly. Some aftermarket piston rings are less expensive than OEM products because of the high level of competition among third party manufacturers. Some high-performance aftermarket pistons rings may exceed the quality of the stock OEM versions, but buyers should check the brand before committing to a purchase.
When to replace piston rings
There are several symptoms that suggest a broken or faulty piston ring. High oil consumption is one of the most common indicators because the worn piston rings allow oil to seep into the cylinders. This fault is usually accompanied by white smoke from the exhaust as oil burns in the cylinder. If a motorist performs an engine compression test and gets a result of less than 100 psi per cylinder or a variance of more than 10 per cent between the low and high readings, this indicates a fault with the pistons that may be related to the rings, according to Popular Mechanics.
How to buy piston rings on eBay
Finding spare parts and replacement parts for any vehicle is quick and easy on eBay, where sellers offer a wide range of products, such as piston rings. To find the engine components you need to get back on the road, start by entering a search term in the field available on every page. You can then apply filters to refine the list of search results and you can organise the results by price or condition to make browsing much quicker.