Want to connect your ipod to your home hi-fi system so that you can listen to it just the same as you would other stuff on CD's or whatever – or maybe you already tried and it didn't work so well? - the volume was very low - or it sounded sort of 'muffled'....
Well... I had exactly that problem... So… being a bit of an 'Electronics Nerd' I sat down and designed a unit I now call 'the idaptor' - as opposed to 'adaptor'! :-) mmm.... anyway...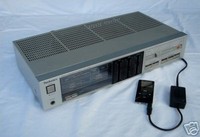 HOW IT WORKS –
* Connects between your ipod and your amp,
* Boosts and modifies the output signal to match standard Amplifier Inputs,
* Does not need external power or batteries.
ADVANTAGES –
* Provides best possible quality,
* Lets you use your existing hi-fi,
* Cheap and effective.
It works great – and now I can use my ipod either just sitting quietly on the patio through the outdoor speakers – or during the noisiest of Parties on the big 'bass-bins' - and get the best possible sound!
I've been selling these exclusively through ebay for a month or so now and the people that have bought them seem really pleased. Comments have included...
'...tried the unit last night and it works great... very very pleased with the sound... better than the cords dick smith sold me... thanks again...'
While there are plenty of docking speakers and the like around, they do not give you the quality, or VOLUME, that the average hi-fi system can provide. Similarly FM Radio adaptors do not necessarily provide good quality and can be subject to interference.
The unit will work equally well with any MP3 players... Creative... iriver... whatever... and is connected to the Amplifier using any unused Auxiliary, CD, Tuner or Tape Input. A special version that uses the 'phono' input is also available... since not many of us are using our turntables any more!!
I hope this can help people like it did me... please contact me through ebay if you need some additional advice.