Consul / Granada Mk1 and Granada Mk2
This is one of many illustrated classic car guides I've created for the community. I hope you enjoy it. If you wish to find out more about the classic Ford Granada and Consul art featured in this guide please click here.
Granada Ghia 1974
By 1972 Ford had established its reputation in Europe for building large, comfortable saloons aimed at the growing executive market segment and so it launched a new range to replace the Zephyr/Zodiac Mk4. The new range discarded the previous Zephyr/Zodiac model names in favour of Consul (for the 4-cylinder and base models) and Granada (for the 6-cylinder cars). Mk 2 cars arrived in 1977.
Consul GT 1972 to 1975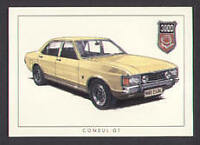 The Consul badge was given to the less expensive, lower specification models and although the bodyshell was basically the same, trim details such as the radiator grille, boot and side panel trims and bumper styling helped to differentiate the models.
Granada GXL 1972 to 1975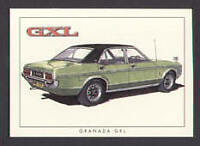 The Consul/Granada range was announced in April 1972 and was well received by all. Saloons and estates offered initially a choice of 2.5 and 3.0-litre V6 engines. The 2.5 was confined to the Consul model from Sept 1973. Top speed ranged from 92mph (150kmh) to 113mph (180kmh) with the 3.0-litre capable of 0-60 in 9.0 seconds. In 1975 the Consul name was dropped in favour of Granada.
Granada Ghia Coupe 1974 to 1977
The attractive Granada Coupe was added to the range in 1974, the model having two doors and a sleek fast-back roof, Although a two-litre model was available initially, virtually all cars were 3.0-litre V6 models and had Ghia trim. This included velour upholstery, deep carpeting and a wooden facia.
Granada Ghia Sapphire 1979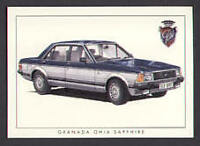 The second generation Granada arrived in September 1977 with a new square-rigged four-door saloon body (plus and estate derivative). The old Ford-Uk V6 engines were dropped and the revised engine range consisted of a 2-litre four-cylinder, 2.3 and 2.8-litre Ford-Germany V6s and a diesel.
Granada 2.8 Injection 1981 to 1985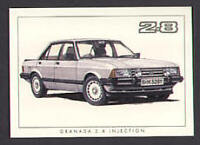 The Granada 2.8 Injection model with Recaro seats, spoilers and matt black trim added some sporting flair to the range in 1981, which included L, LX (on later cars), GL, Ghia and a luxury Ghia X model. The Mk II range sold well until it was replaced in 1985 by the Granada MK III. Total MKII production: 639,440.
Granada 2.8i Ghia X (Executive) 1981 to 1985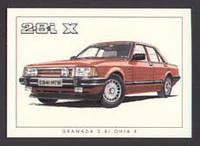 The 2.8 Ghia X Ford Granada brought new standards of luxury, refinement and performance to Ford's flagship model in the early 1980s. Billed as "A superb luxury car to beat Europe's best", this was typified by the top-of-the-rage 2.8i Ghia X Executive model.
Thank you for reading my guide and I hope you found it interesting!