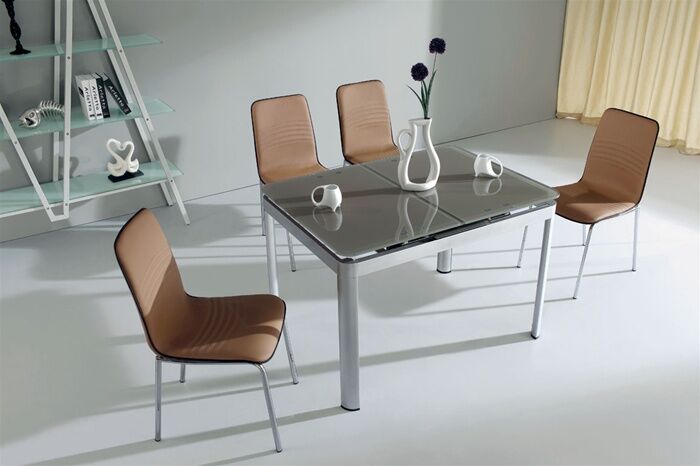 In the modern world, dining rooms serve more functions than simply acting as areas in which prepared foods are eaten. They are often considered to be the 'hub' of a house, a sort of central room through which all manners of business is conducted. As such, furnishing a dining room appropriately is extremely important. Contemporary dining rooms epitomise modernity and elegance; it is the intention of this guide to examine contemporary dining room sets in close detail, in an attempt to illuminate all the various aspects of the buyer's decision-making process. The guide will also look at the popular online auctioning website eBay, and demonstrate why it is such an effective means of buying a contemporary dining room set online.
Dining Room Sets
This section of the guide will examine each of the two main components of a dining room set in turn, providing brief descriptions of their form and function. Further, there will be a brief exploration of the definition of 'contemporary' as it pertains to dining room sets.
Tables
Tables are incredibly useful objects, pervading all cultures throughout the world and having existed since the inception of technology itself. Essentially a table is a flat, raised platform, on which objects are placed. Tables come in all manner of shapes and sizes, but are universally used to perform actions which are difficult without a sturdy supporting base upon which to perform them. Eating, writing, operating computers, and playing games are amongst the countless activities which ownership of a table facilitates. Tables are large and imposing objects, and as such have a very prominent effect on the overall aesthetic of a room.
Chairs
Chairs are essentially small, low platforms, upon which human beings can seat themselves. This allows us to rest our legs, as well as enabling us to access a table from a position of comfort. Tables and chairs are inextricable linked; they are so often used in conjunction that they are often sold as a single unit, or 'set'. There will usually be one table in a set, but the number of chairs depends upon the size of the table.
What Makes a Dining Room Set Contemporary?
The word 'contemporary' essentially means 'of the present'. This means that for an item to be defined as contemporary, it ought to conform to the most popular stylistic trends of society.
In today's world, 'contemporary' implies a few key concepts, which are listed below:
Minimalism – the idea that 'less is more', minimalism is an extremely popular trend in interior design.
Elegance – rather than sturdiness and blockishness, gentle curves and light, narrow lines are preferred.
Sheen – smooth, reflective or tactile surfaces imply newness, cleanness, and affluence.
Factors to Consider when Buying a Dining Room Set
This section of the guide will identify five extremely important considerations that ought to be factored into any consumer's decision making process when buying a contemporary dining room set. The five factors are as follows:
Size
Materials
Aesthetic
Assembly
Condition/Price
Size
It is assumed in this guide that a dining room set is being bought with a specific space in mind for it to inhabit. Naturally, the size of this space is an extremely pertinent element of the purchase. It is all very well to buy a large, imposing dining room set, but it will be entirely useless if there is not enough space in which to install it. It is highly advisable to carefully measure the space available to the homeowner before buying a dining room set. The dimensions of the tables and chairs will be provided on a set's individual information page.
Materials
Whilst traditional dining room sets tend to be made from wood, owing to its sturdy, cheap and practical nature, these qualities tend to be less highly valued in a contemporary setting. Below is a list of commonly used materials in contemporary dining room sets, providing information about their qualities and uses.
Glass – glass is usually used for the tabletop surface. Its smooth, reflective surface implies elegance and simplicity, which matches the conditions of the contemporary laid out above. Glass is fragile and brittle, meaning that it is important to be very careful when using a glass table.
Stainless Steel – stainless steel is a strong, resilient and durable material. These qualities, combined with its sleek, functional appearance make it ideal for table and chair legs. It is generally not used for table surfaces or chair platforms; it is hard and utilitarian, making it uncomfortable and inelegant for those purposes.
Leather – leather seats are the very essence of modernity and interior design fashion, and as such make great additions to any contemporary dining room set.
Aesthetic
How a dining room set looks is an important consideration, particularly if trying to capture the essence of the 'contemporary'. Naturally, aesthetic value is largely a matter of personal taste. However, in the spirit of minimalism, muted and plain colours such as white and black are preferred, and excessive ornamentation and decoration are discouraged.
Assembly
Many dining room sets will come 'flat pack', which means that they will be delivered unassembled, and need to be put together by the buyer once it arrives. It is worth considering:
Whether the item will be delivered in its assembled state.
If not, whether the buyer has the means of assembling it.
Condition/Price
Price and condition are extremely important factors to think about when buying a dining room set. Used items will be cheaper, but will show wear and tear, and tend to suffer in terms of longevity. The need for a low price should be carefully weighed against the desire for 'newness' (which is, incidentally, conducive to the idea of the contemporary).
How to Buy a Dining Room Set on eBay
The global online bidding website eBay is a terrific means of shopping for contemporary dining room sets. It has a huge selection to choose from, and also has several extremely helpful design features which make the buying process as easy as possible. This section of the guide will cover how to buy a contemporary dining room set on eBay.
The first step is to travel to the eBay homepage. From here, the search bar (which is found near the top of the page) can be used to find a contemporary dining room set. By typing the phrase 'contemporary dining room set' (or some variation thereof) into the bar and pressing enter or clicking 'search', the user can access the item listings.
The item listings display the search results, and consist of numerous entries, which represent the various items that match the search parameters. The search can be refined to meet the user's needs with the various 'filtering options' which can be found towards the page's left margin. These options include price, condition, seller's location, 'auction' (which displays only items which can be bid on), and 'buy it now', which allows users to buy items for a fixed price.
Entries in the listings consist of thumbnail images and short text descriptions; clicking on either of these will take the user to that item's individual page, which contains detailed information about the product and information about the seller (such as user ratings and feedback).
The Deals section of the website has loads of great value special offers on all kinds of items. These offers are updated regularly, so it is a good idea to come back to the deals section frequently to get the best bargains.
It is this dazzling array of helpful features and the excellent and diverse selection of products available that combine to make eBay the ideal means of buying contemporary dining room sets online.
Conclusion
A contemporary dining room sets is a great way to furnish a house; it instantly enables function and utility, as well as creating a strong visual statement about the house's occupants. This guide intended to provide information about buying a contemporary dining room set, thus enabling readers to make their own choices regarding the subject. Five important considerations were identified:
Size
Materials
Assembly
Aesthetic
Price/condition
This guide concludes that eBay is the perfect online location from which to buy contemporary dining room sets.