Who decides what is a precious metal and what is not?
Why are all other metals - apart from gold and silver - considered base metal?
Prices for gold and silver are going through the roof - it's about time to look for other options.
Silver used to be the option for more reasonably priced jewellery, but if you are looking for a more elaborate piece, prices can creep up quickly. It's about time to look for beautiful alternatives.
For artisan jewelry, we already have an alternative to solid gold. Gold filled wire and supplies have gained widespread recognition, but there will always people (like me) who love the idea of solid metal.
Why don't we go back in time for once and start using well known metals like copper, brass and bronze yet again.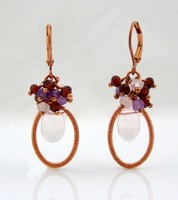 Copper has been known for at least 10,000 years and is widely used in alloys such as brass, bronze and nickel silver. Copper in its pure form has never been used much in jewelry, a few costume jewelry companies specialized in copper jewelry during the 1950s and 1960s (Matisse, Renoir, Rebajes and others) but copper always carried the 'cheap silver replacement' tag.

This is going to change now. Copper has taken its place, particularly in the artisan jewelry market. Beautiful wire sculptured jewelry pieces, created out of copper wire and adorned with equally beautiful gemstones are taking a stand next to their sterling silver brothers and sisters. Bright peach colored solid copper or darker oxidized metal is a fabulous contrast to blue, black and green colors and a fearless opponent to purple and pink.
More and more enthusiasts discover copper as their metal of choice for exciting handmade jewelry and daring color combinations The intrinsic value of copper is still low enough to splurge, and everyone can enjoy wearing a piece made out of solid metal.

For a long time now, people have believed in the positive health effects of wearing copper jewelry. Copper is an essential nutrient that can be absorbed through the skin. Contrary to what a lot of people think, most allergies against cheap jewelry do not stem from the presence of copper but rather the reaction to nickel.

Copper, just like sterling silver, tends to tarnish after a while. Some people might welcome the darker, less shiny color, but if the bright new look is desired, cleaning your jewelry is quite simple: Put it in a small solution of lemon or lime juice with a dash of salt and it will be shiny again in no time. Alternatively, cover the jewelry in ketchup/tomato sauce, wait a couple of minutes and voila, all done.
I love wearing and working with copper. Due to it's malleability and low cost, new and unusual designs are affordable and perfect for every day wear.