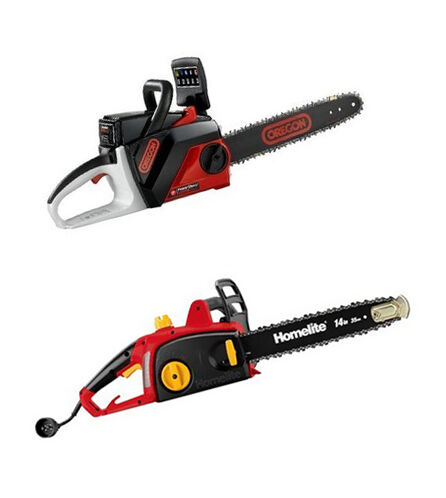 With the advent of electric chainsaws, there is no longer a need to use non-renewable energy sources, such as gas, to power chainsaws. Electric chainsaws are divided into two types, namely corded electric chainsaws and battery-powered ones. When purchasing an electric chainsaw, the buyer has to decide which one of the two is more appropriate for their needs, as these two types of chainsaws are suitable for different kinds of sawing tasks. This is why the buyer needs to know the advantages and disadvantages of each type. Once the buyer decides, the buyer can then proceed to purchase the chainsaw from physical stores or online stores like eBay.
Advantages and Disadvantages of Corded Electric Chainsaws
Corded electric chainsaws have power cords the user must plug into an outlet in order to use the chainsaw. The disadvantages of this are quite clear: the user's movements are restricted to the distance allowed by the power cord. For tasks far away from a power outlet, the user may need to utilise one or more extension cords in order to carry out the tasks mentioned. Not only that, the cord makes it more difficult for the buyer to control the chainsaw, especially in heavily shrubbed or wooded areas, as the cord may become tangled.
That being said, when compared to a battery-powered chainsaw, corded chainsaws are more powerful and therefore a better choice for heavier cutting and sawing such as that of small trees and thick branches. The right corded chainsaw may even be able to cut bigger and harder trees. Also, corded electric chainsaws tend to be cheaper compared to their cordless battery-powered counterparts.
Advantages and Disadvantages of Battery-Powered Chainsaws
Battery-powered chainsaws , as their name implies, run on batteries which power the motor. These batteries can be recharged after they run out of power. Battery-powered chainsaws carry the advantage of being mobile, as there is no cord that needs to be plugged in. They also tend to be more lightweight compared to corded electric chainsaws, which makes it easier for the user to control the chainsaw as well as operate it for longer periods of time.
While a battery gives a chainsaw the advantage of being mobile, a battery is also a disadvantage. Being battery-powered means the chainsaw can only stay switched on as long as the battery allows it. For longer tasks, this may mean the user must recharge the battery in the middle of the task before continuing to use it. Also, battery-powered chainsaws are thought to be the least powerful chainsaws compared to corded electric chainsaws and gas-powered chainsaws, and are suitable mainly for light sawing tasks such as cutting off branches or trimming small trees. Despite that fact, they are usually the more expensive chainsaws on the market.
Choosing Between a Corded Electric Chainsaw and a Battery-Powered Chainsaw
When deciding between a corded electric and a battery-powered chainsaw, buyers must consider the exact use for the chainsaw, and also their budget. As a general rule of thumb, if the buyer wants to use the chainsaw mainly for light sawing tasks like trimming trees and cutting off small branches, it may be more practical to purchase a battery-powered chainsaw, which offers portability and less weight. However, a battery-powered chainsaw, especially if it is pricey, may not suit those with a limited budget.
For buyers who need a chainsaw for heavier tasks, the corded electric chainsaw is the better choice. This type of chainsaw is also more suitable for those with a relatively small budget. However, if one needs a cordless chainsaw capable of carrying out hardcore sawing tasks, the safest bet would be a gas chainsaw, which generally works better than electric chainsaws performance-wise.
Chainsaw Buying Tips
When buying a chainsaw, buyers can keep in mind a few useful tips. First of all, one should preferably buy chainsaws with an automatic oiling system, as this helps reduce or even eliminate the need to manually stop and lubricate the chainsaw during a task. Proper lubrication is necessary to ensure longevity of the chainsaw itself.
Next, the buyer should always look out for safety features such as low kickback, rear handguards, safety kill switches, and so on when purchasing a chainsaw. This is more so if the buyer is a newbie at handling chainsaws. Chainsaws can cause great harm if used wrongly and there are no safety mechanisms to control or prevent the damage. Buyers should also ensure they are dressed in the right kind of attire during sawing tasks for extra protection.
Lastly, buyers should purchase an appropriately sized chainsaw for their needs. For lighter tasks, smaller chainsaws are adequate, but for light to moderately heavy sawing tasks, bigger chainsaw are better. However, buyers should not be overly ambitious and purchase a chainsaw that is too big and heavy, one they cannot handle comfortably.
Buying on eBay
Shopping on sites like eBay can make your shopping experience a much more convenient one. You can find a variety of listings selling electric and gas chainsaws of many brands and sizes. To find these listings, go to any eBay web page and use the search bar. Key in a search term, press Enter, and you are on your way to purchasing a new chainsaw. For even better deals, do not forget to take a look at the eBay Deals page, where massive discounts on different types of items await you.
All in all, both corded and battery-powered electric chainsaws have their specific pros and cons, which buyers must carefully consider before purchasing either one. In the end it boils down to buyers' individual needs and budget. Buyers should also remember that gas chainsaws are an option if they need powerful chainsaws for heavy-duty sawing tasks.