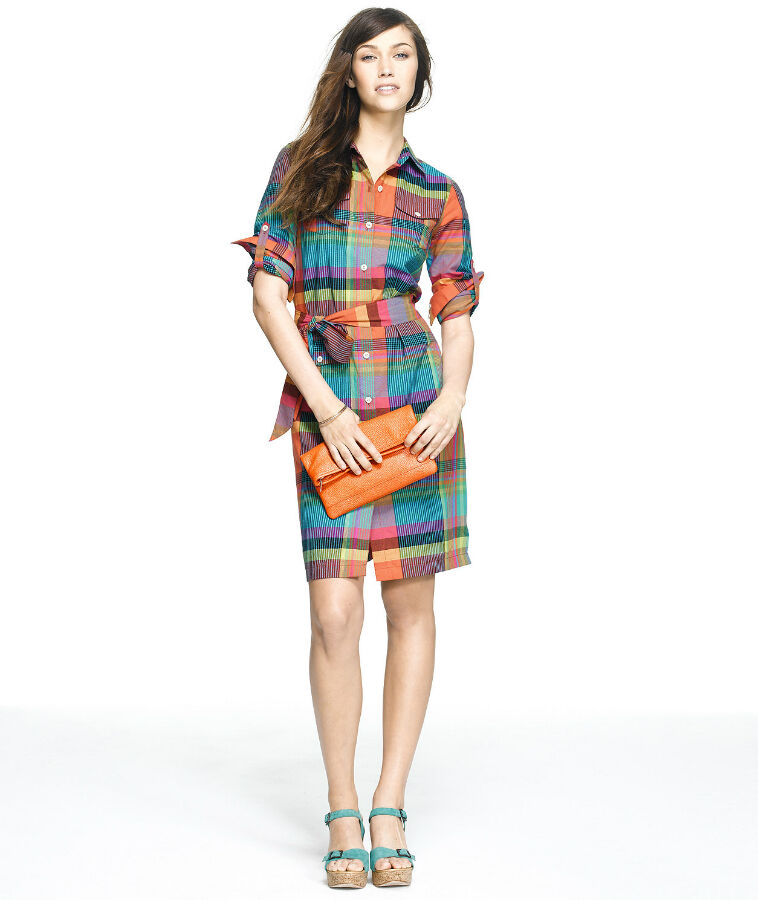 For many women, a dress is a comfortable and stylish way to look polished on any day of the week. When it comes to dresses, especially casual and summer dresses, many women find themselves deciding between the two most popular materials used in these garments, cotton and polyester. Both materials offer an array of advantages to wearers, and women may find themselves conflicted as to which materials to choose. By weighing all the issues involved, including comfort, quality, and style, women can decide which option works best for them, or they may end up selecting a few dresses of both types.
When exploring their retail options, women may want to entertain other options besides traditional brick-and-mortar vendors. This could include some online browsing and shopping on sites like eBay.
Fashion Histories and Characteristics of Polyesters and Cottons
Before running through the advantages and disadvantages of each fabric, it can help to understand the basic characteristics of both materials. For example, buyers may want to know where the materials come from and the histories of the materials in the context of fashion.
Polyester in Fashion
The term 'polyester' actually refers to a wide range of substances. In the context of the material used in women's clothing, polyester refers to polyethylene terephthalate, or PET. Polyesters contain both naturally occurring substances and synthetic substances, such as polycarbonate and polybutyrate. While some synthetic polyesters and all natural polyesters biodegrade, most synthetics do not and are similar to plastics in this respect.
The PET used in fabrics by the fashion industry was invented in 1941 by John Whinfield and James Dickson, two chemists in the UK who developed PET in response to the invention of nylon a few years earlier. Chemical manufacturing giant DuPont purchased the rights to their invention, known as Terylene at the time, and eventually developed their own version, Dacron, in the early 1950s. This endorsement by DuPont, along with the fact that the key ingredient petroleum was readily accessible in the middle of the 20th century, opened up the use of PET to the fashion industry and started the trend of using polyester in dresses.
Characteristics of Polyester
Polyester is known for its durability, tremendous resiliency, stain resistance, and wrinkle resistance. Polyester is also capable of retaining a colour dye quite well. In certain applications, this fabric can repel water and aid in the creation of waterproof clothing. Polyester tends to have a sheen to it and can feel slightly rough or synthetic to some. It does not shrink much, it dries quickly, and it resists mildew well.
Cotton in Fashion
Cotton has been used by humans in created goods since 4000 B.C., according to some estimates. It is a naturally occurring substance from the cotton plant, which produces small buds of fibres that are spun into thread for weaving. Cotton was one of the main drivers in the Industrial Revolution, both in the United States and in Europe. It can vary in quality, depending on where the source cotton plant grows. Given its strength and breathability, it is useful in a range of applications beyond the manufacturing of dresses and other clothing, but it has been widely used for these purposes for centuries.
Characteristics of Cotton
Cotton is a soft material, in general, but it is extremely durable. It can hold its shape well, although it may shrink over time. Cotton does not hold dyes well in the long term, either. It is, however, hypoallergenic and safe to wear for almost anyone. Cotton is also a breathable material. It is prone to mildew in some climates, and it takes some time to dry.
Advantages and Disadvantages of Cotton and Polyester Dresses
With these characteristics in mind, as a next step, consumers should weigh the advantages and disadvantages of cotton and polyester in specific contexts. The cost, comfort, and user friendliness of the materials are just some of the issues that can factor into choosing between the two fabrics.
Cost
Cotton and polyester are evenly matched when it comes to cost. Both can range widely in terms of price, translating into dresses that fall all along the cost spectrum. The cost of a cotton maxi dress vs. a polyester maxi dress, for example, is likely to depend more on design and brand than whether or not cotton or polyester is used.
Coolness and Warmth
Cotton wins major points when it comes to coolness. As a breathable fabric, it can make a summer dress wearable and comfortable, even in the hottest summer months. A polyester summer dress, on the other hand, can feel itchy and sticky during the warmest months of the year. However, polyester may be a better option when staying warm is a priority. A polyester dress holds in body heat better in the winter.
Environmental Impact
Some consumers base their buying decisions on the environmental impact of products. With regards to this issue, cotton and polyester are again pretty even. While many regard cotton as the more eco-conscious choice because it is a natural product, it still requires large amounts of water and energy to produce, just like polyester. Cotton plants are also pesticide-dependent. In the end, a cotton dress may have the same impact on the environment as a polyester dress.
Comfort
Most women prefer the feel of cotton against their skin, making cotton dresses a big winner in this category. Polyester dresses tend to feel stiffer and rougher against the skin. Compounding this discomfort, polyester dresses do not breathe well. Polyester fabrics are more advanced now than they were a few decades ago, and a quality polyester dress can now feel light against the skin, but it is still no match for the comfort of cotton in the big picture.
Style
Cotton, in general, delivers a more casual look than polyester. While a cotton dress is ideal for a casual day dress, many women prefer polyester dresses for more formal or work occasions. A polyester mini dress, as an example, has many more formal applications than a cotton mini dress. With its sheen and range of styles, polyester can also deliver a wide array of looks to create everything from a silky style to an edgy, modern style.
Ease of Use
A polyester dress can be much easier to take care of than a cotton dress. Over time, a cotton dress may shrink or lose its colour, while a polyester dress can look very much like new even after years of wear. Cotton is easy to clean, but it takes a while to dry. A polyester dress dries very quickly after being removed from the washer.
Considering Blends
Instead of focusing on cotton vs. polyester, women can also consider the benefits of dresses made from blends of these two popular fabrics. Poly-cotton blends deliver many of the virtues of both, while eliminating many of the downsides. A dress made from one of these blends may not have the stiffness or uncomfortable feel of polyester. It can also be much more resilient than a pure cotton dress. These dresses wash easily, dry well, and do not usually need ironing.
Buying Cotton and Polyester Dresses on eBay
The retail site eBay works as an aggregator to bring together multiple vendors and a large catalogue of items in one place. With regards to dresses, this means that women can look for almost any style in either cotton or polyester without even leaving their homes. Searching for a dress is easy, thanks to the site's search bar, which is on every page of the site. Use this feature to run a search with a term that describes the dress you want and then review the listings. You can also check the eBay Deals page for great special deals on fashion.
Getting to Know Sellers on eBay
While you look through the listings that result from your search, make sure that you also take a moment to get a feel for the sellers you come across. If a listing is particularly appealing, click on the seller's name and review the feedback submitted by other consumers for that seller.
Conclusion
Cotton and polyester have been fighting it out for decades in the fashion world, especially when it comes to women's fashions and dresses. Both materials extend many advantages to manufacturers and the women who wear their clothes. Women who are shopping for dresses should first consider the characteristics of each type of material and then factor in the comfort, style, and quality of each to reach a decision. In many cases, the end result is that both types of dresses are desired for different purposes.
When women are ready to shop for one or both of these options, they can explore the large catalogue of dresses on eBay or other online retail sites, or they can visit local dress shops and department stores to review their selection. Either way, it should not be difficult for women to find both cotton and polyester dresses they adore.
Polyester Dress|Cotton Dress|Poly Cotton Dress|Polyester Mini Dress|Cotton Maxi Dress