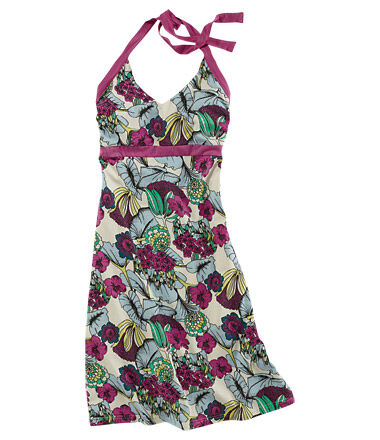 Buying clothes for a girl may seem like an overwhelming process for parents especially because there are plenty of brands and styles to choose from. Moreover, the body shapes and heights of girls are all different. Parents who are shopping for dresses for older girls, for example, should take into account the fact that their daughter may have started to feel self-conscious about her clothing.
When it comes to choosing girls' dresses, the material is one of the most important factors to take into account. Cotton and synthetic fibres are the most common choices for dresses regardless of a girl's age. Both fabrics come with pros and cons and parents who learn more about the characteristics of each kind of material can make an informed choice whenever they think about buying a new dress for their girl.
Pros and Cons of Cotton Dresses for Girls
Cotton is a natural fibre harvested from the cotton plant and it has several properties that make it a good choice for children's clothing. Some of the essential features of this fabric are versatility, softness, and endurance. Girls' dresses made from cotton allow the body to breathe while absorbing body moisture. The fabrics have good colour retention, and they are very easy to care for. The main downside of buying cotton dresses instead of synthetic ones is that cotton tends to wrinkle easily.
Cotton dresses are suitable for girls with sensitive skin. Also, because cotton is very soft, the fabric is ideal for summer dresses worn close to the skin. However, the fabric is a good choice for all seasons, because it is a good conductor of heat, keeping the body warm in winter and cool in summer. Unlike synthetic fabrics, cotton contains no chemicals. There are multiple styles of cotton dresses for girls available in high-street stores and online, on websites such as eBay, so parents can find a suitable model for their daughter without too much hassle.
Pros and Cons of Synthetic Dresses for Girls
There are multiple types of synthetic fabrics to choose from when it comes to dresses for girls. Nylon and polyester are two of the most popular. Even though many people prefer clothing made from natural fibres such as cotton, wool, and silk, synthetic fibres often feature enhanced properties.
Polyester Dresses
The main advantage of buying polyester dresses for girls is that the material is resistant to shrinkage. This means that regardless of the girl's activities, the dress remains impeccable throughout the day. In addition to this, polyester is a soft and strong material that does not stretch. Polyester can blend well with natural fibres such as cotton or with artificial ones, and this often makes it easier to wash and more durable. A popular combination of fibres for girls' dresses is cotton with polyester, also known as polycotton.
Nylon Dresses
A type of polyamide made from petroleum, nylon is a durable and lightweight fabric whose main advantage is that it repels dirt. This makes it a good choice for children's clothing. Dirt does not cling to nylon dresses, so they are very easy to clean. The disadvantage of dresses made from nylon is that they do not absorb moisture as well as cotton, which means they can become clammy in the heat.
Rayon Dresses
Created by the regeneration of natural materials, rayon has properties that are similar to those of cotton and linen. Girls' dresses made from rayon have a tendency to shrink when the material is wet. Moreover, rayon dresses wrinkle a lot when washed and they bleed colour easily. For these reasons, one should take special care when washing and drying pieces of clothing made from rayon.
Chiffon Dresses
Chiffon is a plain woven fabric that is a popular choice for special occasion dresses. The material is lightweight and it consists of a combination of cotton, silk, and other synthetic fibres. This is a very thin fabric and for this reason most chiffon dresses for girls feature multiple sheets of material. As the fabric is easily dyed, girls' dresses made of chiffon are available in a multitude of colours.
Styles of Dresses for Girls
Girls need dresses for various occasions and parents should pay attention to the kind of material they choose for a specific event. They should also make sure the dress they choose is suitable for a specific season. Depending on the occasion, parents can choose from casual, party, and prom dresses for girls.
Casual Dresses
Casual dresses are very popular, and every girl should have at least of couple of them in her wardrobe. These dresses are typically very comfortable and they come in a wide variety of lengths, colours, and designs. Parents can choose casual dresses made from both cotton and synthetic materials. Casual dresses are suitable for a number of occasions, ranging from school to a stroll in the park or weekend getaways. When shopping for casual dresses, parents should take into account the age of the girl as well as the existing pieces of clothing in her wardrobe, such as shoes and cardigans, in order to be able to create coordinated outfits.
Formal Dresses
Often made from synthetic materials, formal dresses come in a wide variety of styles, so parents can choose the right one for a specific type of event. Whether one is looking for a dress for a birthday party or something more elegant for a wedding, party dresses are available in all colours and prints to suit any occasion. Pageant dresses are one of the most popular types of formal dresses for girls and they often come in bright colours. Regardless of the occasion, parents should make sure the dress they choose flatters the girl. The age of the girl is again important when choosing the style, length, and colour of the dress.
Prom Dresses
Prom dresses come in several lengths and in a wide range of colours. Whether one is looking for a short or long prom dress, the important thing is for it to be memorable for the girl. As for materials, many prom dresses are available in synthetic fabrics such as chiffon or organza.
Dress Sizes
Choosing a dress in the correct size is important as this not only determines the way it looks on the girl, but also the level of comfort she experiences while wearing it. In order to make sure they pick a dress in the correct size, parents should take accurate measurements of the chest, waist, and height of the girl every time they shop for dresses. The chart below illustrates the main sizes for girls' dresses and can be of help for parents shopping for dresses online.
| | | | |
| --- | --- | --- | --- |
| Size | Height (cm) | Chest (cm) | Waist (cm) |
| 3 | 100 | 56 | 54 |
| 4 | 108 | 58 | 55 |
| 5 | 115 | 60 | 56 |
| 6 | 120 | 62 | 57 |
| 7 | 125 | 64 | 58 |
| 8 | 130 | 66 | 59 |
| 10 | 140 | 72 | 61 |
| 12 | 150 | 78 | 63 |
| 14 | 160 | 84 | 65 |
| 16 | 165 | 90 | 67 |
Parents should remember that sizes may differ significantly from one brand to another. In order to be able to choose a dress in the correct size, buyers should have a close look at the product description and the sizing information provided by the seller. This is essential for those shopping for dresses online.
How to Find Dresses for Girls on eBay
Buyers who are interested in purchasing girls' dresses online can take advantage of the convenience offered by eBay. With thousands of styles to choose from and competitive prices, it is easy to find the right cotton or synthetic dress on eBay, regardless of the occasion.
In order to find a girls' dress on eBay, simply type these terms into the search box from any eBay page. You can easily refine the results you get by size, material, colour, price, and more. You can also check eBay Deals for the best prices of the day. Make sure you pay special attention to the sizing information provided by the vendor before buying in order to make sure the dress fits your girl just fine.
Conclusion
Finding a nice girls' dress can take some time, as there are so many models available on the market. Whether parents are looking for cotton or synthetic dresses, they should make sure the style and materials are appropriate for a particular season. Moreover, they should take accurate measurements in order to be able to find a dress that fits the girl perfectly.
One can choose to shop for girls' dresses in high street stores or online on websites such as eBay. Those who choose to buy dresses on eBay can take advantage of the large number of items available on the website. The search system is very easy to use and it makes finding a suitable girls' dress a breeze.
Girl Dress|Cotton Dress|Synthetic Dress|Casual Dress|Prom Dress