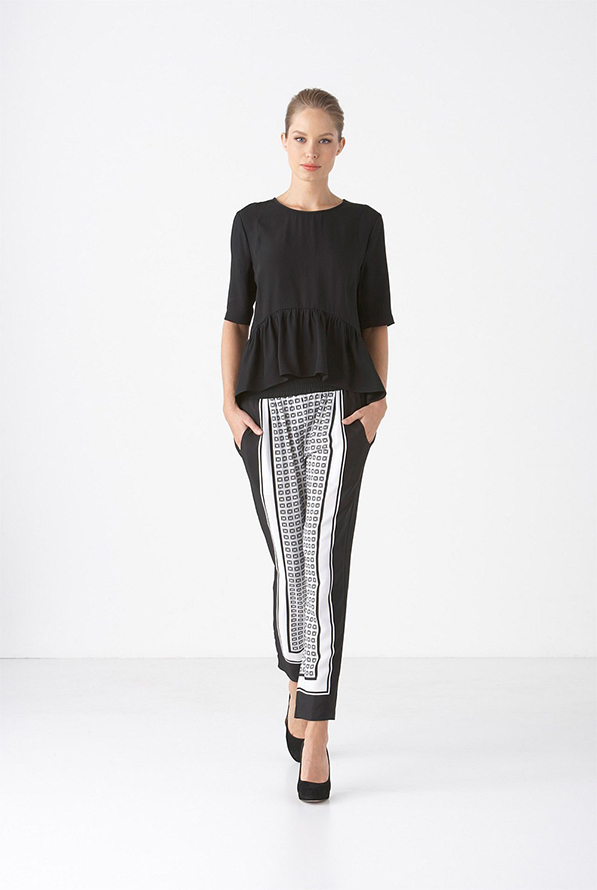 Country Road is a popular name in home-grown Australian clothing offering online and retail sales throughout the country as well as in South Africa. The brand offers buyers stylish, high-end items that range from men, women, and children's clothing to home goods. However, the roots of Country Road come from a small company that began in 1974 producing only women's shirts. As such, an important emphasis on this flagship item continues to this day.
Indeed, women's blouses are among Country Road's most popular and prolific lines, providing women with an ever-changing array of design styles and options. Buyers interested in Country Road blouses need to complete two important steps: discover the right size for their bodies and choose a style.
Country Road Blouse Size Chart
As a high-end, chic company, Country Road blouses are not cheap, but they are made to last, so finding the right fit is essential. The table below goes over the guidelines provided by Country Road itself in regards to sizing, using the Australian size system.
| | | | | | | | |
| --- | --- | --- | --- | --- | --- | --- | --- |
| Size | 4/XXS | 6/XS | 8 | 10/S | 12/M | 14/L | 16/XL |
| Bust | 80 | 84 | 87 | 89 | 94 | 99 | 104 |
| Waist | 60 | 64 | 67 | 69 | 74 | 79 | 84 |
Most Country Road designs fall into the business casual wear category, which means their cut is generally more generous, emphasising soft, feminine looks rather than curve hugging ones. Buyers should keep this cut in mind when planning for the proper size blouses to buy.
In addition, the company recommends that buyers take time to get accurate measurements rather than assuming they know their numbers. For the bust, this means measuring the fullest part of the chest with the arms are down. For the waist, measuring the narrowest part of the natural waistline is best. Having another person take these measurements makes them more accurate as well.
Country Road Blouse Styles
Sizing is only the first step in deciding which Country Road blouse to buy. Equally important is considering the many styles that this brand offers and how those styles work in different situations and with specific needs. As a home-grown Australian company, Country Road strives to present designs that reflect the Australian way of life. Though acquired by South Africa-based Woolworths Holdings Ltd. in 1998, the company's main offices are in Richmond, Victoria and dedicated to the Aussie styles that make it famous. In that respect, buyers have three general styles of Country Road blouses from which to choose: chic, casual, and business casual.
Country Road Chic
The best way to define chic clothing is through looking at fashion magazines and runways. Means to exude general style in a casual-type manner, women who dress chic spend time and money on their wardrobes and are not afraid to admit it.
Country Road's role in the realm of chic clothing is minor since this is not a true haute couture label like Dolce & Gabbana, for example. However each season, different trend categories emerge offering women both casual and business attire that conform to that season's runway sensations. For example, in 2013 the 'stripe hype' line took advantage of the colour blocking trend of the year before and added in texture through large vertical and horizontal stripe patterns and chevrons.
Country Road Casual
Casual clothing may be hard to define, but most all seem to inherently know what it is. For example, it includes clothing that is on-trend, but too revealing or made in the wrong fabrics for general office attire. Sundresses, T-shirts, and sneakers are casual as are certain button-up blouses and peasant cuts which are popular items in each season's selection at Country Road.
Casual blouses from Country Road all have the ability to be dressed up or down depending on coordinating pieces. This is because of the company's emphasis on quality fabrics and international prints and styles. Buyers considering a Voile shirt, for example, pair it with dark slacks and kitten heels for the office or a lunch date or add it over a camisole and capris for a jaunt around town with the kids.
Country Road Business Casual
The final style option supplied by Country Road is perhaps its most prolific: business casual. Like casual, this is a quite broad term. Though, a 2012 Forbes magazine article attempts to define the look as one that is feminine but still exudes power. In this regard, the whole line of Country Road clothing falls into this category when properly accessorised.
Country Road pieces, such as itssilk blouses, and many of its print shirts, clearly have the office environment in mind. But the more generous cut and easy ability to layer these pieces under jackets, for example, lends an added role to them which is especially popular amongst working mums who want to focus on their dual role as professional and parent. In this way, Country Road business casual attire takes them from the office to soccer practice without looking out of place. The quality of Country Road also appeals to this crowd because their investment in each piece pays off in its versatility.
How to Buy Country Road Blouses on eBay
Using eBay to buy Country Road blouses saves buyers time and money. In addition to featuring daily deals which include top names in Australian clothing, the website features international sellers offering prices highly competitive with the boutique clothing stores which normally carry Country Road.
With an authentic Australian feel, a focus on quality, and a long-standing history, Country Roadwomen's blouses come in a lot of great options and with great deals. This means that those interested in buying a Country Road blouse need to take time to consider both sizing and styles before committing to a purchase. Once complete, shopping with eBay saves time and money, maybe even allowing for the purchase of two blouses instead of one.