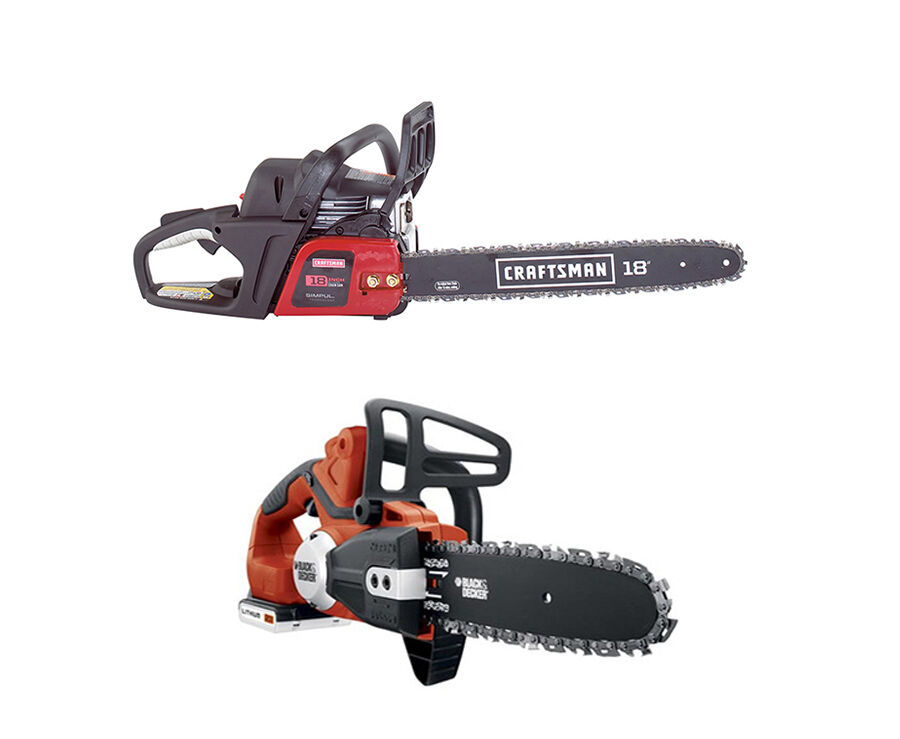 Chainsaws are great power tools to have, especially for users who often deal with cutting up wood, such as removing dead tree branches or preparing firewood. Among the best tools for these jobs areCraftsman and Black and Decker chainsaws. With plenty of experience in the market, these two power tool brands offer a number of good chainsaws for various uses. Choosing the right chainsaw is extremely important if buyers want to complete their work efficiently and safely. Although both Craftsman and Black and Decker produce good tools for almost any job around the house, they do have their differences. Some things to look at when comparing these two brands are the price, performance, and availability of the tools.
Craftsman Chainsaws
Craftsman offers many powerful tools for any household need. Its chainsaw line offers good performance and versatility as it has both electric and gas-powered tools. Buyers who carry out heavy-duty cutting can benefit greatly by choosing Craftsman. Two popular high-powered Craftsman chainsaws are the Craftsman 18-inch 42cc and the 20-inch 50cc gas chainsaw. These two chainsaws provide a lot of cutting power and are suitable for cutting through medium-sized trees, as well as small branches. Homeowners who have big trees on their lawns, or who frequently need to saw through big chunks of wood, can use any of these chainsaws.
Craftsman chainsaws also have an automatic oiling system to ensure sufficient lubrication of the chains. This contributes to a long lasting chain and also smooth cutting action every time users work with their chainsaws. Many of the chainsaws also have easy-to-grip handles that dampen the vibration for the user's comfort. Craftsman's inertia-activated chain brake also allows users to start and stop their cutting quickly and easily. Besides gas chainsaws, Craftsman also has a few electric ones to offer. The Craftsman 3.5 horsepower 16-inch and C3 19.2 V Lithium chainsaws are two noteworthy electric Craftsman chainsaws.
Black and Decker Chainsaws
Black and Decker is a manufacturer with extensive experience in producing power tools and home appliances. When it comes to chainsaws, Black and Decker only has a number of cordless electric saws for buyers to choose from. These chainsaws are not only affordable, but also very convenient to use around the house for repairs and other DIY works. Black and Decker's powerful 20 V Max Lithium chainsaw has a 20 V lithium battery and a bar that is ideal for pruning and cutting tree limbs up to eight inches in diameter. Another model, the Black and Decker 18 V cordless chainsaw, also has an impressive battery life, like the 20 V Max.
A popular chainsaw from Black and Decker is the 12 V Max Lithium Piranha. This device is lightweight, compact, and very easy to use. Its six-inch pruning blade and clamping jaw allows precise and safe pruning. Buyers can also fit other saw blades on it for various DIY projects. Saws from this brand have features such as soft grips, lock-off switch, and accidental start-up prevention mechanism. With a compact Black and Decker chainsaw, users can complete any job they have around the house with precision and little effort.
Craftsman and Black and Decker Chainsaws Compared
When buying a chainsaw, consumers should always consider what they need the power tool for, where they plan to use it, for how long, and how often. Buyers who only need a simple, affordable chainsaw for small jobs around the house can find suitable chainsaws from both brands. However, Black and Decker has other small chainsaws to choose from, and these are generally more affordable than Craftsman ones. Buyers wondering whether they should choose a gas or electric chainsaw can refer to the comparison in the following table.
Chainsaw Type

Advantages

Concerns

powerful

cordless

suitable for heavy-duty use

good chain oiling system

heavy

noisy

difficult to start at times

more expensive to maintain than electric chainsaws

lightweight

cost effective

easy to start

runs quietly

requires little maintenance

suitable for some heavy-duty work

limited mobility if the chainsaws are corded
Buyers who regularly cut medium-sized trees and firewood can benefit more from using a high power Craftsman chainsaw than a Black and Decker chainsaw. However, those who need a small and precise chainsaw that is easy to handle should go for an electric chainsaw from Black and Decker. Chainsaws from both these brands have standard safety features such as anti-vibration grips, anti kickback, and lock-off switch. For taking on heavy-duty jobs, the large gas chainsaws from Craftsman also have a good automatic oiling system to ensure they run smoothly. Besides visiting a local hardware store to find a good chainsaw, buyers can also purchase one from online stores such as eBay.
How to Buy a Chainsaw on eBay
Whether you are looking for a Craftsman or a Black and Decker chainsaw, eBay is a good place to shop for the tool you need. Just look up terms such as ' small chainsaw' or other keywords with eBay's search bar. You can specify the brand, model, and type of chainsaw you want. To find deals on power tools, you can visit the eBay Deals page. Buying a chainsaw or any power tool is an important investment. By comparing two well-known brands like Craftsman and Black and Decker, you can improve your decision making when buying a chainsaw. eBay has an assortment of chainsaws at attractive prices, and the shopping process is straightforward.