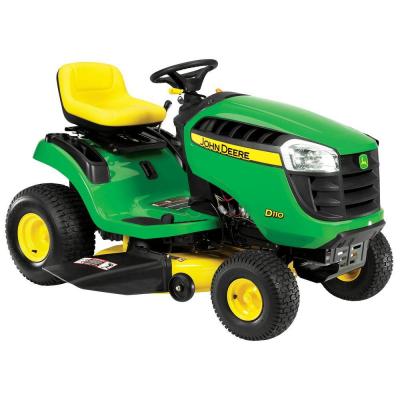 Riding mowers have become one of the most handy lawn tools, used by farmers, landscapers, and homeowners alike. When choosing a riding mower to purchase, the variety of options available can overwhelm the consumer. It can be helpful to start with well-known, popular brands with a reputation for quality riding lawn mowers such as John Deere and Craftsman.
With the right information, choosing which of the two is the best fit for the customer's needs is an easy choice. Researching the different types riding mowers for each brand helps consumers make an educated decision when determining what to buy. The next steps are to determine what terrain the riding mower is for, as well as the ideal budget and the highlights of each brand. Consumers can find a variety of designs, styles, and project-appropriate options for their riding mower purchase.
Craftsman
Craftsman is a brand of lawn equipment and tools owned and maintained by Sears Holdings Corporation that has won several awards, including being named as the official tool brand of the DIY Network. Sears has provided Craftsman products to consumers since 1927, and lawn mowers since 1934 under several brands, including Craftsman Professional, Husqvarna, Arnold, and more. Several models of Craftsman's zero-turn riding mowers come equipped with push button blade control and anti-scalp wheels to prevent damage to the turf, as well as a 360-degree turning radius.
Offering consumers a large array of riding mower options, Craftsman riding mower includes several lawn tractor and zero-turn-radius mowers with various options in horsepower, cutting deck length, engine manufacturer, transmission type, and more. In addition, Craftsman received the Reader's Choice Award by Popular Mechanics for Favourite Hand Tool and Lawn Mower Brand.
John Deere
John Deere is one of the largest and most successful providers of agricultural products in the world. Since its founding in 1837, the company has won several awards for its innovative products and product engines. John Deere has provided high-quality lawn mowers to consumers since 1963. While John Deere riding mowers are some of the most expensive and the company markets a smaller line of mowers to consumers, they make up for quantity with quality, providing several options of comfort and customisation to their consumers including ergonomic seating, weather enclosures, and fans.
Types of Riding Mowers
Understanding the types of riding mowers available to consumers greatly assists the consumer in determining which type can best meet their needs. Though zero-turn-radius models are typically the more expensive option, both lawn tractors and zero-turn mowers have several desirable attributes, depending on what the consumer is looking for in a riding mower purchase.
Lawn Tractors
Lawn tractors are another term for the standard riding mower; they greatly assist homeowners and landscapers alike in yard maintenance as the lawn tractor decreases the amount of time necessary to complete the project, while also preventing muscle strain that can accompany push mowers. Easy to operate, lawn tractors continue the steering wheel and pedal design familiar to most consumers, unlike zero-radius models, which have two levels to operate the rear-wheel steering.
Lawn tractors have a turning radius range of 15-30 degrees, depending on the brand and model; however, consumers should never use a riding mower on grades steeper than 15 per cent. For slight slopes or gradients, a standard lawn tractor may be a safer option, as zero-turn mowers may tip. Lawn tractors can come with mulching and bagging options, and while most lawn tractors can cut a 106- to 122-cm swatch of grass, some models can cut a larger swath, but typically at a higher price to consumers. Lawn tractors can range greatly in prices, with more basic options saving the consumer money while more customised options available for the consumer looking to spend more to meet various needs.
Zero-Turn-Radius Mowers
Zero-turn-radius mowers are another type of riding mower offering a more efficient experience to consumers. These mowers have rear-wheel steering, allowing the customer to take care of yard maintenance around sharp corners, trees, and other yard obstacles without needing to use a different tool. In addition, there is no need to manoeuver the mower back and forth at the end of a cutting row.
The zero-turn mower allows consumers to quickly turn and continue yard maintenance with ease, cutting mowing time down significantly. It is important to note, however, that zero-turn-radius mowers are dangerous to use on slopes, as they can be difficult to manoeuver on a hill and may even turn over on too steep a slope, creating a safety hazard to the rider. These mowers are best on flat landscapes.
Comparing Craftsman and John Deere Riding Mowers
Comparing a small sampling of riding mowers from each brand can give consumers a better understanding of the highlights of each brand, but also provide a realistic idea of which one may best meet the consumer's needs for the various lawn maintenance projects they wish to complete, as well as what consumers should expect to spend.
John Deere X304 Lawn Tractor

Craftsman 42-inch 17.5 HP Shift-on-the-Go Lawn Tractor

John Deere Z665 Zero-Turn Riding Mower

Craftsman 42-inch 21 HP Zero-Turn Riding Mower

Horsepower

18.5 hp

17.5 hp

27 hp

21 hp

Transmission

Automatic

Manual

Automatic

Automatic

Fuel Capacity

12.49 litres

5.68 litres

13.25 litres

15.14 litres

Cutting Width

106.68 cm

106.68 cm

137.16 cm

106.68 cm

Additional Features

Cup Holder

Hour Meter

Halogen Headlights

Cruise Control

Tool Storage

Cup Holder

Headlights

Cruise Control

Hour Meter

Halogen Headlights

Cup Holder

Relative Price

$$$$

$$$

$$$$

$$$
It is important to note that while one model or brand may appear to be inexpensive in comparison, purchasing additional mulching parts, bagging kits, replacement parts, or other additional accessories adds to the total cost to the consumer. However, reasonable prices are often available through using an online marketplace, such as eBay, where the consumer has a wider range of deals and options from which to choose, including new and used models.
How to Buy a Riding Mower on eBay
When purchasing a riding mower on eBay, whether John Deere or Craftsman, consumers start at the search bar located at the top of any page. After typing in 'riding mower' or any words or brands describing the type of riding mower desired, consumers can then filter search results further to their preferences. The consumer can choose from new or used models while keeping an eye out for the free shipping or a local purchase/pick-up options that are sometimes available.
Looking into the seller's page is also a helpful asset to consumers. There, one can see how the seller rates based on their experience and the feedback buyers have left in return. Purchasing from top-rated sellers is a smart way for consumers to ensure a positive purchasing experience.
Conclusion
No matter what type of project is at hand, finding the best riding mower is just a few steps away. Choosing the best riding mower helps the consumer complete the project with ease while also staying within a preferred budget. Mowers are available in an array of types for different purposes; moreover, with additional features and customisation options, the right riding mower brings ease and comfort to an otherwise time-consuming household project.
With a bit of research into the various types of mower and the features of each brand, consumers can determine quickly and easily whether a Craftsman or John Deere riding mower best meets their needs. Customers looking for mower accessories, such as mulching and bagging kits and replacement parts, find many options available through eBay while maintaining their preferred budget range and preferences.
Craftsman|John Deere|riding mower|lawn tractor|zero-turn-radius mower