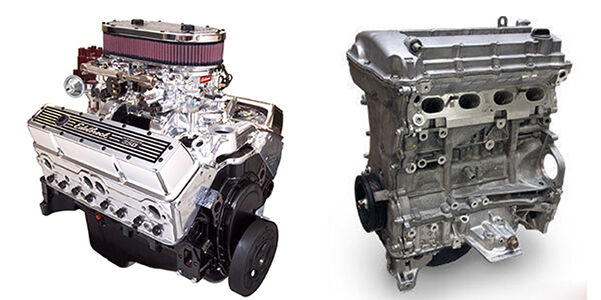 Restoring classic cars and tuning hot rods and muscle cars often involves replacing the engine, which is a key component in the performance and quality of any vehicle. For those considering a new engine, the choice may come down to a crate engine or a refurbished engine. Each offers certain advantages and can serve as a significant upgrade to a vehicle. Learning about the engine's details and advantages of each approach can help clarify this process.
Crate engines
Crate engines are essentially all-in-one aftermarket engines designed for use as installation upgrades on a vehicle. They can vary from engine-only options that leave the addition of tuning and performance components to the owner to fully stocked engines that vehicle owners can install and start driving.
Crate engine trim levels
Crate engines are available in a range of designs. Vehicle owners can find short block engine versions, which come with the block and rotating assembly, as well as long block engine options that include a cylinder head. Those who already have a small block they want to use may consider a DIY crate kit that delivers all the components necessary for an engine installation, including but not limited to a carburetor, intake manifolds, and cylinder heads.
Other options include complete crate engines and turnkey engines, which often are conflated into one category. Complete crate engines typically have a long block packaged in with an intake manifold and exhaust headers. Turnkey options go beyond this setup to include all parts necessary to get a car up and running as soon as the engine is installed.
Refurbished engines
In the long run, a refurbished engine can achieve the same overall effect as a crate engine. It is important, however, that consumers understand the difference between a rebuilt engine and a remanufactured engine, which can both fall under the category of "refurbished".
Rebuilt engines have damaged components replaced and feature new seals, while a remanufactured engine can contain remachined parts and may be repaired to "new" spec. The term "refurbished" can also refer to a replacement engine that an individual owner restores independently from scratch.
Choosing between crate and refurbished engines
After understanding the differences between a refurbished engine and a crate engine, consumers can consider the advantages of each approach. Factors such as skillset, experience, as well as the nature of a vehicle all factor into choosing between the two.
Advantages of crate engines
As aftermarket products, crate engines often offer significant upgrades to a vehicle's performance. They can also be a great choice for those who want a quick fix, especially in the turnkey varieties. While refurbishments can take months, installing a crate engine can take a matter of days.
Crate engines are a great choice for those who have limited time to dedicate to an upgrade or refurbishment. They are also a good pick for consumers who do not have a great deal of experience with engine rebuilds or performance upgrades, as they can provide significant plug-and-play improvement to a vehicle.
Advantages of refurbished engines
One main advantage of refurbishing an engine is that a vehicle owner can customise it down to the last detail. Vehicle owners can take an involved or simple approach, either refurbishing a stock, original engine or working off a rebuilt engine to make additional improvements of their own. Refurbished engines can also offer a much more budget-friendly way to upgrade or replace an engine.
Refurbished engines are a good choice for those working within a strict budget, or the hobbyist who wants to be closely involved in the restoration of a classic vehicle or muscle car. Those concerned with obtaining the most horsepower and performance out of an engine can certainly achieve this with a refurbished engine, but need the necessary skill set and knowledge to do so.
How to buy crate and refurbished engines on eBay
You can access a wide range of crate and refurbished engines on eBay. To begin, start by locating the search bar on any page of the site and perform a keyword search. You can include a particular car make or model to see if there are any direct fits, or search for general results. As you look through the list of products, take time to review items in detail by clicking on their titles. Getting a car or truck in peak condition is easy with both crate and refurbished engines, as long as vehicle owners have the right information and resources on hand.