The jury is still out on crazing in vintage and antique china.....do we drop it like a hot potato (No, not literally....). Give it a wide berth perhaps? Or do we love it for its wizened worldly look?
It's such an individual thing there really is no right or wrong answer.
Technically speaking, crazing is a blemish.
It depends on how much of a purist you are when it comes to your antique china and collectible pottery not to mention your cherished trios.
More technically speaking still...... for those as yet unfamiliar with the concept of crazing....... no, it does not refer to a totally mad teapot or a strangely loopy vase. Not even a weirdly insane art deco meat platter. No, crazing is that spiders web you often see on the surface of your china. The kind that won't brush off but is there to stay with its roots firmly planted into the glaze.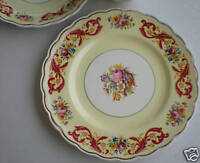 Causes are simple starting with cooling too fast after the glaze is applied, thus taking the phrase "instant gratification" to new levels. Actually not that instant as it can take years for the crazing to appear.
Then there is the crazing that happens as a normal aging process.....and I know there are many of us that can identify with this idea. Think delicate pink skin out in the blazing sun and the pouring rain for a few decades or even longer. Temperature and humidity changes will work their magic on china in the same way.
Those are the types of crazing for which we can thank other people and circumstances. The sort we can give ourselves credit for it when we display our delightful vintage Shelley jug on the window sill. Not a good idea if the notion of crazing is one that will instantly send you to the phone to make an appointment to see your therapist rather than accept the crazing of a treasure.
A possible downside of crazing other than a perceived aesthetic disadvantage is a minimal possibility of a health risk if the item is used as a vessel for food. Minute amounts of chemical can leach out of the glaze and into the food. Although the risk is tiny it's a very subjective thing and to some folks any risk is too much. In which case display items are the order of the day for these crazies.... the china, I mean!
So, in rounding up....yes, crazing is a fault. But even with the various degrees of crazing which range from very heavy to hardly visible, it is not a flaw like a hairline, a chip or a restoration. And when you think that some glazes made with intentional crazing, it makes it easier to understand that as with many human faults, it is a fault that you can grow to love After all to err is human and to craze is completely pottery!!!!!