Everyone seems to end up with bits and pieces of china lying around the place just taking up space. You know Aunt Mabel's favouite trio but the cup's missing the handle, that lovely Royal Albert set you bought, but the baby broke the plate etc.
So what do you do with it when it's too good to throw away? Well why not create a crazy tea set and join the high tea brigade.
In the past year or so it's become very fashionable to hold "high teas" in the afternoons for family or friends and I must admit that the whole idea really appeals to me. It is an updated version of a very old tradition; when afternoon tea was a more formalised event, one in which everyone gathered to chat and relax just a little. Tea was served in the best china, using the silver tea service, dainty food was eaten on the best and finest china plates; a far cry from today's coffee mugs and a biscuit on the go.
When I was younger, people were still given tea sets as engagement or wedding presents and they probably sat in the cupboard on display and never saw a scone or cupcake for the next forty years. I must admit that mine only ever came out at Tupperware and cosmetics parties and I held my breath until every precious piece was washed and put carefully back in it's special place.
So what do you do if you don't want to use your precious handed down tea things, or, you never received such a precious gift, but would just love to hold your own high tea? Maybe you're on a really tight budget (and who isn't nowadays) and just can't stretch to that lovely set of Royal Doulton you've seen.
Well I've got a great suggestion for you and one that won't cost you the earth either!
Start your own crazy tea set.
So what's a "crazy tea set"? No, it's got nothing to do with the Mad Hatter from Alice in Wonderland (although I bet his tea set was a bit on the mad side).
It is a collection of pieces of varying styles, patterns, colours etc that are gathered to create the set. So for instance you could have a pink floral cup on a pale green saucer with a blue polka dotted side plate. Get the picture? Well if you don't, here's an example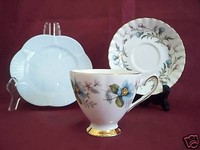 (This trio has an Elizabethan cup, Royal Albert saucer and Shelley Dainty Blue side plate)
Usually a tea set consists of trios, (cup, saucer and plate) as many as you like (as a general rule they came in sets of evens e.g. 4, 6 or 8). Then you could add a cake stand or plate, a milk jug or creamer, sugar bowl and maybe a tea or coffee pot. Often times the crazy tea sets were a mixed lot of trios, i.e. one Royal Doulton trio, one Colclough trio etc and that works well too.
Now I can hear you complaining that all this will cost the earth, and it would if you bought all the best brands such as Royal Albert, Royal Doulton, Wedgwood, Noritake or maybe some vintage Shelley, but who says pretty is synonymous with expensive? Really in the long run what matters is that you love it, not how much it cost you.
So where do you start?
Well decide whether you intend to collect pieces that have a common "theme" or whether you'll just grab what you love and mix it all up later. If you're stuck for ideas, here's some suggestions
Collect pieces of a similar themed pattern, eg. roses.
Collect plain coloured pieces and then mix and match them i.e. different coloured cup, saucer and plate (often called Harlequin).
Collect pieces of similar shape but completely different designs., or
What about sticking to a particular colour but varying the pattern? and finally
What about sticking to a certain era, say Art Deco or Retro.
Here are a few examples that will get you started.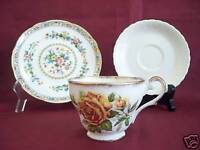 (Royal Standard cup, Royal Doulton saucer, Foley plate)
(Queen Anne cup and saucer, Royal Albert China plate)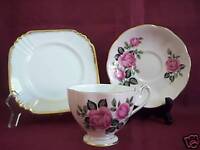 Ok, so what about prices?
As I said this need not be expensive, you'll just have to hunt around a little to find the pieces you want. Why not try an "orphans" search on Ebay. Try this one Orphan Search and see how you go . This will bring up single cups, saucers or plates and you can often get them at ridiculously cheap prices. I've also found some absolute treasures at flea markets, op shops and garage sales.
Does it matter about the maker?
Definitely not! I've seen some lovely designs come out of Japan, India and Europe so don't think that only the English made good china. What you're looking for are pieces that you love on sight that "work". However, if you're new to the china game, have a look at some of these makers:
Royal Vale, Colclough, Saji, Seyei, Duchess, Royal Standard, Grafton, Gladstone, Grosvenor, Swinnertons, Midwinter, Roslyn, Johnson. Then of course, there are the goodies like Wedgwood, Royal Doulton, Royal Albert, Shelley, Aynsley, Crown Ducal. The list is endless.
Really the way your crazy tea set turns out is only limited by your imagination. So go on, have a go, you can't really go wrong, and as I said, the only one that has to love it is you.
Still not sure about doing it for yourself? Have a look in my listings I have some lovely crazy tea sets for sale there. Retro Recycling