Need new ideas for your kid's party? There are certainly ideas like hiring clowns or a mini-petting zoo but these types of activities can be expensive if you are on a tight budget. So why not try face-painting instead? Every kid loves to have their faces painted so you can probably ask the assistance of a friend or relative who has a talent for drawing figures to help out. But you can take this a step further by encouraging the kids to draw on each other's faces using
Derivan face paint
. You can have good references from Face Art Book which is available from same source of
Deriva face paint.
At the end of the activity, they can vote for their most favourite face painting and the winner gets a prize. Of course, you should have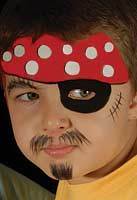 giveaways ready to distribute to the children who participated. Nobody goes home without a bag of goodies.
Non-toxic paint
However, you can't just use any type of face paints, especially some cheap face paints without quality standard. For one, it's very difficult to wash off the kids' faces. Second, the chemicals might be harsh on the delicate skins of the children who might have an allergic reaction. That's definitely the surest way to be the talk of the neighbourhood for all the wrong reasons of prices.
Derivan face paint
is formulated specifically for human skin, it meets world's strictest quality standard , and it is cosmetic graded face paint. The colours are also very bright which is perfect for kids who love to stand out. The product features nine bright colours, six fluorescent colours and three metallic colours. Even if you take every precautionary measure, kids will be kids. The paint might end up in their mouths, so that's why it's important to use non-toxic products like Derivan.
Basic Technique:
Using a clean palette knife or other utensil, remove as much paint from the container as necessary for the session and replace lid. Do not return unused paint to the container. Place on a palette or other clean non-porous surface. Mix the required secondary or tertiary colours on this palette.
Apply your base colour first using a damp (not wet) sponge. You can apply a second coat when the first is dry if you desire a stronger colour. You can even load up the sponge with more than one colour, then apply with a dabbing motion across the face for a colour gradient effect. Use the brush for detail work; bold continuous strokes work best.
It is strongly advisable, if painting more than one face, to use a disposable applicator such as cotton wool and discard after each person - be careful not to re-immerse the applicator in the pain
Removal of Paint Stains
When working with paint it's always a good idea to use old clothing. However, Derivan Face & Body Paint is formulated so that it will swell up and release when submerged in soapy water. With the thumb and forefinger of each hand slowly work the stain in a rolling action thereby releasing the paint and colour into the soapy water. Change the water as necessary and repeat washing action. Do not use hot water. Some stubborn stains may need to be soaked overnight. Other methods of cleaning will generally only act to drive the stain in deeper. Don't attempt to boil, dry-clean or use chemical solvents or thinners on the stain. Keep stained garments separate from other washing.

Tips:
Apply a barrier cream or hand cream to the skin before painting: this will make it even easier to remove Derivan Face and Body Paint from the skin.