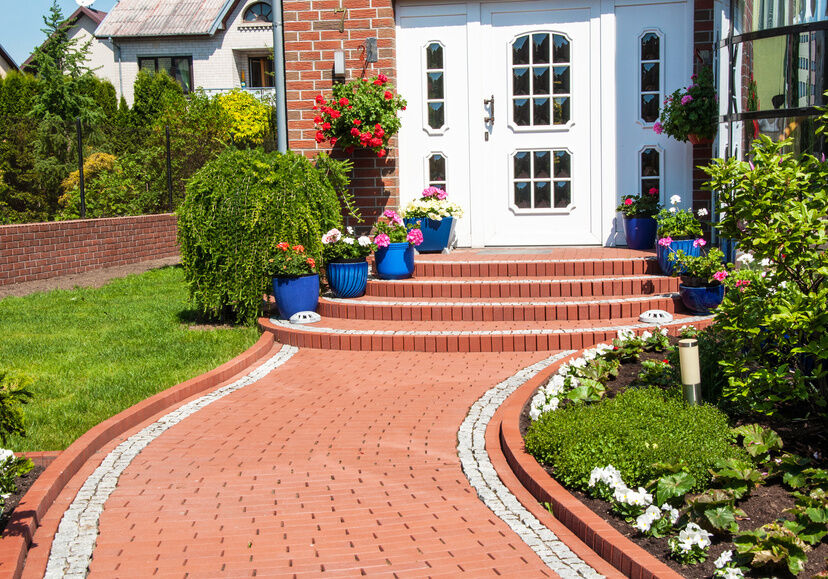 Landscaping takes an outdoor area from ho-hum to extraordinary, but some projects put a big dent in the wallet or pocketbook. With a little creativity and careful planning, homeowners can make over a lawn or garden without breaking the bank. Use of budget-friendly, handmade, or salvaged items always helps to save money. Many people also use a little paint and fabric to add character, beauty, and a pop of colour to an outdoor area without spending a fortune. With a few easy tips and tricks, landscapers can get more bang for their buck.
Dig a flowerbed
While it requires getting dirty and a little manual labour, digging a flowerbed is a great way to beautify an outdoor space and boost curb appeal. Whether flanking the front door or curving along the side of a home or patio, flowerbeds add a splash of colour. While some gardeners prefer bursts of long-blooming perennials, others enjoy flowering bushes or shrubs. As a great substitute for expensive weed fabric under rocks or garden mulch, landscapers may try several layers of old newspaper.
Get creative with collectibles
Collectibles of all kinds add personality to an outdoor space. Vintage-inspired items, like birdhouses and birdcages, garden tools, baskets, and old trellises, bring charm and character, but homeowners should stick with a theme for the best presentation. Groups of like items or collectibles made from one type of material, like weathered wood or wrought iron, make an eye-catching statement when clustered together. Integrating collectibles with plants and flowers offers beautiful, balanced composition.
Incorporate pots and planters
Adding various pots and planters makes a quick, easy, and inexpensive way to dress up a front porch or back garden patio. Homeowners may purchase inexpensive terra cotta pots and hand-paint them with clay paint for a vibrant display on a back deck or bordering a footpath. Rummage sales and secondhand shops make a great resource for inexpensive flower pots and planters. Look for pots that go together, whether through colour or construction materials. Use strategic placement for pots and intersperse with small sculptures, natural elements, or collectibles to present the most attractive display.
Upcycled planters
Repurposed items, like old tin pails, wooden milk crates, whiskey barrels, watering cans, and wheel barrows, make unique and beautiful outdoor planters. Smart shoppers find a number of these items online and through secondhand shops at very reasonable prices.
Dress up outdoor furniture
Worn outdoor furniture takes on new life with a little elbow grease. Faded wicker and wood or rusty metal garden stands, tables, or chairs look brand new again with washing, sanding, and painting. People with excellent sewing skills work miracles with fabric. A few cushions and pillows in durable bold prints, like florals and stripes, add colour and personality to a garden seat, porch swing, or patio chair. People who do not like to sew may purchase inexpensive items to brighten an outdoor space.
Throw a party with a garden theme
Take advantage of a new marriage, a move, or a springtime birthday and throw a party with a garden theme. In lieu of regular gifts, ask friends and family to bring flower seeds, garden cuttings, plants, flower pots, greenhouse gift cards, or any other garden-inspired gifts. This is a great way to save money on lawn, garden, and landscaping needs.
Additional money-saving landscaping tips
A few tips and tricks help people save extra money when transforming an outdoor area. If possible, people should buy gravel or stone from a local quarry instead of a DIY shop. Purchasing used landscaping equipment, like weed trimmers, lawn mowers, and hand tools, keeps the budget healthy. Consumers can check online for a plant exchange group in their area to access free perennials and purchase bushes and plants from local greenhouses toward the end of the growing season for the best buys.
How to buy landscaping products on eBay
A little landscaping makes a big difference when it comes to a beautiful outdoor space. Knowledge of a few money-saving tips means attractive landscaping does not have to break the bank. Shoppers looking for landscaping products on eBay should type the desired item into the search bar located on any page. This brings up a list of available products offered through reliable sellers, which shoppers may narrow according to type, quantity, price, and other preferences. Landscaping supplies listed through top-rated sellers come backed with a history of outstanding customer service. Checking seller feedback helps further guarantee a positive shopping experience.