Wynyard ceramic electric jugs of the 1920s are the crowning jewels of jug collecting as they offer the earliest examples of quality Australian appliances and are prized for their rarity, individuality as works of art and for their alternative lid openings. Early Wynyard electric jugs resembled the metal kettles they had replaced for use over fires or hotplates. The comfortable classes could at last quickly heat fresh water for hot beverages.
The Wynyard Elite is considered the "Crown Jewel" of jug collecting

Circa 1925
Length = 260mm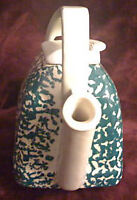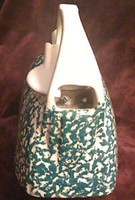 The Elite is a slip cast earthenware ceramic in a pale yellow glaze with green coloured mottled effect added by hand using a sponge to the body of the jug leaving spout and bridge-over handle plain. Rare and historic examples of such kettles are worth over a thousand dollars, even if they show signs of wear, crazing and cracking.
Wynyard Stoneware 1920s Electric Jug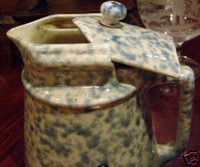 Other Wynyard designs resemble jugs and pitchers and feature a pull-back ceramic lid. They were usually glazed white but mottled speckled effects became fashionable. An example of this style jug can be seen in the Powerhouse Museum's collection.
Wynyard with Bakelite Scissor Lid

Circa 1945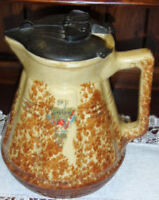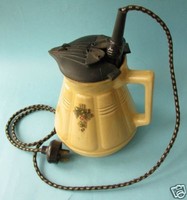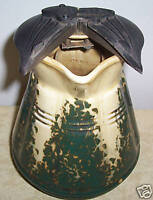 In the following decades designs allowed for durable Bakelite plastic lids to replace ceramic and Wynyard electric jugs feature an innovative scissor lid as opposed to the typical swing and flip lid designs. Plain and mottled glazes were available. When coloured the mottling forms an affective zigzag pattern reaching up the body of the jug.

Wynyard appliances were quality and even after six to eight decades they still convey class and their original grandeur.
Since you've read this far I'm sure you found this guide useful so please vote!