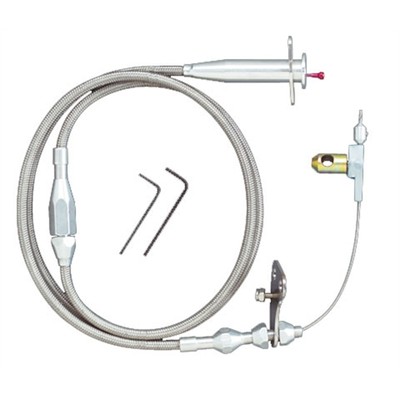 For serious motorcycle riders looking to enhance their long distance riding experience, there is nothing like the addition of a cruise control system. Allowing riders to prevent wrist cramps by maintaining their bike's speed on open stretches of road, installing a cruise control kit can make a huge difference in terms of one's overall enjoyment and comfort when riding a bike.
However, preparing to install a cruise control system, like any motorcycle part, can be confusing. Buyers need to be familiar with the facts of cruise control itself as well as its main features. From there, buyers must consider whether to buy OEM or aftermarket cruise control kits and where to do so, including a review of the benefits of buying them from motorcycle shops or from eBay.
Understanding Cruise Control
Before taking steps to purchase a cruise control kit, understanding the basic facts about this system upgrade is essential. Cruise control has gained in popularity over the past few decades, but it has actually been around for a long time and is known by several other names. In addition, when considering the purchase of cruise control for a motorcycle, buyers must make sure to differentiate between other systems that perform the same function. Mainly, this refers to another common speed regulating system, the throttle lock.
Cruise Control Facts
Cruise control is known by several other names throughout the world. This includes speed control, auto cruise, and tempomat. Which term one uses varies from country to country, though most Aussies simply say cruise control.
Conceptually, cruise control has been around since the middle of the 20th century when a mechanical engineer named Ralph Teeter created the 'speedostat' in response to his frustration when driving in the car with a friend who varied his speed when trying to carry on a conversation. Several others invented and patented similar devices throughout the 1940s and 1950s, though they never really caught on since few people frequently travelled long distances during that time.
The device finally gained traction with automakers in response to the 1970s U.S. oil crisis which brought fuel economy problems to the forefront for the first time in automotive history. Since this time, manufacturers worldwide have consistently designed cruise control systems for their vehicles. Today, most cars and trucks, especially those with automatic transmission, come with this feature in their standard purchase package, however it remains an aftermarket addition on most motorcycles.
Cruise Control vs. Throttle Lock
When discussing the function of car cruise control there is little debate about what one is talking about; however, the differing nature of motorcycle operation makes the delineation less obvious in this case. Indeed, many people confuse electronic cruise control systems like those found in cars with similar, yet far less sophisticated systems used to regulate motorcycle speed, known as throttle lock. The table below compares these two systems to help buyers get the gist of their differing functions.
| | | | | |
| --- | --- | --- | --- | --- |
| System | Expense | Speed Regulation | Operation | Disengaging |
| | More expensive | Allows rider to vary speed once engaged | Electronically monitors engine RPM to maintain consistent speed | 'Off' switch, front or rear brake, or throttle disengage slows speed |
| | Less expensive | Only able to maintain one speed | Uses friction resistance to lock throttle grip | Manual release, some brands have auto disengage features for front brake only |
Obviously, there are clear differences between throttle lock and cruise control including the price, operation, and relative safety. Motorcycle owners need to note these differences before beginning the cruise control kit buying process. It is important because many manufacturers or sellers call throttle locks 'cruise control' out of convenience, but true cruise control units are always electronic.
Electronic Cruise Control Features and Functions
Though the process of regulating a vehicle's speed is pretty simple in its basic concept, electronic cruise control kits actually perform a number of different functions that vary according to their price and technology. For example, not only does cruise control automatically regulate the speed of a vehicle, it can also accelerate, decelerate, and provide additional safety features in the process.
Most cruise control systems include four buttons that perform all the major functions of the system. These buttons include an on/off switch, the set/accel button which sets the speed and accelerates the bike accordingly, the coast button which decelerates the bike, and the resume button which accelerates or decelerates the bike automatically to the previous set speed, should the rider have to brake or accelerate according to traffic patterns. Each brand of system and bike operates slightly differently, but these basic functions should remain constant.
OEM vs. Aftermarket Cruise Control Kits
The final point that buyers of cruise control kits need to consider is whether to buy kits made by the original equipment manufacturer, called OEM kits, or aftermarket kits, generally called universal kits. There are distinct differences between these kits as well as a defined set of people who can buy one vs. the other.
OEM Cruise Control Kits
OEM cruise control kits are manufactured according to specifications laid out by the same company that designed and built the original motorcycle. Although cruise control units are almost always 'add ons' to the original bikes, many manufacturers have designed them for professional or self-installation. OEM cruise control kits are tailor-made for a particular make and model of bike, generally with clearer installation directions.
However, the downside of OEM cruise control kits is that they can be more expensive than aftermarket kits, and not all manufacturers provide them. Therefore, depending on the make and model of the bike, some buyers may not have the option of OEM cruise control.
Aftermarket Cruise Control Kits
The other option for buyers is to look into aftermarket cruise control kits, sometimes labelled universal cruise control kits. These systems are designed by a company other than the one that originally designed and built the bike and may or may not be to the exact specifications of OEM kits. Aftermarket cruise control kits can be made for specific makes and models of bikes, though, like OEM kits, not all bikes are included. Those labelled universal kits are not designed for any one bike, making them more diverse and sometimes a lot less expensive. For buyers without an OEM option, a universal cruise control is the only choice that they have.
How to Buy Cruise Control Kits on eBay
There are many places where motorcycle owners can purchase motorcycle parts these days, however, eBay is among the best options in terms of variety and competitive pricing and offers a fantastic array of great deals. Buyers can begin their eBay buying experience by using the main search bar located on every page. From there, they should enter the specific make and model of their motorcycle to see if OEM cruise control kits are available.
Alternately, users can generate the same results by conducting a simple search for "motorcycle cruise control kits" and then narrowing the field according to make and model or even price. Finally, using price/value comparisons as well as seller feedback helps them pick the best unit for their needs and budget.
Conclusion
The utility of a cruise control system for a motorcycle is hard to argue. Allowing riders the freedom to cruise without the horrible side effect of wrist cramping, this feature is even more valuable on long rides through the country. However, motorcycle owners who are looking to install a cruise control unit have a bit of research to do first.
They must understand the difference between electronic cruise control and throttle lock. They must also review the basic cruise control functions and whether OEM or aftermarket cruise control kits are the best option for them. Finally, using eBay for its great deals and easy operation is a good way to save time and money when looking for motorcycle cruise control kits.
cruise control kit|throttle lock|motorcycle part|aftermarket cruise control kit|OEM cruise control kit