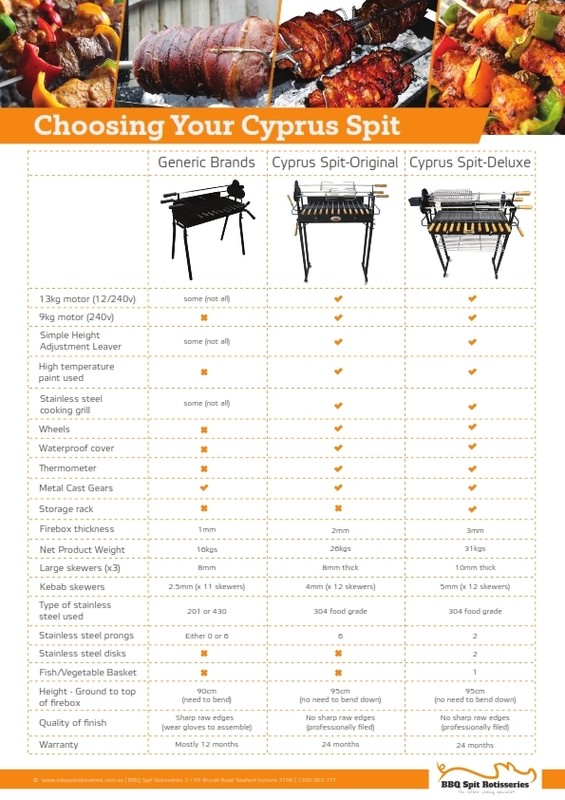 Overview
Cyprus Spits are a great way to entertain either for just a small group of people or a sizeable gathering. As the name suggests, this style of cooking originate in Cyprus hundred of years ago. The models have evolved and improved over the years making them more practical than their predecessors.
Some modern conveniences to look out for in a Cyprus Spit are:
Automatic height adjustment functionally
Added portability with wheels
Additional accessories
Workable height
Automatic height adjustment functionality
As when cooking with any spit roaster, being able to adjust how high the skewers sit over the charcoal is imperative. This is to ensure that you aren't over or under cooking your food. The height on a Cyprus Spit can either be manual by adjusting each side one at a time, or automatic by lifting a leaver and both sides adjust simultaneously.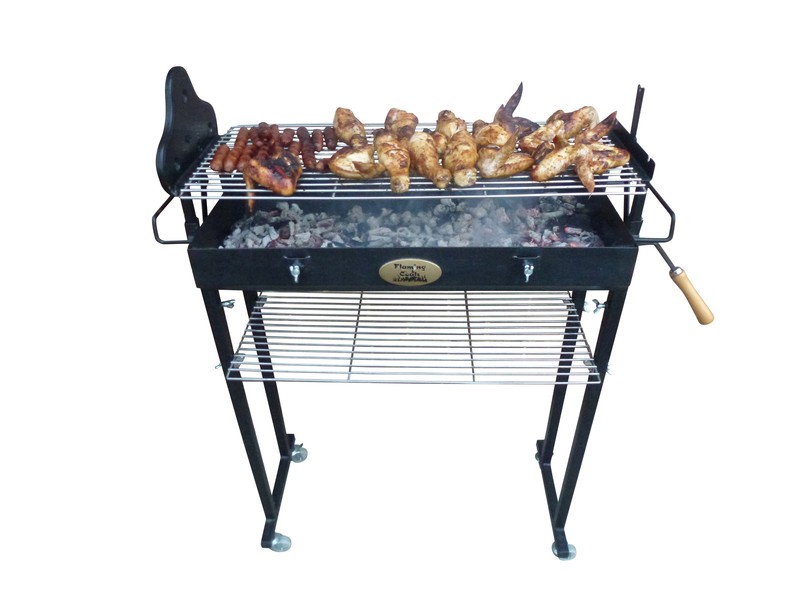 Add a caption
Use the leave as shown on the RHS to adjust the grill height or the skewer heigh
Added portability with wheels
Although you don't tend to move your Cyprus Spit around too much while cooking, it is great to have the flexibility to move it if it starts raining or the wind changes direction. The last thing you need is to be lifting it with burning coals inside.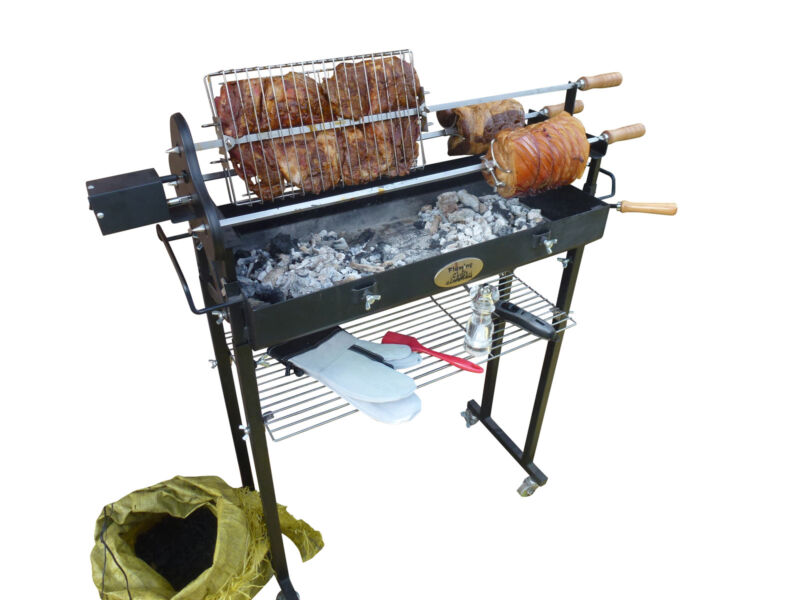 Add a caption
Wheels and side handles allow the Cyprus Spit to be moved quickly if necessary
Additional accessories
Cyprus Spits were traditionally used to cook what is called "kondosouvli" - small tennis ball size pieces of meat. Because of the size of the meat, there was no need to use a prong/fork to secure it to the skewer, it would just stay on. Nowadays people are looking for multi-use appliances where they can use one item in several different ways. For example, a Cyprus Spit can be used to barbecue, cook small kebabs, cook, chickens and roasts, cook gyros and even vegetables/fish. You'll struggle to find a piece of meat or vegetable which can't be cooked on it.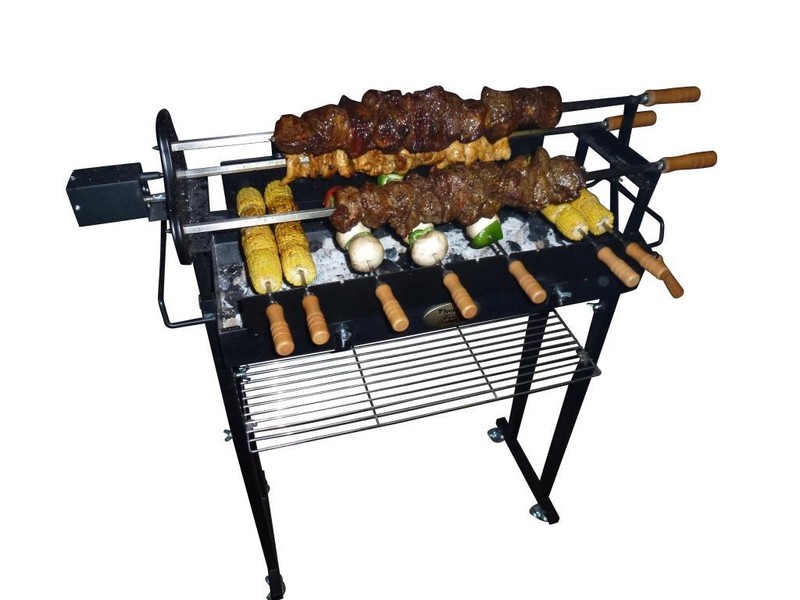 Add a caption
Modern day twist on Kondosouvli. Kondosouvli on the 3 top skewers, vegetable kebabs on the bottom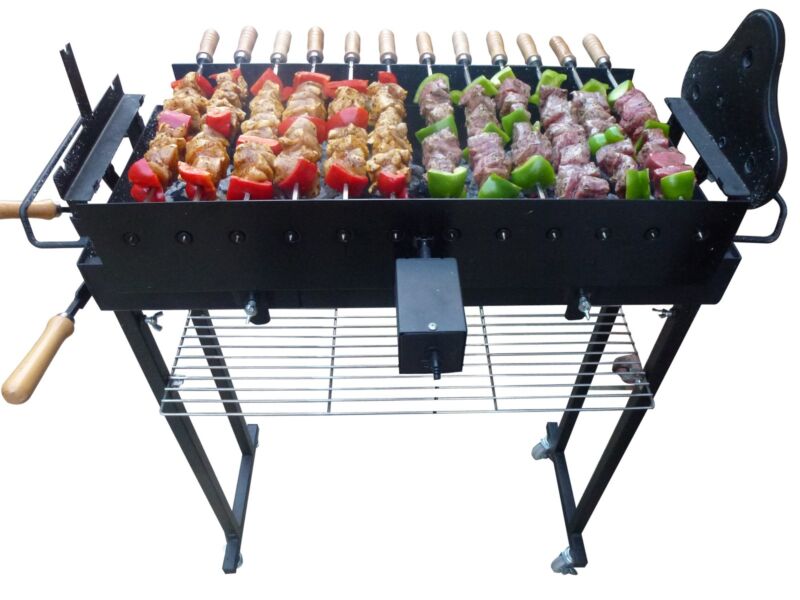 Add a caption
Cook meat kebabs in 10 minutes. All fully motorised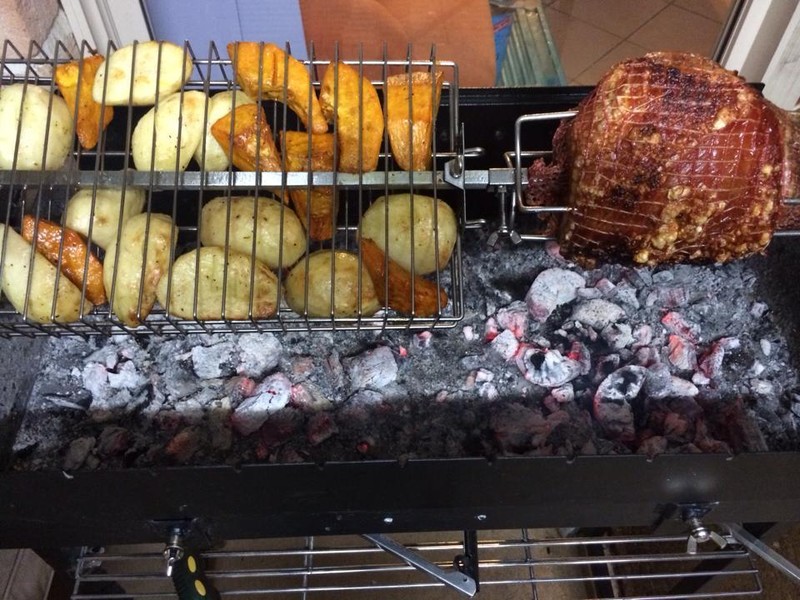 Add a caption
Use a basket to roast vegetables, cook fish, chicken wings, split chickens etc
Workable Height
The traditional Cyprus Spits made in Cyprus were made with very short legs which meant that if you were standing up and needed to tend to the meat, you'd have to bend down quite considerably. The reason why they were so low to the ground was because the older style grills were not motorised so men would sit on small stools next to the BBQ manually turning the skewers to pass their time. In today's times where everyone is time poor and wants everything to be convenient, Cyprus Spits are motorised and no longer need to be turned by hand. Because of this, they no longer need to be low to the ground, rather they can be normal working height like a standard 4-6 burner BBQ. Although the spit tends to cook itself, the meat still needs basting and carving, and no-one likes the idea of having to bend down to tend to their roasts.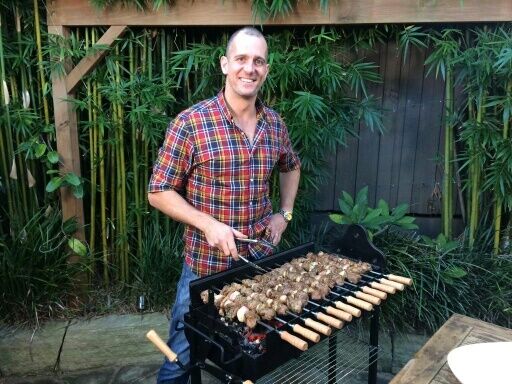 Add a caption
Working height is around hip height for the kebabs and higher for the large skewers