The Czech Art Deco Period : How the Czech Style Developed 1920-1936
During the 1920s Czechoslavakia was seeking a strong identity that associated itself with the artistic sensibilities of the times . New designs for state representation in items such as bank notes,coins,official documents and public buildings and their interiors were sought actively by the new government and an atmosphere encouraging creative thought and design was actively pursued by policy makers. New Art schools and institutes were established with the specific goal of nurturing the creative arts ..280 would eventually be created by 1930, the most noted being the Prague school of Applied Arts with designer Pavel Janek as its head..Here artists were trained by master craftsmen in a range of disciplines including painting,glass making,ceramics, pottery and sculpture .A strong regional style based on the geometry of Czech cubism and influenced by traditional folk art was developed initially ,quite ornamental and with boldly coloured components favouring red and blue .. architects and artists would work in collaboration on public buildings to match and integrate all details including colours,signage, freizes,light fittings and furniture. The artists poition in Czech society was one of both prominence and importance .
This strong public presentation continued to influence the next wave of designers who, after seeing the displays at the 1925 Paris Exposition, became more international in their approach .The Czech art deco style used less ornamentation and favoured references to ancient greek mythology as well as Czech folklore.With well established industries servicing much of europe in glass and ceramics, the new elegant , and less ornamented designs, became popularised for mass production and the strong Czech export industry.Many artists became actively involved in factories where they were designing new lines in glass,ceramics,metal and jewellery. Often these factories would also indulge these designers with limited production lines of "vanity" items such as sculptures and hand finished glassware which added to a companies profile and reputation. Painters,textile designers and ceramic artists would be commisioned for grand architectural works such as the Adriatica di Sicurta building [pictured below] in the centre of Prague .
Czech designer Josef Gocar was given responsibility for the czech pavillion at the 1925 Paris Exposition . He used the plan of a ship as his inspiration for the exterior and used a sculpture "Victory" by artist Jan Stursa as its centrepoint. Interiors were designed using stained glass ,cut crystal chandeliers and tapestries .Amazingly ,Czechoslavakia came home with 59 prizes ,only beaten by host country France an outstanding achievement for such a newly established country. And yet today when Art deco is discussed , Czechoslavakia is rarely mentioned . Why is this ?..and why is it often so hard to research Czech artists and their work ?
I will address these issues in my next review .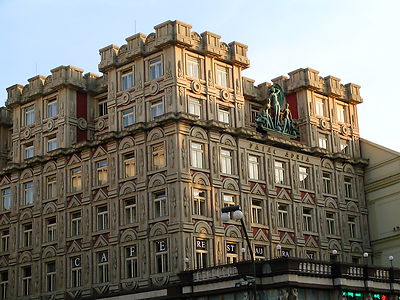 adriatica building in prague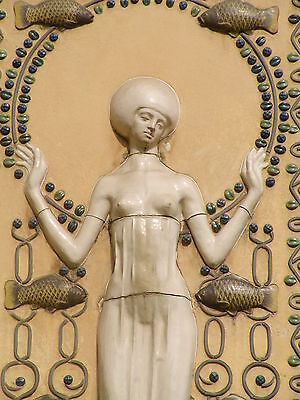 large ceramic panel detailing to prague apartment building