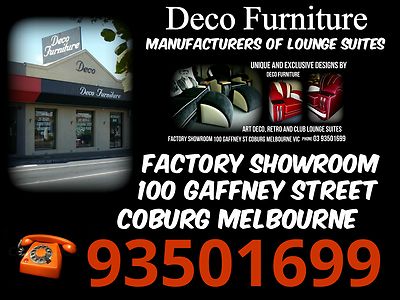 DECO FURNITURE
Australian made Australian Owned Established in 1979
DECO FURNITURE is well known as Australia's leading manufacturers of unique art deco & club lounge suite.
If you're looking for an exceptional and exclusive art deco or club lounge suite, you'll find it at Deco Furniture, which has built a reputation for providing top-quality suites and friendly honest service. Since it was established in 1979, Deco Furniture has been committed to excellence in both the design stages and in the finished product. It has previously supplied retailers nationwide, but is now selling only direct-to-public.
The expertise of owner-designer, Michael Guest, has accumulated over more than 30 years of hands-on experience in all aspects of crafting high-quality and stylish art deco and club lounge suites. During this time, he has developed a proven reputation for integrity, and has impressed customers with his impeccable craftsmanship, attention to detail and expert advice.
Eye-catching designs give the suites that 'wow' factor. You may think you are getting a bargain when you find that authentic deco suite that looks like you're dream design, but you may not be aware that it will cost you around $7000 to restore it! Furthermore, it could never compare in comfort to modern techniques applied with an enormous amount of knowledge, skill and passion.
Deco Furniture combines superior craftsmanship with premium products, to deliver a suite that is both striking to look at and built to last. To further enhance the functionality of the suites, spring cushions, spring backs, solid timber frames and high-quality foam have been incorporated into their designs. All suites come with a lifetime structural guarantee. We're concerned about the small things you may overlook.
Every suite at Deco Furniture is unique and helps Deco Furniture rise above the usual mass-produced uniformity. You can also admire some striking one-off demonstration suites on offer.
Old meets new to create a showstopper! Modern methods and techniques blend harmoniously with the more traditional designs, taking the best from both worlds in order to create truly spectacular suites, referencing old-world glamour in a contemporary way.
Classic and contemporary can be combined to achieve a unique look. We will help you create the right design, with an individual look, for your home. With a variety of colours, fabrics, features, fittings, finishes, options and styles to choose from ( which can be mixed and matched ), a suite can be suited to any home, whether it be Federation style, art deco, Californian Bungalow, Edwardian, Victorian, Period Style, modern or, indeed, any other style! Opt for a modern profile or a more heritage look to suit your style. Deco Furniture can help co-ordinate colours, textures and styles, concentrating on satisfying the customers' requirements, and providing all relevant information.
For unique designs, professional advice, extensive product knowledge and helpful service, visit our showroom and admire our range of suites with their outstanding features. Deco Furniture is a must-visit destination for purchasing an art deco or club lounge suite to enhance any style of home.
Deco Furniture – an outstanding approach to style with an emphasis on quality.