Florida artist Diane Prekup is a great believer in passion and dreams. "Art is both a passion and a dream," she says. "If you follow your passion, you will be happy. If you follow your dream, you will be successful. If you follow both, you will be envied by all who know you."
Then Prekup must be envied by all who know her, for she has translated her passionate dreams into an often wearable, always viewable reality through fibre and textile. Prekup's one-of-a-kind creations are assembled with yarns, thread, bamboo, ribbons, silk, nylon, and velvet. She does not use needles, hooks, or a loom in creating her "gypsy lace": Assembled and sewn, the fibre created is a web-like texture of yarns, suspiciously random in effect but purposeful in design.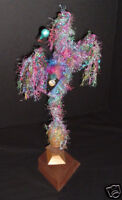 She utilizes a comparable technique in creating her one-of-a-kind sculptural fibre art figurines, wherein the fabric, fibres and ribbons are woven and draped over and around a hidden armature to create a fanciful figure. Its form sets the mood for the personality of each individual piece. Then a porcelain face with an appropriate expression is added, sometimes along with other distinguishing accessories such as a festive balloon for her
Jesterz
figurine. An accompanying card promises that he is "Bringing Smiles, Sunshine, & Good Wishes."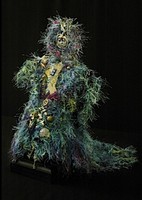 An art director for 15 years, Diane Prekup made the transition 5 years ago from working with hot glass to working with fabric and fibre. In 2007, she was an American Craft Council NICHE Magazine Finalist in Fiber: Surface Design for her Velvet Shawl. She also won the People's Choice Award at the 2007 Uncommon Threads Fashion Show in Chicago. She is a member of Florida Craftsman, Handweavers Guild of America, and American Craft Council and teaches classes in textile arts such as scarf painting.
Her unique creations have been featured at American Craft Council shows in Baltimore and Sarasota as well as in fine galleries and boutiques coast to coast. For more information, go to onebyoneoriginals.com. They also can be found on eBay.
Thank you for reading our guide. If you found it helpful, please vote by clicking "Yes" below.