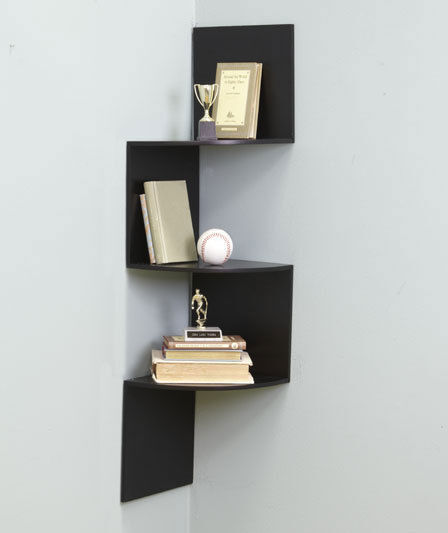 Attractive shelves can complete the style of any living room. Putting up shelves is an easy task, but making them beautiful takes a little more creativity. This guide provides some helpful hints.
How to Put Up Shelves
The basic principle of putting up shelves is to simply screw brackets to the wall at the desired shelf heights, then lay plywood shelves on top of the brackets and screw them into place. Make sure the brackets are at the same height, so that the shelves are perfectly level. If attaching the brackets to drywall, be sure to attach them to the studs in the wall to ensure the shelves have all the support they need.
Making Plywood Shelves Beautiful
The simplest way to make basic plywood shelves beautiful is to colour them using paint or wood stain. Choose a hue that fits in with the rest of the room's colour scheme. For a more unusual style, covering the shelves with wallpaper can even work well, particularly in a room that uses patterns as a key part of the decor.
Making Shelves from Other Materials
Plywood is not the only material that is suitable for making this type of shelf. One can use reclaimed wood, glass, or even unused objects such as old skateboards to make the shelves. If using glass, make sure the edges are rounded to avoid risk of injury. Using coloured glass makes the shelves look bright and handsome.
Creating Shelving Structures
Shelving structures can be far more complex than just straight shelves resting on brackets. Here are a couple of ideas for creating unusual and artsy shelves in the home.
How to Make Corner Shelves
Corner shelves are a space-saving solution that also looks stylish. To make a corner shelf, attach a bracket to each wall close to the corner. The two brackets should be equally distant from the corner of the room, and at exactly the same height. Cut a piece of plywood into a right-angled triangle and attach it to the brackets, as when making straight shelves. Create several corner shelves one above the other to store books and other items.
How to Make a Booktree
A booktree is a shelving structure that resembles a tree. To make a booktree, start with a central, vertical support post made from a plywood board. Attach plywood shelves to this central post at angles of 45 degrees or less to create a tree-like structure. Books can lie on their sides on these shelves, or lean against the central post. Once the entire structure is in place, stain the booktree with wood stain to create a natural appearance, or paint it in bright colours for a more contemporary style. Attach each part of the booktree to the wall to make sure it is stable.
Conclusion
There are many different ways to create beautiful shelves. The most basic shelving structures are constructed from plywood, using simple tools such as a saw, screws, and a screwdriver. These tools and materials are available for sale through online retailers like eBay, which also sell wood and glass shelving kits. No matter what the decor of the room, there is a style of shelving that can fit beautifully into its overall style.