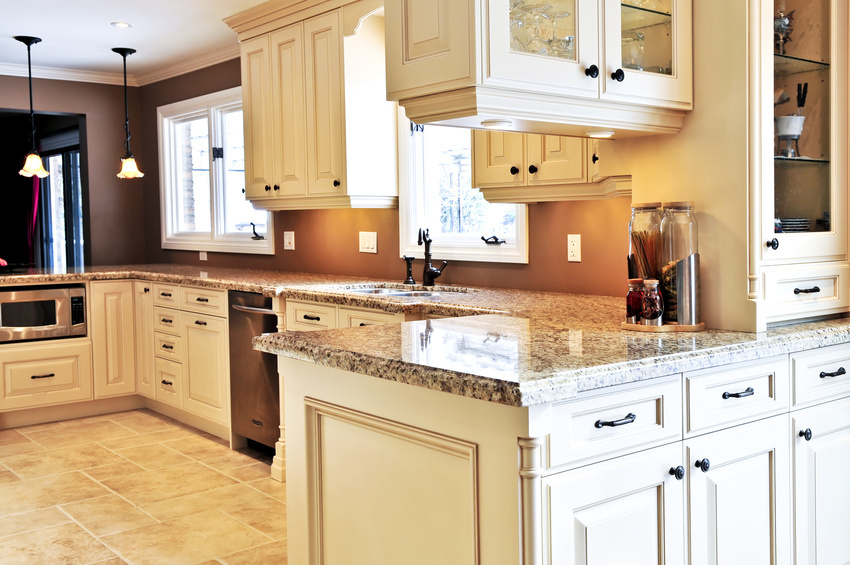 The kitchen is the heart of a home. Not only is it a place where meals are prepared and people are nourished, but it's also often a gathering place for family and friends. Because the kitchen gets so much wear and tear, it can be necessary to update kitchens often to outfit them with new fixtures or décor. Many people consider kitchen renovations to be cost prohibitive because they require extensive work and help by professionals. However, in reality, it's possible for homeowners to undertake some simple DIY renovation steps on their own, creating improved functionality in the kitchen as well as an updated aesthetic. Homeowners can learn more about DIY kitchen renovation ideas below.
Refinish Kitchen Cabinets
Kitchen cabinetry is an essential storage component of every kitchen. However, because many experience daily wear and tear from dishes or food items being removed, they can often appear beat up or worn quickly. Unfortunately, installing totally new kitchen cabinetry can be prohibitively expensive, but homeowners on a budget can spruce up the look of their cabinets by giving them a fresh coat of paint. An easy way to help cabinets appear new is to sand the current paint, apply a primer, then add a fresh coat or two of new paint. For a fresh aesthetic, consider painting the cabinets a new colour. Be sure to remove the cabinet knobs or handles before painting.
Replace Cabinet Fixtures
Another way to make kitchen cabinetry look new is by updating the fixtures of those cabinets. Many local hardware stores and online retailers sell a large variety of kitchen cabinetry, such as knobs, pulls, and handles for cabinetry. To install new fixtures onto their cabinets, homeowners can simply remove the existing ones with a drill or screwdriver, then screw the new ones into place. Keep in mind that before new knobs or handles are ordered, it's important to measure the hole in which the fixture will be installed so that the wrong size knob or handle isn't purchased.
Replace Faucets
Because they get wet so often, kitchen sinks and faucets can get rusty or grimy easily. Rather than purchasing a brand new sink and having it installed, which can be cost prohibitive and complicated, homeowners can choose to simply install new faucet fixtures onto their sink. Once a faucet is purchased, simply unscrew and detach the current faucet then install the new faucet in its place.
Add Backsplash
The area behind a kitchen stove and countertop often gets dirty because of food splashing while cooking. Rather than simply cleaning the wall or painting over it, many homeowners may choose to install a textured backsplash to their wall. Many textured backsplashes are made out of tile and can be purchased in kits, which allows homeowners to update to their walls themselves. Backsplashes come in a range of colours and patterns, and they can add a unique stylistic element to help freshen up any kitchen space.
Paint
Like any room, a great way to freshen up a kitchen is by giving the walls a fresh coat of paint. Homeowners may choose to paint the walls with the same colour to create a cleaner appearance, or they may choose to paint with a completely new colour to update their home's décor.
Refinish or Clean Floor
The kitchen floor takes quite a beating. However, rather than completely ripping up and replacing the floor in a kitchen, homeowners have several simple DIY methods to make their floor look as good as new. If the floor is wood, homeowners may choose to apply a new coat of finish to the floor. This process involves removing the top coat of the floor and applying a new one to get rid of all previous marks and damage. If a homeowner's kitchen has tile flooring, a good DIY floor update is to clean the tile grout. In order to get rid of all marks and grime in the space between kitchen tiles, homeowners can use a solution of one part bleach to ten parts water. Simply scrub the grout with the solution using a toothbrush, then rinse it away with fresh water, and then let it dry.