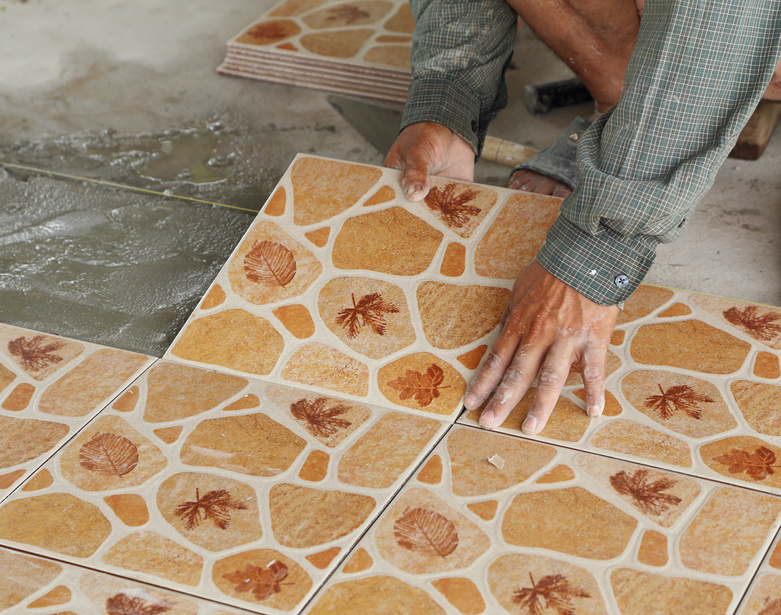 Tiling a wall or floor is a skilled job that requires an enormous amount of preparation, skill and care. However, with a little patience, the right tools for the job, and a degree of knowledge, there is no reason why an avid DIY enthusiast can't make a success of the task ahead.
Preparation
Unless the tiles on a wall are fixed in place with cement, the entire surface should be cleared of existing tiles and adhesive. This can be done using a hammer and chisel. Unfortunately, there is a chance that this process could result in plaster coming away from the wall. If this happens, there are few options other than to re-plaster the entire area.
In order to remove any remnants of adhesive from the wall, the entire area should be brushed with sandpaper. A sealer should then be applied, which will help the tile adhesive remain soft and viable for longer. There are several adhesives available, so it's important to choose the type that is best suited to the type of tile being used. Suppliers should be able to recommend the best option. Once the wall is clear and as smooth as possible, work can begin on fitting the new tiles.
Preparing the Tiling Area
Instead of using the floor and ceiling as a guide for tiling, a series of horizontal and vertical battens should be used. This is because floors and ceilings can be uneven, particularly in old houses where movement is more likely to have occurred. A spirit level should be used to draw a straight line a tile's height from the floor. The battens should be pinned on at this height, and tiling can begin above this marker.
The vertical batten must now be positioned correctly. This is done by drawing a perfectly straight line from the ceiling using a spirit level. A vertical batten should then be fixed to that line. There should now be a straight, defined area of the wall where tiling can begin.
Spreading Adhesive
Tile adhesive can be bought in a ready-to-use state, which means it is possible to open the container and start spreading right away. A toothed adhesive spreader should be used to apply the adhesive, and sufficient pressure should be applied so that ridge marks are clearly visible. This helps you to judge that the adhesive has been applied evenly across the entire surface of the wall.
Laying the Tiles
Using the horizontal batten as the starting point, tiles should be applied to the wall and spacers then added to each corner immediately after each one is in place. A scraper should be used to remove excess adhesive from around each individual tile. Once tiling has been completed, the adhesive should be left for at least five hours to dry before the battens are removed.
Tiling Around Tricky Areas
When it's time to tile to the ceiling and floor, there's a good chance that tiles will need to be cut to size. If porcelain or ceramic tiles are being used, a wet cutter with a diamond wheel is the perfect tool to cut through them without leaving rough edges or causing cracks. And when tiles need to be fitted around light fixtures, the power supply should be switched off, and the tiles should be cut so that the reattached fixture sits on top of them. A pencil can be used to mark exactly where each tile needs to be cut.
Grouting Tiles
Grouting is usually the last job when tiling a wall. The adhesive should be left overnight before applying a grout, however. For the best results, a mould-resistant grout that offers waterproof protection should be used. It can be applied using a special grout float that can be purchased from most hardware stores. The grout should be applied liberally and any excess should be removed immediately with a slightly dampened sponge.
Conclusion
Quality tiles and grout can create an attractive wall in any bathroom or kitchen, and supplies for this project can be found through a number of online retailers like eBay. Taking time with the job and not cutting corners should lead to long-lasting results. However, if grout and tile repairs are required, it's important to attend to them as quickly as possible - before the issues start to worsen.