I collect royal doulton bunnykins tableware, and initially when I began collecting, I had trouble trying to determine when a piece dated from and telling whether it was an early, or a later piece.
That is why I thought this guide may be helpful to others in dating bunnykins tableware. I have given some examples from my own collection with the information.
There are a few hints to determining the age of a piece, the backstamp, the shape and colour. Bunnykins was originally designed by a nun sister Mary Barbara Vernon, and her name is seen on wares up until the mid 1950's. After her, Waltar Hayward took over during the 1950's up until the mid 80's, adding many of his own designs.

Backstamps
Firstly the backstamps
1.The following stamp is the first stamp dating 1937-53 featuring the bunnys under the royal doulton logo and the word "Bunnykins" below this. Early pieces sometimes have the green royal doulton stamp as well as shown here during 1930's and 40's. Very early examples from 1934-37 may just have the royal doulton stamp on its own with a small number next to it, or just the word "bunnykins" below it.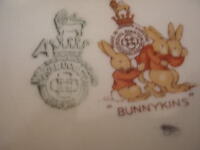 Some early doulton ware also has an impressed date mark making it easy to date, eg 11.40 would mean production date of november 1940.
You may have also seen the bunnykins stamp without colouring, just a black outline in monochrome. Apparantly this was used from approx 1942-8, then the coloured stamp was used once again.
2. The following stamp was used from 1954-58, this one says copyright 1954.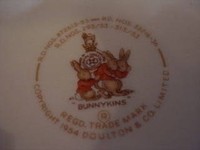 3. R in a circle and regd trade mark is added below the bunnykins motif, this stamp below dates to 1959-75 on earthenware.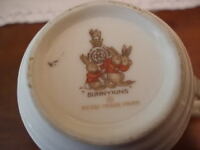 4. after 1967 the following stamp is usually seen, english fine bone china is added bellow the bunny motif as shown here, this stamp dates from 1968-75. The wares changed from earthenware to bone china. With this it is easy to see a more white colour to the wares. Prior to this, the earlier pieces have a more yellow/cream colouring.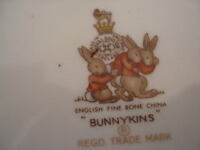 5. the following stamp has the copyright 1936 royal doulton (UK). People often seem to make the mistake of thinking because it has the date 1936 on it that this is when the item dates to. This is not correct, this stamp with the copyright is seen on later pieces (1976-87). After this, the copyright date 1988 is seen from 1988-93, then it reverts back to the copyright 1936 post 1993.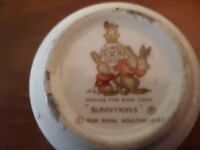 There are different variations of this stamp shown on more modern bunnykins wares. but they all show the copyright logo (c in a circle), which is not seen on earlier wares.
Examples of early patterns

Some patterns are quite difficult to find, I have managed to collect a piece with every pattern created by barbara vernon and waltar hayward, here are a few examples of the harder to find early patterns and pieces from my own collection.
casino cup pattern HW5 embracing at the window issued 1937-52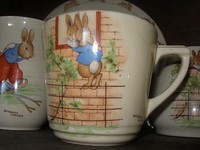 large baby plate pattern LFa airmail delivery issued 1937-52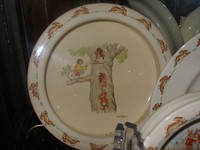 Large porridge plate LFb Dancing in the Moonlight first version 1937-52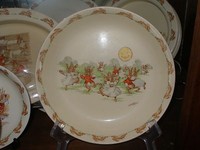 small casino teapot LFd Wedding 1937-52 (note this is a large flatware pattern on a piece of hollow ware)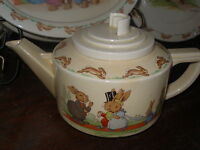 a large oval baby plate featuring pattern LF2 getting dressed 1940-52.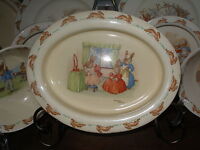 During the 1930's, there was a small range of pieces made of fine white china. These pieces are also generally rare, highly valued and sought after by collectors. There are also rare examples of silver rimmed pieces around.

If anyone is serious about collecting bunnykins, you can't go past a good reference book such as the Charlton Standard Catalogue Royal Doulton Bunnykins by Jean Dale and Louse Irvine for a comprehensive list of patterns, backstamps, shapes and prices. This book has been one source for my information here.
In conclusion, with the combination of factors including the pattern, backstamp, shape and colour it is possible to date your bunnykins pieces quite accurately.
I hope this guide has been helpful. I often get people emailing me asking for help with their bunnykins pieces. I am always happy to help out where I can, just message my id through the ebay system with any questions. For more information on shapes and examples of bunnykins, please see my other ebay guide, Royal Doulton Bunnykins tableware shapes and examples
thankyou for taking the time to read my guide and happy collecting!