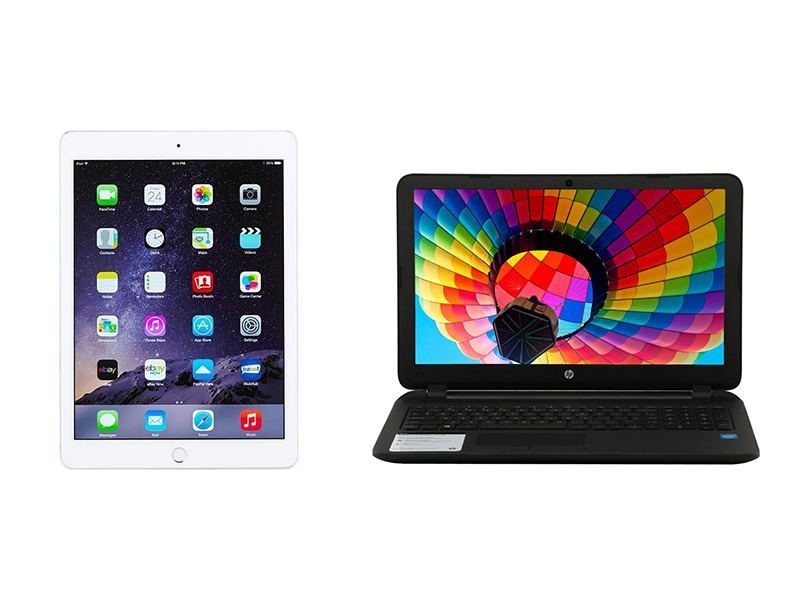 As consumers increasingly require mobile access to computers, they are faced with the decision of which type of device will best suit their needs. Below is an overview of some of the most important factors a shopper should consider when deciding between a laptop and a tablet.

Advantages of Laptops
Laptops offer superior power and functionality. Unlike tablets, they have multiple ports that allow users to plug in a wide assortment of peripheral devices, including cameras, flash memory sticks, audio players and much more. Laptops are also more practical for creating documents and spreadsheets, and they provide much greater speed and more storage capacity. Laptops are a good choice for users who need a primary computer with plenty of multi-tasking capability.

Advantages of Tablets
Tablets are lightweight, affordable, and also a lot of fun. While they can handle some of the same computing functions as a laptop or desktop, they are created to fit a different consumer niche. Their long battery life, crisp display and simplicity is targeted to appeal to on-the-go users who want a quick way to connect with friends or surf the Internet. They're meant to be an appealing, portable gateway to the online world and work well as secondary devices for consumers who already own a laptop or desktop computer.

Decision Guide Questions
The following are several important questions that should be asked when trying to decide between a laptop and a tablet.
Will this be a primary computer?
Many people choose a laptop as their one and only computer, since it provides mobility as well as abundant storage and the full array of computing options. Tablets such as the iPad are appropriate for users who already have a primary computer and are in the market for a portable secondary device.
Is speed important?
When a consumer wants to combine portability with high-performance video, gaming or photo-editing software, they should choose a top-of-the-line laptop, as it will function at much faster speed than a tablet. (If portability is not a factor, desktop computers provide the greatest power and speed.)
Do you need to create documents?
Laptops have numerous sophisticated options for creating text documents and spreadsheets, as well as reliable standard-sized keyboards. Those who plan to use their device more for writing than answering emails and posting on social networks should choose a laptop. Ultralight laptops like the 11-inch Macbook Air provide full functionality while still only weighing about 1 kilogram.
Is a handy camera function important?
Tablets can be easily handled like a large camera, and they excel at taking and sharing photos and videos.
Do you need to multi-task?
Laptops are generally available with at least 4 to 8 GB of RAM (random access memory), which allows several applications to effortlessly run side by side. Tablets generally keep their RAM fairly lean, averaging only 1 GB. This means they will respond more slowly and will need to refresh more often.
Is a lot of storage needed?
Although cloud storage is gaining in popularity, some users still expect to stash their entire photo and music collection on a portable device. Tablets have far less storage space available than laptops, and extra gigabytes add substantially to the purchase price.
Does screen resolution matter?
Tablets are built to provide a satisfying visual experience in a small-screen format, and the average tablet has at least 218 pixels per inch. Laptops, with their larger screen size, don't need such a sharp display resolution, and they tend to average 116 pixels per inch.
Will you be working remotely?
The greater computing power of laptops means they need far more energy than tablets. A typical laptop battery is good for only about 6 hours, while tablets can easily last for 10 hours or more on a charge.
Conclusion
Shoppers looking for tablets or laptops on eBay will find an extensive range of new and used devices in every price range. As technology advances, it is increasingly possible to find ultralight laptops that are easily portable as well as tablets that include greater computing power. Shoppers should consider the relative importance of cost, power, portability, battery life, and storage capacity, and then look at selections of laptops as well as tablets. By keeping the guiding questions in mind during this search, it will become obvious which family of devices is appropriate for an individual's needs. Superbly sophisticated devices can be purchased in used and refurbished condition, while exciting new models become available each season. With so many options, a consumer can feel confident that the perfect product is out there waiting for them, only a few clicks away.