Decorating your Home Theatre
The purpose of this guide is to give you ideas on setting up a great looking home theatre. These days with the reduction in prices in audio equipment, projectors, and large screen televisions, many people are setting up home theatres. The big question though is how do you get your home theatre looking and feeling like a true cinema?
There are many options available, but the first step is to decide on your audio visual equipment set up. From there you need to consider the following:
1. Seating:
The seating that you use will be determined by the size & shape of your room, but also by the number of people you want to fit in your theatre at any given time. No good having 2 seats and loads of friends! The easiest option is to use ordinary everyday lounges, but this doesn't always give that desired home theatre feel.
Alternatively, you can opt for some of the great home theatre inspired lounges that are available on ebay, these usually consist of a row of 2 to 4 recliners. Each recliner also usually has a cup holder - so you can kick back and have your drinks easily at hand. These chairs are great because they give you a cinema feel, but also the comfort of lounge style chairs. However, because of size you may be limited as to how many of these seats you can have in your room.
True cinema seats are the choice of those who want a realistic cinema experience at home! They are also great if you have a smallish room and want to have comfortable seats available for a larger number of people. When considering cinema style seating, you need to remember that these seats generally need to be fixed to your floor with bolts.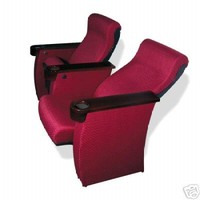 2. Risers
To rise or not to rise? If you have ever flicked through home theatre magazines or checked out home theatres online, you will have noticed that some theatres have elevated seating, just like the cinemas. This is quite an easy thing to achieve if your handy! To elevate your seating you need to have a riser, which is simply a timber platform built to accomodate your seating. A riser would normally be approx a foot high and the other dimensions will depend on you chairs. It needs to be built strong and with enough strength & supports to take chairs and people on them. A riser can then be carpeted and home theatre recliners, or cinema style seats placed on it (& fixed if necessary).
A riser is a great addition to a home theatre, because you can have rows of seating (Recliners, Cinema seats, even lounges). With a back row elevated, evryone gets to have a clear view of your screen.
3. Popcorn
Popcorn is a must have for the home theatre enthusiast. You can buy pre made bags of popcorn, microwave popcorn, use an air popper or just pop it on your stove. How do the cinemas get that great buttery tasting popcorn? They use all the right equipment and ingredients!
Firstly you will need a hot oil popcorn machine. There are many machines available, and also many different sizes. On ebay there are a number of machines to choose from, so it will depend on your budget and the look you want to achieve in your room. For a home theatre a 4 oz or 6 oz machine is more than adequate. You can buy machines that have a vintage feel, art deco machines, and regular commercial looking machines it is really up to personal preference. However, buying a hot oil popper is a substantial investment, so you want something that is going to last. Popcorn is an American specialty, and they tend to be experts at making popcorn machines, some of the better known American brands are Paragon, Gold Medal, & Benchmark USA. Spares are usually available from the USA (easy to obtain in these days of the internet) and Paragon does have an agent for spares and service in Sydney. There are lots of made in China versions on the market, but usually parts & service are unavailable for these.
Once, you have the machine, the rest is simple! To make great popcorn you will need raw popping corn, Butter Flavoured Oil, & Popcorn Butter Salt. Heat the machine up, add the oil, popping corn, and teaspoon of butter salt, to the kettle. The stirrer will mix the ingredients. Put the lid on the kettle and wait for it to pop!
To make it easier, there are many accessories you can get. Oil & Corn measuring cups so that you get the right amount of ingredients everytime whether you have a 4,6, or 8oz machine. Speed scoops so that you can easily serve popcorn into boxes, and of course the boxes themselves. Check out my ebay store!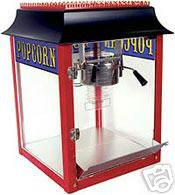 4. Posters
Posters are a great and cost effective way to decorate your theatre. They can be displayed in many ways, possibly the best way is to frame them, as the poster can be kept in original condition. A snaplock poster frame is great for this, as you can wall mount this type of frame, and easily change the poster from the front without removing the frame from the wall.
If you really want to stand out from the crowd you need a lightbox. A lightbox is simply a box that you mount your poster on, it has fluoro tubes that light up the poster, and make it look truly awesome! If your thinking of a lightbox, remember the poster should be double sided to get the best effect.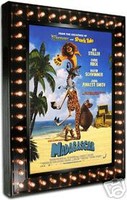 5. Other Decorative Items.
There are many ways you can add decorative touches to your home theatre including signage. You could have a now showing sign, illuminated signs, signs for your different audio equipment, or an exit sign. Other bits and pieces that can be used to decorate your room include movie reels, home theatre blankets, clapper boards, movie props, collectible autographed photos, & other collectibles (eg. Star Wars). We have a range of very unique products including Home Theatre Recliners, Cinema Seats, SnapLock Poster Frames & great decorative items coming to our store soon so keep an eye on our ebay store - Roxy Home Theatre Accessories