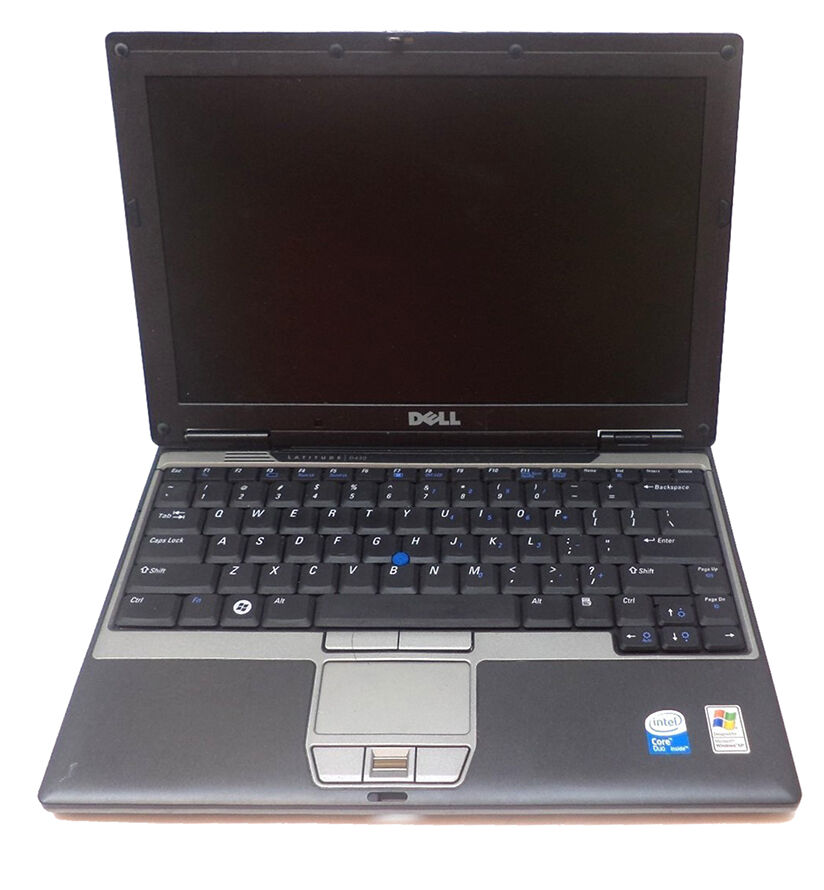 A high-performance lightweight laptop with flexible wireless options and long battery life are perfect for business executives, students and frequent travellers. The qualities offered by theDell Latitude D430 make it one such laptop. This guide will take a thorough look at the technical specifications, customisable options and notable extras provided by the Dell Latitude D430, ending with how to easily and safely buy it on eBay.
Technical Specifications
The following table lists the technical specifications for the Dell D430, which is enhanced for business performance:
Feature

Configuration(s)

Notes and configuration options

Processor

Intel Core Duo U7700 at 1.33 GHz

Ultra-Low Voltage (ULV) CPU reduces power usage and heat output.

Also available: Intel Core Duo U7500 or U7600 at 1.0GHz and 1.2 GHz respectively.

RAM (Memory)

1GB DDR2 533MHz

Can be upgraded to 2GB at extra cost

Hard Drive

60GB 4200RPM. Includes Strike ZoneTM for shock protection

Also available in 40 GB and 80 GB.

Operating System

Windows

Available in Windows XP Professional or Windows Vista Business

Graphics

Intel Graphics Media Accelerator 950

Available up to 224MB

Display/Screen

12.1" WXGA Display (1280 x 800)

Battery and Power

65 Watt or 90 Watt AC adapter with cord wrapping. Compatible with ExpressChargeTM batteries

Battery options include:

4-cell 32 WHr, 6-cell 56WHr, 9-cell 85WHr and secondary 6-cell 48WHr "Smart" Li-Polymer battery

Optical Drive

External 8x DVD+/-RW drive available in lieu of an optical drive.

Optional MediaBase dock

Connectivity

Gigabit Ethernet; Modem; embedded HSDPA; Integrated Bluetooth 2.0; Intel 3945 802.11a/b/g Wi-Fi card; lock slot; integrated microphone; microphone jack; headphone jack; PC Card slot; Smart Card slot; 5-in-1 card reader; VGA;

Ports: 2 USB; 1 powered USB for the external optical drive; VGA; DVI; D-sub; 4-pin FireWire; DC-in

Wi-Fi Catcher switch helps to quickly find a network, even with laptop closed.

5-in-1 card reader includes support for SD, MMC, Memory Stick, Memory Stick Pro and xD.

Smart Card slot provides authentication for the Trusted Platform Module (TPM), a security measure that encrypts sensitive data.
Appearance and External Features
The following table includes a description of the typical dimensions and available hardware options for the Dell D430 laptop:
| | | |
| --- | --- | --- |
| Feature | Details | Notes |
| Colour | Combination of charcoal grey and black | |
| Size | 11.6"W x 8.25"D x 1"H | |
| Weight | Starting at 1.36kg (3.0lbs) | Goes up to 1.45kg (3.2lbs) with battery and without optical drive |
| Construction | Magnesium-alloy for durability | Wide-screen panels, thin, lightweight form factor |
| Memory Stick | SanDisk 32GB Solid State Drive (SSD) available | Improves battery life due to lack of moving parts (also more durable and reliable) |
| Keyboard | Full-size, firm with no flex | Optimised for transport |
| Mouse | Dual mouse buttons: pointing stick (touch point) and touch pad (track pad) | |
| Webcam | None included | |
Security and Special Features
The Dell D430 comes with a host of special features that prepare it for business professionals. Some of these features include:
· Wireless-N based on Draft 802.11n technology gives five times the speed and twice the range of traditional Wi-Fi when used with the Wireless-N router.
· HyperBand Diversity Antenna for multi-band wireless performance
· Wave EmbassyTM Trust Suite by Wave Systems security software works with TPM for file/folder encryption
· Cable lock slot and hard drive locks for increased security.
· Optional Business Security Suites
· Optional UPEK integrated fingerprint reader
· Optional Dell CompleteCare Accidental Damage Service for quick and simple repair and replacement
How to Buy the Dell Latitude D430 on eBay
Follow these steps to buy the Dell Latitude D430 on eBay safely and securely:
· Type in 'Dell Latitude D430' or simply 'Dell D430' into the search bar on the home page to browse general listings.
· At this point it is also possible to target and narrow down the search listings by clicking on one of the relevant categories on the left hand side (for example Laptops & Notebooks).
· Another way to search for the Dell D430 is by going to the Electronics category on the left-most section on the homepage and then selecting the Computers & Tablets category, then the Laptops & Notebooks category.
· From there, type in 'Dell D430' to specify the computer model or choose from the following subcategories that will appear on the left-hand side: 'Format', 'Brand', 'Screen Size', 'Processor Brand', 'Memory (RAM)', 'Hard Drive Capacity', 'Processor Type', 'Processor Speed', 'Dell Series', 'Condition' and 'Price'.
· It may also be possible to find the D430 using eBay's recommended deals found at the top of the page, near the eBay logo. Select the link and select Electronics, thenComputers and scroll down to the Laptops section.
Conclusion
Designed for the business professional and frequent traveller, the Dell Latitude D430 is fortified with enhanced Wi-Fi capabilities and sturdy build. With the help of this comprehensive guide, it is easy to make an informed purchase of the Dell Latitude D430 on eBay. Ensure the purchase is safe and secure by reading the seller's information thoroughly and only buying from sellers who are reputable or have good, promising reviews to make the process simpler and more efficient.