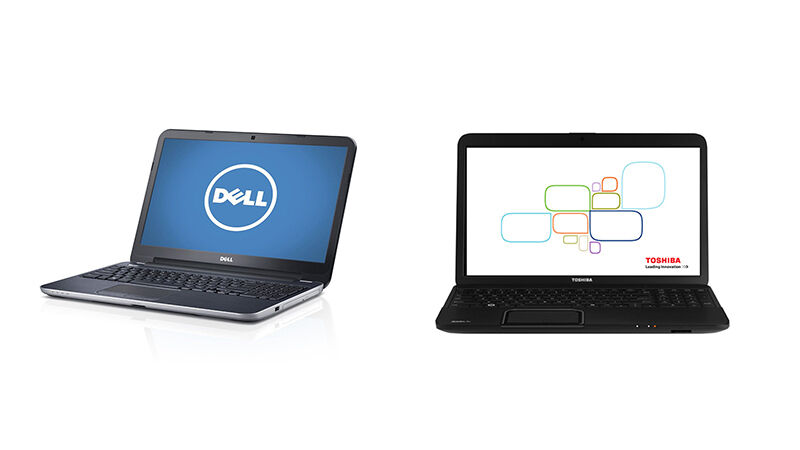 Designed to combine performance with a cost-effective price, the Dell Inspiron 15R and the Toshiba Satellite Pro C850 are designed for business clients or students who need a reliable laptop. The computers feature plastic cases, a touchpad below the keyboard, and multiple connectivity options.
Inspiron 15R and Satellite Pro Screens
The HD Graphics, the Toshiba Satellite Pro lets owners stream movies and videos, but gamers may be interested in shopping for a laptop that has more power and speed.
With a 15.6-inch display and a resolution of 1366 x 768 pixels, the Dell Inspiron's display is identical to the Toshiba Satellite. For gamers and consumers who enjoy using their laptop for entertainment purposes, the Dell Inspiron is available with an ATI HD processor. The Dell Inspiron 15R is also offered with a touch-screen display.
Processing Speed and Performance
The Toshiba Satellite Pro C850 is an upgraded version of Toshiba's 850 Satellite series. The devices are powered by an Intel Celeron 1000 processor. The dual-core processor operates at 1.8 GHz, and the hard drive has 500 GB of space. From the factory, the computer has 4 GB of RAM, but owners can upgrade their computer and double the amount of RAM to 8 GB.
The Dell Inspiron is based on the Intel Core i3 and i5 line of processors. With the Core i3, users can access 4 GB of RAM and a hard drive that has 500 GB of space. Users who are shopping for a machine that offers faster performance and increased memory size can opt for the Dell Inspiron 15R that features an Intel Core i5 with up to 6 GB of RAM and a hard drive with 640 GB of storage space. Those who don't need as much storage space may want to opt down for the Pentium P6000 processor that has 3 GB of RAM and a hard drive with 320 GB of storage space.
Inspiron and Satellite Pro C850 Peripherals and Connectivity Options
For users who need to connect their laptop with other devices, the Toshiba Satellite Pro C850 features two USB 2.0 ports, one USB 3.0 port, and an HDMI port. For those who need a laptop that offers entertainment options, the Satellite Pro has a DVD super-multi drive. The Toshiba Satellite also offers Fast Ethernet connectivity and comes equipped with Bluetooth 4.0.
The Dell Inspiron 15R features four USB 2.0 ports, an SD card reader, and a DVD burner in the optical drive. The device is Bluetooth compatible and allows users to connect to an Ethernet network.
Finding the Dell Inspiron 15R and Toshiba Satellite Pro C850 on eBay
Shoppers who are looking for a new, refurbished, or pre-owned computer may enjoy shopping on eBay. The site has products from authorized sellers, and consumers can compare multiple models on a single page. To see some of the Dell Inspiron 15R and the Toshiba Satellite Pro C850 models that are available on eBay, consumers can start on the site's homepage. At the page's top, there is a category titled, "Electronics," and when a mouse is moved over the icon, a drop-down display appears that says, "Computers and Tablets." When the icon is clicked, shoppers can see various products or use the boxes on the page's left-hand side to narrow their search for a particular type of computer, such as a laptop or notebook. While many consumers prefer to comparison shop by looking at several models on a single page, shoppers who are interested in a particular computer can use the search bar at the top of any eBay page. Entering an exact name, like "Dell Inspiron 15R," will return any products that fall within the specified category. To narrow the products that are displayed, eBay has a number of widgets on the page's left-hand side. Shoppers can check the boxes for price range, new or used condition, or free postage. eBay also offers specials on a regular basis, and consumers who are interested in saving money may want to click on the "Deals" icon at the top of eBay's homepage.
Conclusion
Choosing the right personal or business computer depends on several factors, like whether an owner enjoys gaming, needs a laptop for work, or requires a computer for school. Both the Satellite Pro C850 and the Dell Inspiron 15R are middle-of-the-road models that may not be best for gamers, but they are cost-effective choices for those who demand a basic set of features in their laptop.