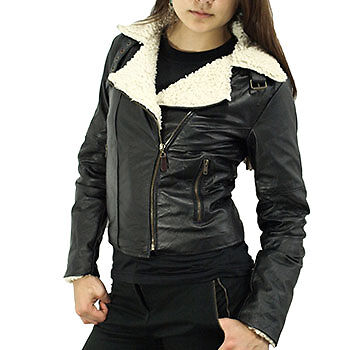 In most cases, every woman is either a denim jacket or a leather jacket lover. If this is not already clear, it may be hard to figure out which jacket type is preferable. Both types of jackets are edgy and 'cool' with just a hint of sassy. However, the benefits and characteristics of the two types of jackets differ greatly, and this is generally enough to help shoppers come to their own conclusions. For instance, denim jackets are excellent mild weather jackets and are great for women who live in mild climates. On the other hand, leather jackets usually provide a lot more warmth and are best worn in colder weather. Both jackets look great paired with classic, vintage, eclectic, and rocker styles, so style is unlikely to be the sole determining factor when choosing between denim and leather.
Besides style, typical climate conditions and affordability often help shoppers decide which jackets suit them best. Both denim and leather jackets can be found in traditional clothing stores, but in order to find the best deals, buyers may want to consider online shopping on a site like eBay.
Denim Jackets
Not all denim jackets reek of past decades. As with many enduring clothing trends, the denim jacket has experienced rises and falls in popularity over the years, and the look has come back into fashion recently, bringing with it more updated ways to sport the jean style. From traditional denim to acid-washed, denim jackets provide a great way to stay warm, toughen up a summer dress, or bring an urban feel to a preppy outfit.
Shoppers can choose from all sorts of denim jacket styles. The acid-wash jacket offers echoes of the 1970s with random variances in denim hue, for example. The addition of leather sleeves to a denim jacket is a fairly new style that is enjoyed by many women who predominantly enjoy the jean look. Jackets with faux leather sleeves are available for the animal-friendly fashionista. Denim jackets also come in various colours, including white, black, magenta, peach, and even green. It is popular for women's denim jackets to be slightly to significantly cropped, and many have three-quarter-length sleeves for a more fitted look, as well. Whatever one's style or preference, a denim jacket exists for everyone.
Leather Jackets
The leather jacket offers the same edgy feel as the denim jacket in most cases, although bikers and fighter pilots often come to mind for certain styles. As with the denim jacket, leather jackets are available in various styles and even colours, although black and the classic brown hue of the natural leather are definitely the most common colours.
Bomber leather jackets often sport a slight fur or faux-fur collar and are reminiscent of the types of jackets worn by pilots in the military. They complement skinny jeans and boots very well for an edgy runway look. Motorcycle leather jackets are more box-shaped and are characterised by heavy zippers and angular collars. The motorcycle leather jacket packs a punch of attitude and can be paired with almost anything, from simple graphic T-shirts and jeans to sundresses and other types of more feminine attire.
Leather jackets can be as long as trench coats or as short as cropped jackets. It is also important to note that many 'leather' jackets are actually made of faux leather, as the fashion industry has become more conscientious of the impact it has on endangered species and animal cruelty.
Factors to Consider When Choosing Between Denim and Leather Jackets
When deciding whether or not a leather or a denim jacket is one's style, there are several factors that can help shoppers make conscientious decisions. Budget, style, weather, and animal cruelty are just a few of the many considerations that shoppers face when they are deciding between purchasing denim, leather, or faux-leather jackets.
Budget
While there are affordable options for both denim and leather jackets, denim jackets are generally less expensive than leather jackets because of the less costly materials used to manufacture them. Even faux leather jackets can be expensive. However, there are jackets available in various price ranges that can generally meet any shopper's given budget.
Weather
Denim jackets provide an excellent second layer for the spring and fall seasons when temperatures are often cool but not frigid. They are light enough to be worn on sunny days and heavy enough to be worn on chilly days. They are not, however, necessarily suitable for wearing in snow, heavy rain, or extreme heat. In some cases, denim jackets have an insulated inner lining that makes them more suitable for colder weather. By contrast, leather jackets are almost always great for very cold environments with a lot of rain and snow. On the other hand, leather jackets are practically useless for summer wear in most climates unless the nights get particularly chilly.
Style
Shoppers may prefer denim jackets to leather jackets because denim is more versatile and can be paired with almost any outfit. Leather, on the other hand, makes a bold statement and can overpower many outfits. However, there are also many shoppers whose styles may benefit from leather in their wardrobes almost every day. Preferences are important, and personal style greatly impacts which jackets shoppers choose in the long run.
Animal Cruelty
While the availability of faux-leather options minimises the impact of animal cruelty in the fashion industry, many real leather and fur articles of clothing are still available for sale. For shoppers who do not want to support this side of the fashion industry, denim jackets may be the preferred choice. Faux leather is more common these days, but some shoppers may not wish to wear jackets that still symbolise the presence of real leather jackets in the market.
Buying Denim and Leather Jackets on eBay
Once the decision between denim and leather is made, shoppers can find either type of jacket (or both) by searching eBay's large database. The popular website has an easy to use search box that can be found on every page. Users simply insert keywords like 'cropped denim jacket' or 'faux leather jacket' into the box. The relevant results can be filtered by specified price range, brand preference, size, and several other factors.
Shoppers should research the reputations of the various sellers by reviewing the feedback left by past customers. Former shoppers can write about their experiences with each seller in detail, specifying the positives and negatives about the product, the trustworthiness of the seller, and the speed of the shipping and delivery. By reviewing the feedback, potential customers can feel more confident shopping for everything they need on eBay.
Conclusion
Denim and leather jackets just scream 'cool' to many people. That being said, every woman probably enjoys at least one of the two styles. Determining which style best suits her depends on her personal style, budget, the climate where the jacket is to be worn, and possibly other factors. Both denim and leather jackets come in different styles, sizes, colours, and designs, ensuring that there truly is a jacket out there for everyone.
Shoppers can find both denim and leather jackets for women in retail clothing stores and online by accessing websites such as eBay. The addition of a denim or leather jacket to a woman's closet guarantees an easy way to stay warm and show some style by layering the classic wardrobe pieces over a graphic tee or vintage dress. Once a denim or leather jacket is purchased, the buyer is ready for a whole new look, complete with a bold sense of edginess.
denim jacket|leather jacket|bomber jacket|motorcycle jacket|faux leather jacket