Designing a boy's bedroom might seem like a daunting task, depending on his preferences. The good news is that there's a wealth of contemporary bedroom furnishings and accessories created specifically for children and teens. Here are some tips for finding the right bedding, furniture, lighting, and accessories for a boy's bedroom.
1
Bedding

Boys' bedding comes in a wide variety of styles and fabrics for all ages. For young boys, cartoon personalities and super heroes are always popular, so look for bedding sets featuring favourite characters. To foster a child's imagination, consider creating a decorative theme based on fantasy characters such as dragons, space creatures, or dinosaurs. For older boys, sports themes (such as football or rugby) are especially favoured, and teenage boys in particular enjoy having bedding in their favourite team colours. Other popular designs for teenage boys' bedding include animal prints, space/constellation designs, and different shades of denim. If two boys are sharing a room, consider getting bunk beds and use bedding in different colours and themes that reflect each child's individual taste.
For an easy way to match bedding components, choose a five-piece quilt cover set, which includes sheets and pillow cases as well as a matching quilt. Five-piece quilt cover sets are economic and ideal for creating a uniform design scheme for a boy's or teen's room. Here's a quick guide to five-piece quilt cover sets, with information on choosing the right sizes and fabrics.
---
2
Furniture

When shopping for boys' bedroom furniture, keep in mind that every bedroom needs certain essentials, such as a chest of drawers, a dresser, a mirror, a night table, and a work desk. Other fun and useful items include rocking chairs, colourful fabric hampers (especially those shaped like footballs or other sports items), and toy or blanket chests, which provide valuable extra storage space. For sleepovers, hideaway beds are ideal because they can be stored easily, and some styles even offer extra storage or work space when they're not being used for sleeping.
---
3
Lighting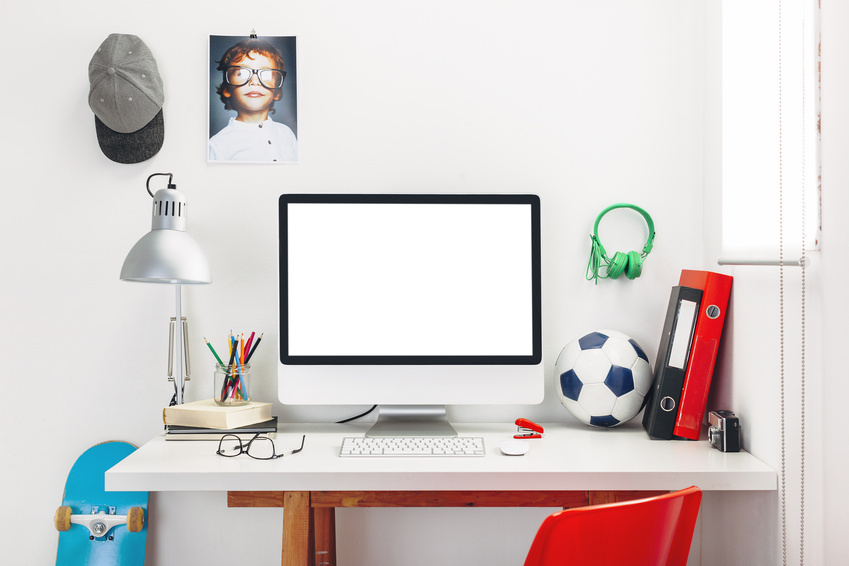 In addition to a central ceiling fixture, it's important to have several work lamps in a child's bedroom for reading and studying. Choose colours that complement the overall decor, and consider including at least one fun figure-lamp consistent with the child's favourite theme.
---
4
Accessories

One of the best ways to liven up a boy's room is to add plenty of vibrant, attention-getting artwork. Fun bedroom posters are especially appealing to kids; just make sure to choose age-relevant prints. Toddlers and young boys will love animal prints or cartoon characters - and don't forget Disney-related posters with images from popular movies such as Cars or Toy Story. For older boys or teens, consider pop star posters, wildlife prints, and funky retro-pop icons. Vinyl wall stickers are also a great way to personalise a boy's room, and can be easily removed without damaging the paint or wallpaper. Likewise, any boy who's fascinated with astronomy will love plastic glow-in-the-dark stars, which stick to walls and ceilings and are easily peeled off and rearranged.
---
5
Renovations

When it comes time for renovations, remember that as a boy gets older, he'll need more storage space for clothing, books, electronic equipment, and other essentials. Renovations should include, whenever possible, extra shelving, storage, and closet space. It's also a good idea to enlarge work space areas for computers and other equipment.
As children move into their teen years, sharing a bedroom space with younger siblings can get increasingly frustrating. If there's an extra room in the house, consider making it over so that the oldest child will have his own bedroom. Even if it's a smaller space, he'll enjoy the privacy as well as a quieter place to study and relax.
Finally, it's important to allow older boys and teenagers to help design their own bedroom. One of the best ways to do this is let them look through online retailers, where they'll find a wide variety of bedding, furnishings, and decorative accessories specifically created for boy's bedrooms - including many items that aren't readily found in traditional retail stores.