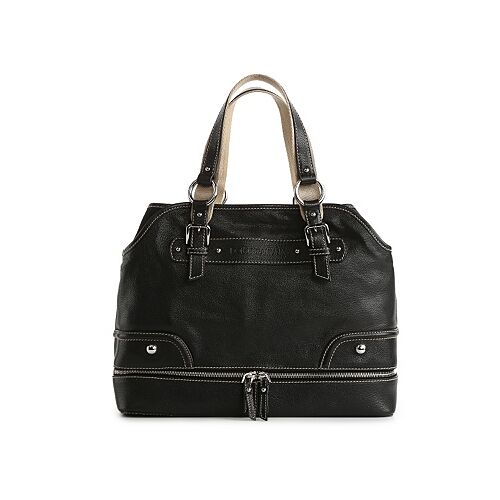 While they perform a functional job by allowing the owner to carry her possessions in an organised manner, designer handbags also make a fashion statement. Countless styles of handbags exist in a myriad of shapes, materials, and colours, Women may own several bags and use them all at varying times in her life. Some bags are designed for carrying one's daytime essentials such as car keys, wallet, phone, and day planner, while others have very little storage space and are meant to only carry a tube of lipstick, a compact, and any other small items of the strictest necessity for evening. Buying the right designer bag for the right purpose requires just a little knowledge about the available types of designer bags and how to purchase them. From Christian Dior to Armani, Coach to Dooney and Burke, and beyond, designer bags range in price, purpose, and style.
Styles of Designer Bags
Designer bags come in all shapes and sizes. There are numerous styles of designer bags manufactured by many different designers, but there are several basic shapes of bags that are used to categorise most designer bags. The following styles are the most popular of designer bags.
Clutch Bag
A clutch bag is named for the way in which the bag is carried. There are no attached straps or handles on a clutch. The carrier holds onto the body of the purse, or rather clutches it. A clutch can also be carried under the arm of the wearer. Clutch bags are typically intended for evening wear as they are not a practical option for running errands as they can be lost easily and do not hold a lot. Tory Burch designs dozens of clutch bags for the fashion-conscience woman in her 20s and 30s.
Hobo Bag
The hobo bag is an unstructured bag that slouches in the center. The shape of the bag resembles a crescent and closes with a zip. Hobo bags usually have a long strap attached to the body of the bag. For the woman that likes to carry her life within a bag, a Gucci hobo bag enables her to do so with leather or material styles.
Messenger Bag
Worn across the chest of the wearer, occasionally with a padded shoulder, the messenger bag takes its name from its popularity with bicycle messengers. The bag is a practical option for those delivering via bicycle, but it is also a fashion statement. Messenger bags are larger bags that can hold a larger amount and are often used for transporting portfolios and even laptop computers. Messenger bags are usually constructed from sturdy fabric as opposed to leather materials. With a variety of patterns and fabrics, Ralph Lauren offers women of all ages messenger bags with, or without, comfort straps.
Satchel Bag
Satchels are closely related to messenger bags, but do not necessarily have an across-the-body strap. Satchels are also used to carry papers, but can best be described as a soft-shelled version of a briefcase. Small handles are attached to the top of the satchel, which are usually crafted from leather. The bottom of satchel bags are usually flat and can stand on their own, especially with Proenza Schouler satchel bags where the sturdy bottom helps keep the bag upright.
Tote Bag
A tote bag is a large bag that is capable of holding much more than smaller bags. Tote bags have two straps and a large main compartment. Tote bags are versatile and are usually made from sturdy materials, whether fabric or leather. Some totes come with several interior compartments while others only have one main compartment that closes with a zip or is completely open. Michael Kors offers hundreds of tote bag options ranging in size from big to even bigger.
Shoulder Bag
The most common of everyday bags, the shoulder bag is a bag that is attached to a strap that is carried over the shoulder. Shoulder bags can be made from either leather or fabric and is roomy enough to carry basic personal items. Coach has popularized the traditional shoulder bag with their trademark horse and carriage as well as "C" design. Available in a variety of patterns and fabrics, including leather, women can carry everything they need and keep it safe under their shoulder.
Barrel Bag
A barrel bag resembles the shape of a barrel, much like a duffel bag but more structured and not as large. Barrel bags usually have a detachable strap in addition to handles so they can be carried either way. Dooney & Bourke offers women a barrel bag in durable fabrics that are easily cleaned with a mild soap if soiled.
Evening Bag
The evening bag is named for its purpose, which is to be carried during nighttime events, including formal occasions. Evening bags are small and hold only the essentials. Evening bags are often ornately decorated with beading or embroidery. Whether lined with Swarovski crystals or inspired by red carpet looks, evening bags can elevate the gown to the next level.
Baguette
The baguette is a small, usually evening bag, the shape of which resembles a small loaf of French bread called a baguette. The baguette bag is long and narrow. Fendi, Christian Dior, and Prada make fashionable designer baguette purses.
Materials Used to Make Designer Bags
The following are the most commonly-used materials for creating designer bags. Each material has its positive attributes as well as some downsides. Designers choose their materials according to their own aesthetic.
Type of Material

Characteristics

Leather

A sturdy, natural material that can be dyed a variety of colours

Stylish as well as durable and is considered luxurious

Some designers, however, do not wish to use material from animals, and some consumers do not support this, either

Suede

Suede is also made from animal, it is a different texture than leather, however

Faux leather

Man-made materials may have been created as cheap substitutes for the real leather, but now that many consumers prefer animal-free products, faux leather and suede is considered a main material used in designer handbags

Techniques employed in treating leather are now used on these faux materials, giving them the same appearance as their leather counterparts

Linen

Although linen can wrinkle easily, when backed with interfacing it is stabilised and can make a strong material for creating a bag

Canvas

Canvas is considered one of the most sturdy materials

For this reason, it is used to construct handbags as they carry a lot and need to survive wear

Cotton

Cotton comes in a wide variety of prints and colours, making it an idea fabric choice for bag; as a natural fibre, cotton is also easy to launder

Velvet

Because of its rich texture and pile, velvet is often used to make evening bags

Can be tricky to work with, however, as the fabric's nap goes in one direction, and the constructor needs to cut the pattern pieces in the right manner

Silk

Silk is a natural fiber that comes in a wide variety of weights from extremely the light sheer chiffon to dupioni, which has a slubby texture
Regardless of which material the purchaser ultimately prefers, learning about all of the available options allows the buyer to make an informed decision.
How to Buy a Designer Bag on eBay
To find and purchase a designer handbag on eBay, use the general search bar and type "designer handbag" or a specific item like a "Fendi purse". When the search results appear, you should narrow them down to a manageable number. Add keywords, select categories, or click on one of the suggested searches to eliminate those listings that do not meet your wishlist. When you find a designer handbag listing that matches your needs, read the written details carefully. Pay close attention to any payment and shipping requirements as well. If photos are provided, examine them as well. If you have any questions or concerns about the listing, eBay makes it easy to contact the seller. Lastly, you can browse deals on bags if you are uncertain of where to start.
Conclusion
Designer handbags come in all shapes and sizes and can be used for a large variety of purposes. When searching for a handbag to purchase, buyers need to keep in mind which materials work best to suit each individual's needs. Additionally, the buyer needs to consider the intended purpose of the handbag. If the purchaser is looking for a daytime handbag, for example, a beaded baguette would not be a suitable match for the buyer's needs. Finding the right designer handbag requires some planning and research before making a purchase. By defining one's needs, potential purchasers of designer handbags can confidently select the right handbag to meet both their stylistic and functional needs. By searching the eBay site, the consumer can easily find exactly what she is looking for, from the convenience of home.