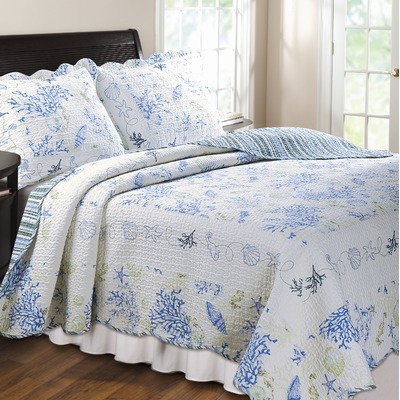 A nice looking bedroom is pleasant to look at and it helps to create a feeling of cosiness and allows one to properly relax. Besides choosing a bed frame that fits the overall design of the bedroom, the bedding is also rather important. One can change it often in order to create different moods. Some people even prefer to match the bedroom design with the season by using darker colours during the winter and flowery bedding in summer. One can cover bedclothes with a quilt, a knitted or fabric bedspread with decorative stitching, or other designs. A quilt cover is the easiest way to cover the bedclothes elegantly and thus it gives the bedroom a sophisticated look. Covered with a quilt, the bed looks tidier. When the night comes, the quilt cover is removed again, but during the day the bedroom is more presentable with a cover.
One can sew quilt covers at home if sewing imposes no challenges, but they are also available for purchase from high street home and furniture shops as well as on online web sites such as eBay. The most elegant quilt covers are created by designers and they are valued by many people. When buying a designer quilt cover there are several aspects to consider, including material, size, and style.
Designer Quilt Cover Materials
The material of the quilt cover typically refers to the outer part of the quilt. The material determines the style of the quilt cover as some materials are more luxurious than others. Moreover, the material makes the quilt cover either easy or hard to clean. Silk, cotton, and satin are generally used for creating quilt covers.
Silk
Silk is a fabric derived from cocoons created by silkworms. This fibre is lustrous and strong and therefore used for elegant designer quilt covers. Although such covers are more expensive, they are worth the investment because silk is also strong, even the strongest of fabric fibres. Lustre remains on silk for a long time because it has the ability to maintain colours for a long period. The smooth surface of silk does not attract dirt and therefore the quilt cover does not require frequent washing. Even if some dirt accumulates on the surface, it is easily removable. Mild soap is recommended as harsh bleaches ruin the fabric. Dry cleaning is also a preferable cleaning method.
Cotton
Cotton is a natural material derived from the cotton plant, on which it surrounds the seeds. The fibre is soft and durable and could be painted in many colours and printing on it is also very easy, making it a great canvas for designer quilts. Thanks to good colour retention, the cotton quilt cover stays beautiful for a long time. Caring for the cotton quilt cover is also quite easy because it is washable at high temperatures and most detergents do not ruin the fabric at all.
Satin
Satin is commonly made of silk, polyester, or cotton, but it is still classified as a separate material. It is distinguished by its weave. The threads of satin are looped at certain intervals by using a minimum number of fabric interlacings. When made of cotton that consists of short-staple yarns, the fabric is also called sateen. This weave creates a glossy surface and smooth back and satin covers are thus valued for their lustre. Satin quilt covers are generally washed with mild detergents and at low temperatures as hot water may cause fabric shrinkage. One should not squeeze or twist a satin cover or it may lose its shape; also, it should be dried on a flat surface.
Designer Quilt Cover Styles
Quilting is a sewing technique, but quilt covers generally rarely use this technique today. Modern quilt cov ers are more often made of single fabric that is often decorated either with a print or embellished with stitches.
Classic
Classic quilting technique allows one to create rather thick and warm quilt covers that one can leave on for colder winter nights in order to keep the warmth in. Quilting includes sewing a padding between layers of fabric. The padding is held in place with stitching and this is often applied in a decorative way in order to enhance the style. Classic quilting styles include applique, reverse applique, trapunto, embellishment, English paper piercing, and foundation piercing.
Printed
Printing on a fabric entails limitless options because one can create almost anything. Children can enjoy their favourite cartoon characters and superheroes on printed quilt covers, while adults benefit from exquisitely designed flower prints, and other similar creations. The print may either be a colourful picture or an elaborate graphic design.
Panelled
Panelled quilt covers consist of panels made of different fabrics. These often have contrasting colours that create a dramatic effect. Designers often opt for this design because it looks elegant, yet simple. The panels may be vertical, horizontal, or placed asymmetrically.
Designer Quilt Cover Sets
Although many quilt covers are sold as single pieces, they are also offered as parts of complete sets. Typically, these sets include pillowcases or pillow protectors that have the same colour and design as the quilt cover. Such sets allow one to use uniform design in the bedroom and this is considered stylish. Often, duvet covers are also included in these sets, so the bed looks the same with or without the quilt on it. The quilt cover is still important even though the look may not differ at all. The cover helps to protect the duvet and is thus essential for people with pets or children who may play in the bed during the day.
Designer Quilt Cover Sizes
Beds, mattresses, and bed clothes are characterised by standardised sizes. It is essential to know the bed size in order to buy matching bedding. The quilt cover follows in the same line and one should take into account its size so that it easily covers the bed. If the quilt is too small, the effect is not pleasant to look at and even a designer quilt is not stylish in this case. The following chart features the common bed sizes and their corresponding measurements.
| | | |
| --- | --- | --- |
| Bed Size Name | Bed Size (cm) | Quilt Cover Dimensions (cm) |
| Single | 91 x 191 | 140 x 210 |
| King Single | 106 x 203 | 180 x 210 |
| Double | 137 x 191 | 180 x 210 |
| Queen | 152 x 203 | 210 x 210 |
| King | 183 x 203 | 245 x 210 |
When it comes to dimensions, the first number refers to the width and the second number to the length of the bed. The quilt cover dimensions are slightly greater than those of the bed size because the quilt also extends somewhat to the sides of the bed.
Buying Designer Quilt Covers on eBay
When looking for designer quilt covers on eBay, the search box that you can find at the top of any eBay page becomes very useful. By typing your keywords into the box, you receive the initial search results that you can then sort by price or condition, be it either new or used. If you are after a designer quilt cover, you may already search by the designer name, especially when you know whose creation appeals to you. However, you may use more general search terms as well. For specific results, try adding some features of the design or the quilt cover size into the search. These features can in fact later be found from detailed item listing as well.
Look for top-rated eBay sellers because they can offer you high-quality products and the best service. Top-rated sellers have acquired their feedback and ratings from other buyers and therefore have proven trustworthy. These sellers are also most likely to answer your questions, should you have any.
Conclusion
Quilt cover largely contributes to the overall look and feel of the bedroom because it is visible, being the top part of the bed. A designer quilt cover is created by a professional designer and is thus sophisticated and elegant.
Classic quilt covers may come with padding, but generally the material refers to the outer part of the quilt cover. Lustrous and strong silk, durable cotton, and elegant satin are some of the popular materials used for designer quilt covers. Out of these three fabrics, cotton can be printed with many different designs because it keeps the colour well. Satin and silk are more luxurious, although they also need more care and is not washable at high temperatures.
Quilting is a sewing technique and classic quilts tend to use it in order to form thick and warm quilts. Many designer quilt covers are more likely printed with pictures or other graphic designs. Panelling is also used and this includes stitching panels of different fabrics together, often in contrasting colours.
One can purchase quilt covers as sets that come with matching pillowcases or other bedding in order to decorate the bedroom in an uniform style. The quilt cover size should be considered as well in order to match it with the bed. Standard measurements are available.