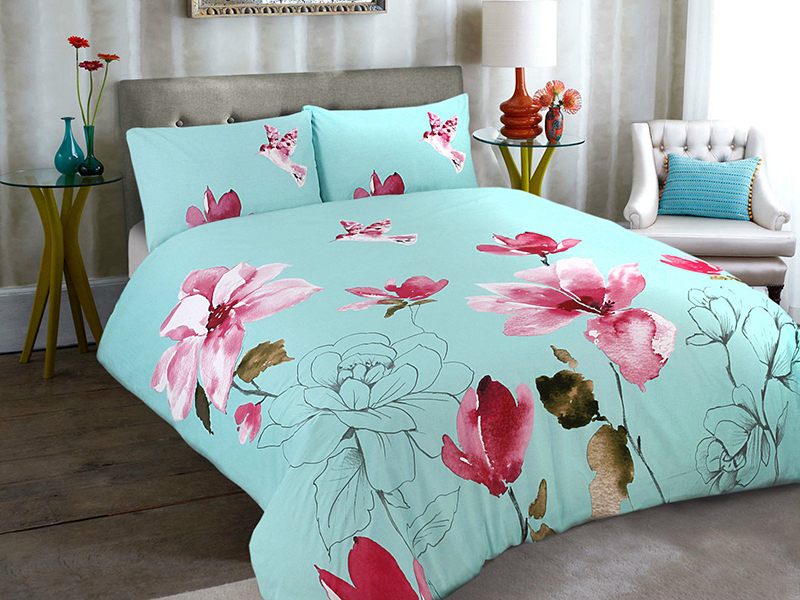 For functional and aesthetic reasons, a quilt cover is an important addition to any bedroom. Protecting the original quilt from dirt and enabling easy cleaning, a quilt cover also contributes appealing style and colour to a bedroom.
Designer quilt covers can be found in a range of fabrics and sizes to suit any bedroom. Designer brands offer traditional and contemporary styles in a range of prices. The term "designer" may apply to a well-known brand, a line that carries the name of a famous person or an established fashion icon. In some cases, the designer-brand status may raise the price of the quilt cover, but careful shopping may reveal items that are more of a bargain.

What to Look For in a Designer Quilt Cover
Designer brands have a certain appeal to many people who aspire to have a beautiful, well-decorated home. The reputation of brands is often well deserved and designer versions of quilt covers are normally made with high quality fabric and superior finish. Some areas to consider before investing in a designer quilt cover are the proper fit, comfort of fabrics and overall appeal.
Sizing of Designer Quilt Covers
Quilt dimensions can vary greatly, and because the cover must fit the quilt properly, it's important to know the size of the quilt to be covered and the size of the bed where the quilt will be placed. Knowing the dimensions of the quilt before shopping for a designer quilt cover will help to avoid costly mistakes or annoying returns.
The quilt cover must be only slightly larger than the quilt. Too much extra space will make the quilt move around within the cover. Too little space will make the quilt bunch up never to lie flat as intended.
Fabrics for Designer Quilt Covers
Designer quilt covers can be found in a large variety of high-end and commonly used fabrics. Cotton, cotton blends and linen are popular fabrics for use with quilt covers, but silk and microfiber are also used.
Because a quilt cover is meant to provide the functionality of being easily cleanable, it's important to choose a quilt cover in an easily-cleanable fabric. Machine washable is the most desired, but dry-cleanable fabric can also be used without issue. Difficult to launder materials will end up costing a great deal in cleaning and will need to be replaced quickly.
Ensure that the fabric and finish of the cover is of sufficiently high quality to match the price tag. Quilt covers often endure daily use and must withstand regular wear and tear.
Colours, Patterns and Styles in Designer Quilt Covers
The colour, pattern and style options found within the realm of designer quilt covers are nearly endless. They are made to suit the very personal tastes of discerning buyers, and bedding lines are updated regularly to address the changes in seasons and trends. Textures to replicate traditional quilts exist as do covers with gentle ruching, lace, and silk. Bright or muted, subdued or flamboyant, options can be found to suit all tastes.
Sets of Designer Quilt Covers
Often, designer quilt covers are sold as part of a three piece set that includes matching pillowcases. If this is the case, the pillowcases will complement the quilt cover since they are made of the same (or a similar) fabric. Occasionally, quilt cover sets will also include a bed skirt or ruffle.
Buy Designer Quilt Covers on eBay
When in the market for a designer quilt cover, eBay is the ideal on-line location. Using the search bar at the top of each eBay page allows buyers to enter terms such as "designer quilt cover" to create a list of related items for sale. If more specific features are desired, enter those terms as well to create a refined list. The left hand toolbar on the results page allows buyers to further narrow down results by brand, price and bed size. Carefully reading the details of listings and comparing prices and shipping options will ensure that buyers are happy with their purchase.
Conclusion
Designer brands feature highly in the minds of consumers. While protecting the quilt from dirt and damage, designer quilt covers impart fashion and style to a bedroom in a way that might not otherwise be achieved. With careful consideration of the needs of the bedroom and thoughts on personal taste, buyers can find high quality designer quilt covers to suit more bedrooms and budgets.