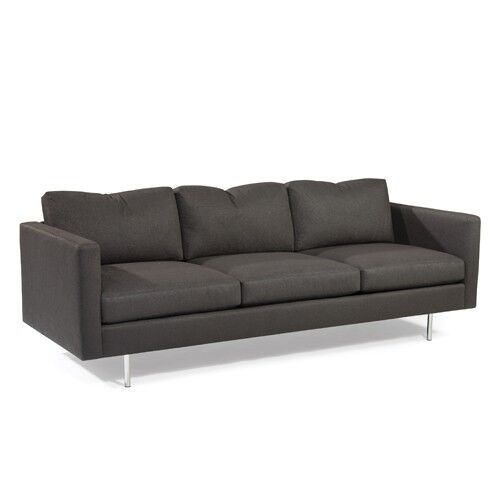 After a long day of work, meetings, cleaning, and driving, there are few things more comforting than nestling into ones couch. Whether it is suede, faux leather, linen, or a synthetic fabric, the comfort of a couch can speak volumes. Designer sofas, couches, and even futons, can become arduous to shop for, but it does not have to be that way. Ligne-Roset, Van Gogh, Freshome, and hundreds more comprise the designer sofa market, but it is not always the brand that determines demand, it is the style of the couch and the ability for it to remain trendy.
Some consumers keep a sofa in a guest room, den, or their own master suite. Whatever the preference, consumers can shop on eBay's Deals for their next sofa purchase or visit a local shop.
Designer Leather Sofa
A leather sofa looks great in almost any room of the house, with almost any established decor. A chesterfield couch in shades of browns, blacks, and even greys can become a warm and inviting centrepiece. Alternatively, consumers can choose a sleek white-leather couch with pops of color in throw pillows.
Whether buyers prefer to sit by a kindling fire during the holiday's or simply enjoy the couch on any other day of the year, a leather couch is a durable option. Designer leather sofas are typically well-made and durable with double stitching, dyed-through leather, and treated with protectant. Over time, consumers can wear in the couch and give it a truly classic look.
Suede Designer Sofa
Cozy and inviting on a cool night, a suede designer sofa may be just the right remedy to retain the warm feeling. Designers offer faux and real suede options, but both should have Scotch Guard sprayed regularly to maintain the fabric and prevent stains on the soft materials. Again, consumers can change the look of the sofa by using throw pillows, and even add plush blankets to keep the look and feel of the piece.
Depending on the hide and manufacturing process, suede can last for ages with a slightly-worn look. Each designer may treat the suede, or synthetic suede, to obtain a different effect, depending on how the light hits it and how the fibres are sitting.
Designer Linen and Cloth Sofas
Linen sofas are better for occasional use so as not to tear with repeated wear. Easily creased, designer linen sofas are inviting, but also foreboding. Eating and drinking over linen may be unwise, but this sofa option looks wonderful in a sitting room, waiting area, or as an accent piece in a bedroom. Cloth sofas can have a rugged look, or a pristine look, depending on how they are decorated as well as what the thread count is of the fabric.
Specially treated natural fibres can appear sateen while others can look like burlap. Some designers permit the owner to remove the pillow and sofa coverings to allow laundering, but spot treatment usually removes most spots.
Other Designer Sofa Options
A sofa can seat two to three people, or even up to 12 if it is large enough. Shaped in an "L" or "U", and of course straight, consumers can accommodate enough guests. For overnight guests, buyers can purchase sofa sleepers that pull out into a bed large enough for 2 to 3 people to sleep comfortable depending on the size of the interior mattress. Certain designers sell miniature sofas for children to enjoy without feeling lost in the sofa.
Type of Couch

Available Brands

Relative Cost

House of Chesterfield

$$ to $$$$

$$ to $$$$

Leather Sofa Sleeper

$$$ to $$$$$

$$ to $$$$

Suede Suite

$$$ to $$$$

$ to $$$

Suede Sofa Sleeper

$$$

$$$
There are hundreds of other options to consider, especially when reviewing designer suites. Determining the purpose of the sofa, fashion or function, can help determine the type of sofa, and the cost one is willing to spend.
How to Buy
Buying a designer sofa is simple once you know what sofa suits your personal style. You can purchase a sofa on eBay from hundreds of sellers that have an impressive inventory of designer sofas. Simply input your search criteria such as "imported leather sofa" and then choose among filters, price points, and geography to find deals that fit your pocketbook. Whether you prefer a classic chesterfield, a chaise-style sofa, or a traditional two-seater, you can coordinate the decor to suit your tastes. Each sofa has its pros and cons from overstuffed and bulky, to too rigid and compact. Whatever your preference, lounging on a designer sofa at the day's end is worth the investment of time and financial resources.