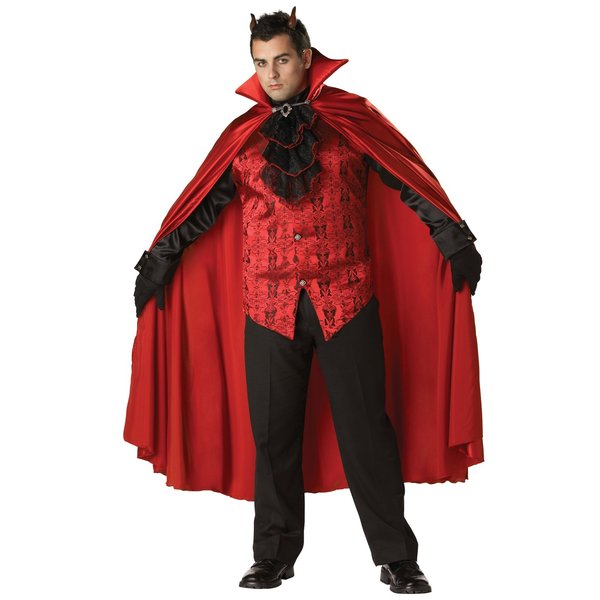 A great way for women to show that they do have a dark side while still being playful, a devil costume is perfect to celebrate Halloween. A popular American holiday with Celtic roots, Halloween has gradually caught on in Australia as well. Devil costumes come in an array of styles for women, which give them a great variety from which to choose. However, buyers should pay attention to the style of the costume, accessories, and of course, sizing. eBay is a great place to find all sorts of devil costumes. Buyers can find new and used items in several styles, along with all of the accessories for a spectacular final look. Before making a purchase, consumers should investigate devil costume styles and accessories.
Women's Devil Costume Styles
Devil costumes range from the conservative to the flirtatious and daring, but a common element to them all is the colour scheme. Most costumes are red and black. However, buyers can choose from Gothic-inspired dresses to more modern approaches.
Gothic Costumes
A fusion of the horror genre and the Romantic era inspire Gothic devil costumes. These costumes have echoes of a bygone era, such as laced bodices and bell sleeves. Dresses are either short or long and may vary in how much decolletage they expose, ranging from the conservative to the daring. Some may even contain a tall collar or a cape to go with the costume.
Sexy Costumes
Sexy devil costumes have a bit more of a modern take on the devil imagery. Costumes may range from tight-fitting body suits to corsets and tutus, as well as other dresses. These costumes are shorter and show more skin. Embellishments, such as flames, sequins, and other glitzy details, are common as well.
Where a person wears a devil costume is an important consideration when deciding upon a type. A more conservative Gothic costume may be a better choice for taking children trick or treating, while something more daring may be ideal for an adult party.
Sizes
Buyers also need to pay attention to the size of a costume. Some costumes show labels as "one size fits all" or "one size fits most", while others are specific about their size. The chart below helps to size a costume appropriately.
| | | | | | |
| --- | --- | --- | --- | --- | --- |
| Costume Size | | | | | |
| Dress Size Equivalent | 4-6 | 6-8 | 8-10 | 12-14 | 16-18 |
| Waist Size (cm) | 58-60.5 | 60.5-63 | 63-68 | 73-78 | 83-90.5 |
| Hip Size (cm) | 83.5-86 | 86-88.5 | 88.5-93.5 | 98.5-103.5 | 108.5-116 |
| Bust Size (cm) | 76-78.5 | 78.5-81 | 81-86 | 91-96 | 101-108.5 |
In most cases, a standard or " one size fits all " costume may cover sizes 8 to 12. There are also plenty of plus-sized costumes for women to choose from with their sizes broken down in the chart below.
| | | |
| --- | --- | --- |
| Costume Size | | |
| Dress Size Equivalent | 18-22 | 24-26 |
| Waist Size (cm) | 90.5-104 | 110-116 |
| Hip Size (cm) | 116-129.5 | 135.5-141.5 |
| Bust Size (cm) | 108.5-122 | 128-134 |
However, in all cases, sizes can vary slightly by manufacturers. Remember to read the manufacturer's sizing details for a costume. If in doubt, choose the larger size rather than the smaller one.
Devil Costume Accessories
As with any outfit, the accessories are what tie the whole devil costume together. Most devil costumes contain accessories such as a trident, horns, wings, tails, and shoes.
Trident
One of the most notable accessories is a trident. Often red or black, the trident has three prongs mounted on a staff. Both miniature and life-size varieties are a great way to add some flair to a costume. Sequins may decorate a miniature model to tie into a costume.
Horns
Another accessory to consider is horns. People may wear horns as a headband, which is a simple, no-fuss option. Others may be hair clips that attach individually. Both can be either red or black, and some may have sequins or even built-in lights to create a glowing look. They may even be bundled with a trident or even an attachable tail.
Wings
Wings may be red or black, and feathery or dragon-like. Oftentimes, they attach with elastic bands that slip over the shoulders. Wings are a great way to wear a devil costume, especially in contrast to a friend with an angel costume.
Shoes
A final accessory to consider is a pair of shoes. A pair of strappy stilettos is a great choice for a sexy costume, while a pair of heeled boots complements a sexy costume or a Gothic-inspired one. Consider either red or black to tie the look together. Beyond that, the shoes should fit comfortably. A pair of shoes that worn with multiple costumes or outfits helps to stretch a budget and ensure a woman gets the most use out of a pair of shoes.
How to Buy a Devil Costume on eBay
Shop eBay to find a great assortment of devil costumes. When you visit eBay, enter a keyword, such as " women's devil costume" into the search bar and press search. You can narrow down your results by price range and a host of other factors. Also, take the time to check out the eBay Deals page, where you can find special offers on fashion and beauty items, among many other products. Before you buy, review a seller's feedback history to see what other buyers have said about their experiences. You can also browse the listings for top-rated sellers who eBay recognises for their commitment to excellent service. You are sure to find a devil costume that suits you on eBay.