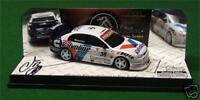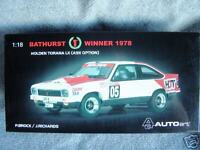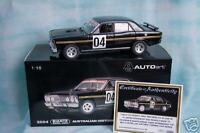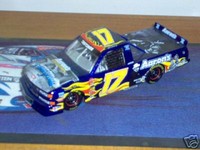 For many of us, Ebay is a fantastic place to find items that may not be available locally. I myself have a bit of an obsession with diecast cars (as I'm sure many others do), and find that I can increase my collection by buying through ebay (many times at prices much cheaper than retail). What follows are simply my thoughts on collecting as a hobby or profit, and I'd be interested to hear what others think.
But, with any hobby, do you do it for the love of it or do you use it as an investment? This probably comes down to the individual I guess. I myself have a very mixed bag of diecast cars, 1/18, 1/24, 1/64, V8 Supercars, Nascars, Sprintcars and assorted others (mainly Mustangs). I buy cars that 'I like the look of', and not necessarily one particular driver. This can mean that what I buy can appreciate in value over time, but not always.
Limited Number, Higher Value?
Build number is not always a good indication. Take for example the Classic Carlectables Signature Series 1/43 V8 Supercars. These were produced in the late 1990's early 2000's and in relative small quantitys. These cars in their plastic display cases looked really good (although lack the detail of todays cars) and being 'personally autographed' by the individual drivers, should have made them a 'must have'. But now, 6 to 7 years later, these cars can be picked up for around their original price (or much cheaper), it all depends on the individual driver.
Nascars in Australia, are they worthless?
As I mentioned, I have quite a few Nascars, but as they are not so popular here in Australia, the ones that I have that are limited editions of 1000 or less will most probably never really appreciate in value here. But, that doesn't mean they are worthless. You can also consider listing and being prepared to post overseas. If you have a paypal account, this makes the process of selling to a different country very easy, so it's worth considering. Some of the cars we have available to us here are very hard to find in the United States, and so, could be a valuable asset (Dale Earnhardt cars for example).
V8 Supercars, selling superstars?
V8 Supercars are another strange one. Many of the not so popular drivers have their cars produced in 1000 and under quantity's in 1/18 and 1/43, but will still never appreciate in value a great deal (have a look at what you can buy 2002 and 2003 1/18 Supercars for). These are still worth a look, and if you are prepared to hold on to them, they may appreciate, especially if the particular driver is able to win Bathurst or a Championship later in their career. The early 1/18 and 1/43 (2000, 2001, 2002, 2003) Classic Carlectables for the likes of Marcos Ambrose, did skyrocket in value after his championship wins, but seem to have settled a bit now.
Quick sell or appreciating asset?
My best advice, is it you want to collect for 'profit' be prepared to wait. The first 1/18 XY GT's from Biante are now commanding high prices (I've seen over $1000 for a twin mirror), but it's taken almost ten years to get to that level. Exceptions to the rule are SOME limited edition releases. The 1978 Brock/Richards Biante 1/18 A9X Torana when released was retailing at $165.00 ish, but a rush on release saw prices sky-rocket. They now seem to have settled around the $200 - $300. The 2004 Black Historic Racing Series XY GT from Biante was another example. On release I saw cars on ebay going for over $600, within a few weeks however, they were back down to the $200 - $250 mark and seem to have stayed there. With these type of cars, sell fast for a quick large profit, but if you can, keep one of hand as an appreciating asset. The upcoming 1979 Brock A9X Torana, looks like it will be a one of these quick, high sellers. If you have secured one or two for resale, wait about a week after release (depending on how many are actually built) before listing, and keep an eye on the prices in the meantime (watching them go up and up I expect).
Do your reserch!!!!
If you are looking at your hobby as an investment, do your research!!! Have a look on ebay what cars are selling for (or have sold for). Do a web search and see what retailers are selling them for (sometimes retailers have specials to clear out older or slow moving models, these can be picked up for a lot less than retail). Try and work out what people are interested in buying (once again watch ebay). There's no point getting in a bidding war, spending a heap of money if you could have bought cheaper if you had waited). Most importantly, don't think that because you paid $X for a car, you will sell it for that or more. The diecast market has it's up's and downs like anything else, picking the right moment to buy and the right moment to sell are almost as hard as the stock market. And don't forget to KEEP THE BOXES and the CERTIFICATES OF AUTHENTICITY (COA)!!!! A highly collectable car is quickly de-valued if it doesn't have the original packaging, the packaging is damaged or the COA is missing.
Insurance is cheap, replacing is not!!!
If you are a buying a 'collectable' car, consider insurance when getting it posted. There is nothing worse than unwrapping that 'must have' car, and finding something broken. Also check the sellers returns policy if it is broken on arrival. If you don't 'cover' yourself in some way, your expensive investment may end up being a nice looking damage toy!!!
Can you sign this please!!!!!
The 'Autographed' debate is another hot topic. Is a diecast car more valuable if it's been personally autographed? Some say YES, some say NO. For me, I'm not big into getting cars signed, but if I have the opportunity I will get a COA signed. Does this increase the value? Do a search in diecast cars and trucks or sports memorabilia for signed diecast and decide for yourself. I think it comes down to who the person is, where it has been signed and if there is any 'proof' that it's real. Add value? I don't think it adds a lot a value (at the moment), but things are always changing.
Enjoy your collecting and if you are after quick profit, buy and sell quick when models are released. Otherwise be like me, simply enjoy your collection, let others admire it and when times are tough and you need to sell some, list your cars at a realistic price (as dictated by the market) and hope for the best.
Stephen - purchy2000