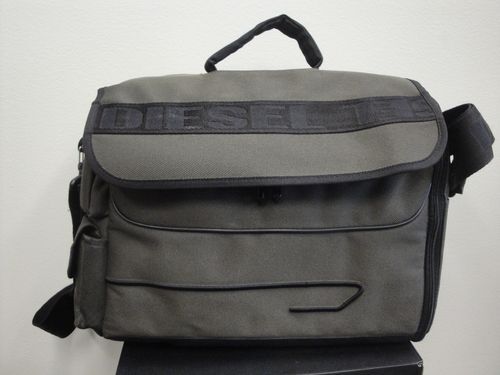 No matter what a person's lifestyle is like, everyone can benefit from using a bag. They serve many purposes and the Diesel brand knows how to make functional and stylish bags. It does not matter if shoppers are men or women, there are all kinds of bags available, so it is easy to find one that meets a shopper's needs. It used to be that only women were seen carrying purses around. However, men often need to tote around items as well so there is no reason why they cannot also use bags. Today there are just as many bag designs for men as there are for women. Shoppers simply need to learn about the various types available and then select a style from the line of Diesel bags.
Types of Bags
Bags come in all shapes and sizes. Most have a specific purpose, but some of them are more about looks than anything else. When it comes to choosing one there are not necessarily any right or wrong decisions, but the bag should be functional as well as appealing. If shoppers cannot find one that provides for their needs and looks the way they want, then consider buying two. For example, a woman may want a small, dainty purse, but may also need to carry her gym clothing. Needless to say, no amount of wishing can make all of her stuff fit in a small purse. Just get a bag for every need or occasion.
Bucket Bag
Bucket bags are deep and have a lot of extra fabric as though a large piece of material is bunched up and tied at the top. They typically have one shoulder strap and a drawstring opening. Since these are casual bags, they are great for carrying a decent amount of items on a typical day.
Clutch Bags
Clutches are very small purses and tend to be more formal. They hold a few necessities such as money, credit cards, and possibly some makeup. Their name comes from the fact that they have no straps and people must hold onto them the entire time. These are great to have when attending dressy events. On occasion clutches come with a removable shoulder strap that is small and dainty.
Doctor's Bag
A doctor's bag, also called a satchel, resembles an antique bag that medical professionals used to have. Now they are just standard purses. They have a rectangular base and close at the top with various kinds of fasteners. Most of these have several features such as pockets, zips, and dividers inside. Doctor's bags also have two handles on each side of the purse and some also have a shoulder strap. The sizes of these vary greatly so shoppers can easily find one that fits all of their accessories.
Hobo Bags
Hobo bags look like a half-moon shape and have one shoulder strap that attaches to each corner. There is no interior support so the bags are floppy, large, and casual in appearance. Their unique look makes them a popular choice for those who want a casual, yet stylish bag that holds a lot of items.
Messenger Bags
Diesel messenger bags are popular with both men and women. They have a rectangular shape with one large shoulder strap. They can hold quite a bit of stuff and usually have a large pouch for the big items, as well as compartments and pockets to keep everything else organised. These work great for students and professionals that have a lot to carry from one place to another.
Tote Bags
Tote bags are larger and simple with a similar design to the doctor's bag. They have one large compartment with two handles and sometimes a shoulder strap. Men and women often use these because they hold a lot and come in many different styles. Some even find extra uses for the tote such as carrying groceries in it rather than getting disposable bags. Tote bags are casual and functional, but there are some eye-catching designs available.
Book Bags
Book bags are one of the largest styles of bag available. They are similar to messenger bags but they are a lot wider so that they fit more items, such as multiple books and a laptop. Be sure to look for a functional one because some bags are not durable enough to hold all of the stuff they are supposed to. For professionals there are Diesel book bags made out of quality materials such as leather. This gives professionals a way to transport their stuff without the use of a briefcase.
Backpacks
Backpacks have many more functions than they used to. Previously, they were utility bags for outdoors and hiking use, that had little to no style. However, now there are just as many stylish backpacks as there are plain ones. Since they strap over both shoulders they are comfortable and allow wearers to keep their hands free.
How to Buy
With all of the styles of bags that Diesel has, it is easy to find a new or used one for any purpose. One of the best places to shop is oneBay because they have thousands of new and used products as well as an eBay Deals page that has daily sales. Use the search field to enter your product query, such as "Diesel bag". After the list of products appears on the page, you can narrow the results by entering your price range and selecting the preferred condition of the bag. You can also sort the products by their price as well as add your favourites to your Watch List so that you can compare them later.
Diesel Bag|Purse|Backpack|Tote Bag|Messenger Bag