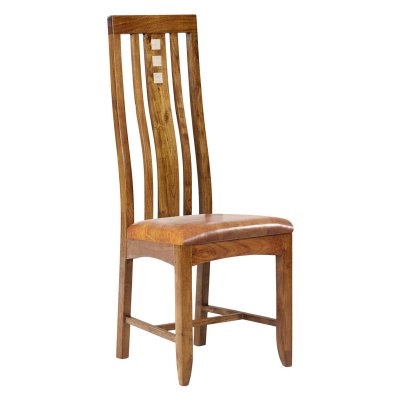 Whether remodelling a kitchen or moving into a new home, furnishing the room with the perfect dining chairs can bring together the entire room into perfect synergy. However, buying dining chairs can be a confusing process due to the many different kinds of dining chairs that are available.
This guide will take a look through all the different styles and variations of dining chairs available, including how to buy them on eBay. Whilst furniture stores, designer home outlets and larger shopping malls can all be places where a buyer can try out dining chairs first-hand, buying the chairs using eBay's large range can often result in an overall better investment.
What are Dining Chairs?
At their most basic level, dining chairs are simply a raised, flat surface used to seat one individual, often during mealtimes, around a dining table. It usually has four, equally separated legs supporting the flat surface and a high back to support the weight of the body and to promote good eating posture. Traditionally, the most luxurious dining chairs were placed at the head of the table for the head of the family to enjoy its comforts. However, comfortable, luxurious dining chairs are now commonly placed in all positions of the dining table, forming a complete set of even-numbered chairs. Some dining chairs may have the addition of two armrests, built for comfort during long dinner parties.
Construction
Dining chairs are made from a large variety of materials, and whilst rare materials include glass, rubber, wicker and even recycled paper, the following table lists the most usual:
| | |
| --- | --- |
| Material | Available Varieties |
| Wood | Hardwoods include birch and oak, softwoods include pine and spruce whilst exotic hardwoods include ebony and teak. |
| Metal | Wrought iron, aluminium, brushed steel, copper and brass accents, with ornamentation added using gold or silver leaf. |
| Plastics | Recyclable polypropylene, techno-polymer, polycarbonate, fiberglass, nylon polymer. |
| Leather | Bonded leather, where leather fibres are bonded with latex to a polyurethane top coat, makes the dining chair durable and easy to clean. |
| Upholstery fabrics | Canvas, heavy cotton twill, silk, velvet, man-made fibre blends woven into specialised upholstery fabrics, chenille, cotton, faux leather, faux swede. |
Styles of Dining Chairs
The following is a table of the several types and styles of dining chairs available to buy on eBay:
| | |
| --- | --- |
| Style | Description |
| Windsor | These chairs often contain two or three species of wood, in a combination of the following factors: thick seat, thin turned legs, continuous arm, sack back, bow back, comb back, low back, rod back, fan back and hoop back. |
| Queen Anne | Based on 18th century dining chair styles, these delicate, small-scale chairs have a distinctive back support (or splat) shaped like a Grecian urn. Other features include a horseshoe-shaped seat, cabriole style front legs and inlaid marquetry decoration. |
| Empire or Regency | Also known as Duncan Phyfe chairs, these simple and elegant chairs have saber style legs, scroll back, squared top, square upholstered seat, harp or lute design on the open back and gently sloping arms. |
| Shaker style | Also known as a ladder back chair, these chairs have slat backs (in three-back, four-back and five-back varieties) giving the impression of a ladder. They have a backrest wider at the top than at the bottom, woven or solid seating and legs which splay outward. |
| Chippendale | Named after mid-18th century furniture maker Thomas Chippendale, these chairs are also known as rococo style chairs. They have a ball and claw feet and Chinese influenced design whilst acanthus leaves are sometimes featured in designs. |
| Contemporary | Modern dining chair designs are unpredictable, varied and artistic, made from a wide range of framing materials, may even have three legs, and use a pedestal design instead of legs. |
| Classic Wooden | These chairs are made wholly with wood, are sturdy, long-lasting, solid and easy to care for (good for busy family homes). Can be a basic square design with four legs and a high back, have a more contemporary look, be intricately designed with carvings into the wood, or varnished for a glossy finish. |
| Leather | Often made with wooden legs and a leather-covered seat, leather chairs are a popular choice. Its slightly padded, smooth seat makes it comfortable, and it is easy to clean and maintain, resistant to many stains, sturdy, and can last for years. |
| Country-Style | An increasingly popular style, country-style dining chairs combine wooden legs with a solid white paint, and a soft, fabric seat cover to bring a rustic country. It can be a focal piece of furniture, so it's best to work the rest of the dining room furniture around them. |
| Traditional | A classic and traditional style, these dining chairs have a touch of royal luxury with a quality linen style seat cover and carefully crafted woodwork on the chair frame. Its ornate design also makes it suitable as a stand-alone piece in a dressing room or bedroom. |
Dining Chair Varieties
The following outlines some of the variations that can be found alone, or in combination in dining chair designs:
· Large chairs: these are wider than normal, giving a substantially sturdy feel.
· Extra deep chairs: larger from the front to the back, they are extremely comfortable.
· Sprung seats: the seat area is soft and springy but still retains the shape well over time.
· Soft back chairs: comfortable and a place to lean against during long meals.
· High back chairs: often reaching above the sitter's head, these are good for posture, offering exceptional support.
· Solid wood: natural appearance with visible knots, grains and variations in colour, no two pieces will be exactly the same, very strong.
· Natural wood: mix of solid wood and natural wood veneers (layer of natural wood over another material). Improves strength and durability of the furniture as it has less risk of twisting or warping.
· Real wood finish: looks like solid wood as chairs are finished with thin layers of real wood, but weighs less and is less expensive.
· Wood effect finish: has the look and feel of real wood, but with a more consistent colour and appearance (easier to create a co-ordinated look). It is layered over MDF.
· High gloss finish: wood is painted to give appealing high gloss finish. May be painted black or white for variety.
· Metal and glass: a contemporary, stylish look, durable and easy to maintain. Choose frosted or clear glass to create a sense of space and light. Ensure tempered glass meets safety standards.
· Marble: when coated with high-gloss, hand polished finish, it is less porous and more hardwearing.
Buying Considerations for Dining Chairs
When buying dining chairs, keep the following points in consideration:
· To ensure continuity, match the material of the dining table to that of the chairs, or include a common design element for both.
· Consider the size of possible guests; the most comfortable chairs are no narrower than 17 inches wide, and best at 20-24 inches.
· Ensure the chairs will fit every doorway and hallway it will have to pass to get to the dining room by measuring the house before buying the chairs.
· Allow at least 12 inches between the seat of the chair and the top of the table for comfortable dining.
· Think about whether the chairs can be maintained properly, and choose a low-maintenance chair to avoid high maintenance costs if this is an issue. For fabric upholstery, invest in a stain guard as a protective barrier against spillages.
· Check individual product-specific cleaning instructions that should come with the chairs for care instructions. It may be worth buying furniture insurance to repair or replace accidentally damaged or structurally defective furniture.
· If buying extra chairs in case of dinner guests, ensure there is enough storage space for the extra chairs, and that the table is big enough to accommodate them.
How to Buy Dining Chairs on eBay
Buying from eBay's large range of dining chairs is easy with these simple steps:
· Use the search bar at the top of the screen to type in 'dining chair' or a dining chair style to browse listings.
· 'Shop by category' using the drop-down menu, go to Home & Garden, then Furniture, then Dining Room Furniture and finally choose Dining Chairs, each time from the list of options on the left hand side of the screen.
· From there, narrow down search results by Format, Brand, Colour, Material, Product Type, Condition, Price and Item Location.
· eBay's recommended deals section may yield further results. Find the eBay deals option at the top of the screen, go to Home & Lifestyle, then scroll down to Furniture Showcase and finally Kitchen. Keep in mind that deals will vary according to available listings.
· Before buying, ensure the seller or the manufacturer of the dining chair offers a guarantee of at least one year to cover furniture defects.
Conclusion
Although finding the perfect dining chairs to complement and showcase a dining room can be a daunting task, having an understanding of the styles and varieties of dining chairs available in the market can go a long way towards making a well-informed decision. Whether they are blending in with the house's existing décor or acting as a focal point in the dining room, eBay's large range of dining chairs can complete any dining room set, so guests eat and relax in comfort, sharing memories, conversations and traditions.