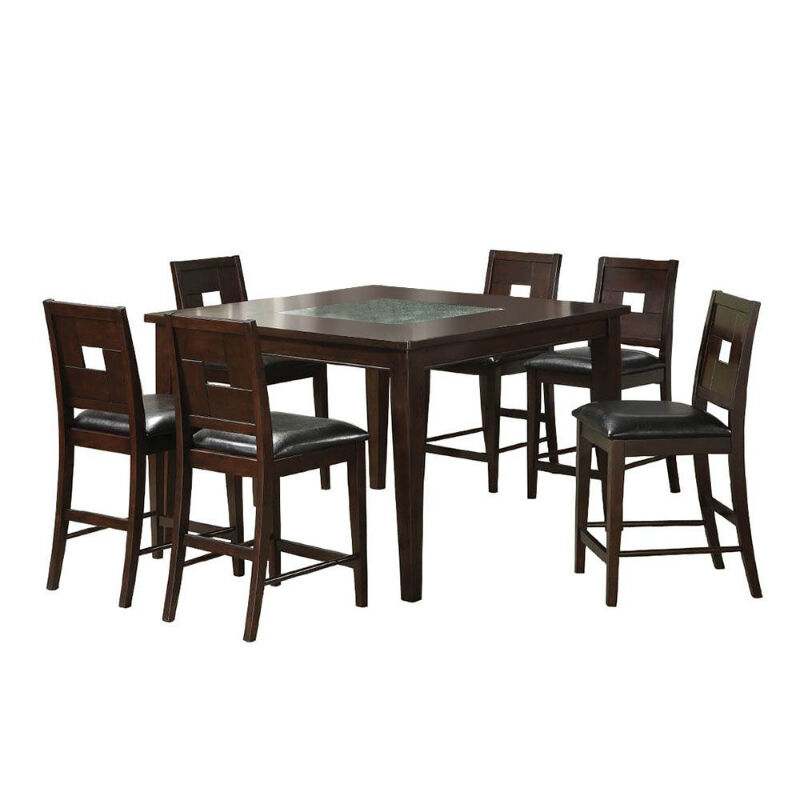 The dining room setup usually consists of a table and at least four dining chairs. Even though such items can be purchased individually, in most instances they are sold together in what is known as a dining table set. When looking to buy a dining table set, people will want a package that contains well designed and high quality furniture.
Dining table sets can be purchased on the high street, in furniture stores or online. When it comes to getting a great deal on either a new or used dining room set, eBay's dedicated deals section is definitely a recommended place to visit.
What is a Dining Table Set?
There are two types of furniture (when sold together) make up a dining table set. Those being a dining room table and a selection of chairs. These two items should be hardwearing and longstanding, due to the considerable importance that they hold within a home. When buying a dining table set there are factors that need to be understood, and thought about prior to purchase.
Dining Table
The dining table is the literal centerpiece of any dining room. It is this that makes getting the right one all the more crucial. The following factors should play a key role when it comes to deciding what dining room table is suitable.
| | |
| --- | --- |
| Room Size | Dining rooms vary in size from home to home, so it is important to find a table that is appropriate. Before looking at dining table sets, take the measurements of the room it is going to be situated in. As a general rule, there should be approximately 120cm between the table edge and the nearest wall. Remember, it is better to have a table that is too small, than to have one that's too big. |
| Table Shape | Traditional and vintage dining room tables will be of a square shape. They are generally quite large and will require a similar size area, in order to be positioned properly. Modern dining tables are freeform, and can often come in circular or oval shapes. They are considered more appropriate for rooms that are smaller in size, due to their curved nature. |
| Table Style | Dining room tables come in a wide variety of looks and designs. These looks incorporate everything from embossing to staining. Modern tables will come with blunt edges, while traditional tables will be carved with a soft edge look in mind. The leg positioning also plays its part as a style element, as it will either have an "X" shape or "two flanks" design. |
Chairs
A dining table set can't be classed as a set if it doesn't come with a selection of chairs. The set of chairs used should meet the requirements of both the users and dining situation, while coordinating well with the table it is partnered with. When looking at the chairs in a set, there are several things to consider.
| | |
| --- | --- |
| Chair Size | Many believe that colour and build material are the only things to consider when buying a set of dining chairs. Chair size also plays a key role in coordinating a dining a room setup. From chair base to tabletop there should be around 30cm of space. This means that typical chairs are sized at approximately 47cm in height and 55cm in width. |
| Chair Style | Style is always going to be subjective. However, there certain elements that is common amongst modern and traditional dining room seating. Expect modern seating to be more upholstery based, while traditional offerings stick to hardwood and intricate carving designs. |
| Amount Required | After calculating chair size, it is crucial to determine how many chairs are needed. While more traditional dining sets will feature a minimum of six seats, modern sets can drop as low as four. These numbers are a general guideline, as it can change depending on room size and dining situation. |
Price
The underlying factor of any purchase is price; this is especially true when shoppers are looking to invest large sums of money into a dining table set. While it is usual to look for quality over affordability, it is also important to understand what actually constitutes towards price.
Hardwoods are generally attractive in appearance and durable in longevity, however these attributes come with an added expense. Those who are looking for similar quality on a tight budget should look towards veneered woods. With the right care these woods can last just as long as standard hardwood offerings.
For those who are looking to save as much money as possible, and at the same time are willing to invest a little extra effort, there are flat-pack options available. They involve constructing the dining room set at home. Remember; when buying a dining room set it is crucial that shoppers understand that even though budget friendly options are available, quality should never be sacrificed.
Buying Used
There are times when buying a new dining room set will be out of reach financially. When this is the case shoppers shouldn't despair, as there is another option. Buying a used dining table set may not immediately seem viable, but people can actually save on the RRP by buying this way.
Choosing to buy used means that the shoppers need to be diligent in their approach to a purchase. Take the time to get more information on the product, and further the understanding of its condition. A great way to do this is to take advantage of the "ask the seller" feature. Try asking the following questions:
· What is included in the dining table set?
· How old is the dining table set?
· Are any parts missing from the dining table set?
· When was the dining table set last used?
· Has the dining table set suffered any damage?
· Has the dining table set been subjected to any repairs?
· Is the dining table set still under the manufacturer's warranty?
· Does the dining room table set come with its original sale receipt?
How to Buy a Dining Table Set on eBay
After deciding to purchase a dining table set, and understanding the elements that have been detailed in this guide, it will be time to find one that is suitable. In order to view a large variety of related furniture, select home and garden when on eBay's homepage. Narrow down the amount of listings displayed by selecting furniture and dining room furniture from the sub-category options.
To get even more detailed listings, search using the keyword bar. For example, type in "modern dining table set" in order to get results that are more relevant. Hone-in on more specific dining table sets by using the search modifiers to the left of the page.
Conclusion
A dining table set is the most important element in any and every dining room. As it is the room in which people choose to entertain guests in, it is crucial that people get the choice of dining table set right. When it comes to finding the right fitting set, shoppers can't afford to take shortcuts, especially when it comes to size and measurements. This guide is here to make sure that shoppers get a perfectly fitting dining table set without the hassle.
It doesn't matter whether a modern or traditional dining table set is needed; eBay has offerings of all styles available at affordable prices.