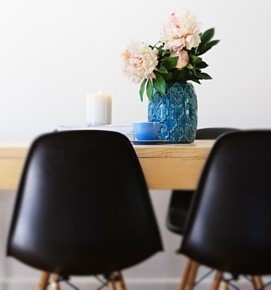 How do you feel when you walk through the door at the end of a busy day?
Do you feel relaxed and at ease or anxious and irritable? Is your home tidy, have a spacious feel to it or is it dark, cramped and gloomy.
Whether your home is new or old, its how you decorate it that ultimately effects the mood and feel of the Home. Some peoples styles or designs start off with good intentions but can go slightly in the wrong direction, which you can easily alter, with very little expense.
One major factor in today's world is clutter! Stuffing, stuff into every available space.
There could be security issues here but maybe with some loving help or time put aside, you can clear and open up space in your home to see hidden potential, and create better health.
Open up small spaces with lighter colours on the walls, simple furniture and delicate lighting. Just as larger rooms can be made more intimate with warmer colours, feature walls and larger, plush furniture. An idea for smaller spaces, is to paint tables or bookshelves against walls the same colour as the walls, to make them blend and disappear, making the room appear larger.
Organise placement of furniture so there's a clear pathway, no obstacles to maneuver around which can be very stressful, for tripping or stubbing your toe. Ouch!
Be mindful of shapes of tables, especially in tight areas where round or oval can be a better choice, than square or rectangular ~ pointy edges, which need more space.
Hang a mirror on an inside wall facing a window to bring the outside in, which is particularly good if you have trees or beautiful gardens outside.
Don't rely on overhead, central lighting. It tends to white wash the room, leaving no atmosphere, keeping you revved up when you want to wind down. Use spot lighting in certain sitting areas, just where you need brightness and you could have them on dimmers. Light-shade stands or lamps on side tables are still very 'in' but be careful of size, that they don't dominate or appear too insignificant.
It's an idea to have a focal point of interest. Which you can add to each room of the house but particularly the Living Areas, or Entrance Way. Something that makes you feel good, which could be a piece of art, vase of flowers, special items collected from your travels or a candle display.
When you enter your home, apart from what you see or feel, what do you smell?
Now, everyone loves the smell of a meal cooking, bread baking, coffee brewing or a fresh bunch of flowers ~ but how about an aromatic, natural perfume that fills the home endlessly. For instance, an aroma loved by many are Roses. Most people love the scent from roses growing in their grandmother/mothers' garden. To keep that aroma alive, use quality essential oils in a burner,
wax melts
, balsa wood flowers in a beautiful bowl, diffusers,
pillar candles
or
soy~wax candles
in glass containers. So whenever you walk through your door you are instantly connected to the sense of home, relaxation and gratification. Leave anxiety outside.
The scent that you connect to most, gives you that euphoric feeling of happy memories that are what you wish to surround yourself with. When you have guests over, you can easily change the aroma to suit whatever you feel the environment requires.
Candles
have been used as therapy for thousands of years, to unite the powers of mind body and spirit. From ancient times to the present, candles have lit our way through every transition. From celebrations and ceremonies to official announcements to processions.
The candles' flame possesses a tranquil and almost hypnotic atmosphere which can take you to a very relaxing place. Lighting a candle for a particular purpose or intention symbolises bringing light to your wishes and desires. Mesmerized by their flame, you are invited to reflect on whatever resonates within you whether it be love, healing, peace, prosperity or gratitude. Light candles to cleanse the room.
Candles and oils have been around, as mentioned for many years, centuries, so beware of modern versions which are made with synthetics and chemicals which you do not want to fill your home with. Always look for the most quality, naturally derived products. Without harming animals in anyway.
So, open the door, feel connected, sit back and put your feet up for a moment to refresh and be grateful.