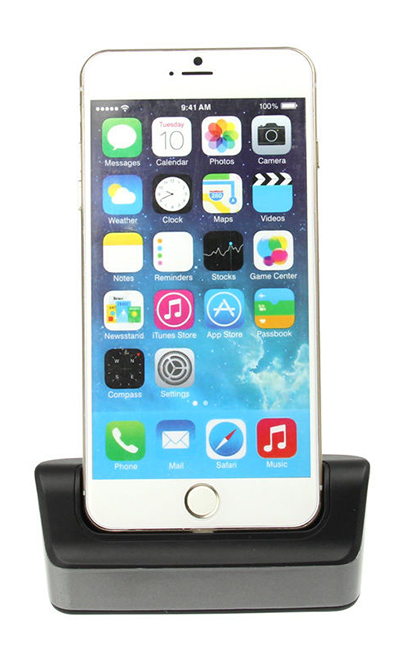 The iPhone is the most popular smartphone on the market. It established the smartphone market and continues to push the envelope on advanced features. Helping to sustain that momentum is a range of products geared at expanding the phone's functionality above and beyond the flood of applications currently used to help it meet so many users' needs. Phone docks that allow iPhones to double as desk phones are a prime example, which not only give users access to a traditional handset but to charging and syncing features, and, in some cases, special apps. Also, as with all Apple devices, style can play a significant role, too.
Here's a quick overview of the best iPhone desk phone docks available:
Function, Features, or Fun?
There are two basic styles of iPhone desk phone docks available. Users can opt for a minimal dock that provides the basic functionality of a desk phone, or a model with advanced features, such as one that acts as a desk phone, a charger and a home speaker system. The expected price range varies widely depending on a dock's purpose, so before buying an expensive model make certain it has all of the features you need.
Basic Models
For those interested solely in a dock which allows them to make calls via a desktop phone, the iClooly and Thumbs Up phone docks both have ultra-simplistic black designs. They also use slip resistant rubber surfaces to hold iPhones in place while you comfortably make business calls from your mobile business line, keeping your phone charged in the process.
Extra Features
Speakers, charge ports and Bluetooth are among the advanced features highlighted by the best business iPhone docks. Favourites include the KEE desk phone dock in silver metallic and white. It sports the trifecta office-bound iPhone users are looking for: mic and speaker, USB ports and an AC power adapter. If you make a lot of calls, especially over speakerphone, this is a stellar model that will look at home in even the most upscale business suite.
The iFusion is another stand-out model. Its basic black design won't impress on its own, but combining Bluetooth with the ability to set up stand-alone speakers takes in-office audio streaming to the next level. This phone dock is perfect for iPhone users who often take part in conference calls.
Retro Appeal
Retro phones are another great option that can mesh perfectly with the iPhone's stylish appeal. The bulky rotary dial models of the past can be easily replicated using the iRetroPhone, and can be preferable for those who enjoy a tactile phone experience. The desk phone docks offer a colourful selection capable of stirring up nostalgia or blending in with your existing office decor.
Conclusion
The iPhone has become one of the world's most popular phone because of its great set of features and its sleek design. Docks are a wonderful way to further increase the iPhone's appeal and get even more use out of this powerful device. These options, and many more, can be found at online retailers like eBay.