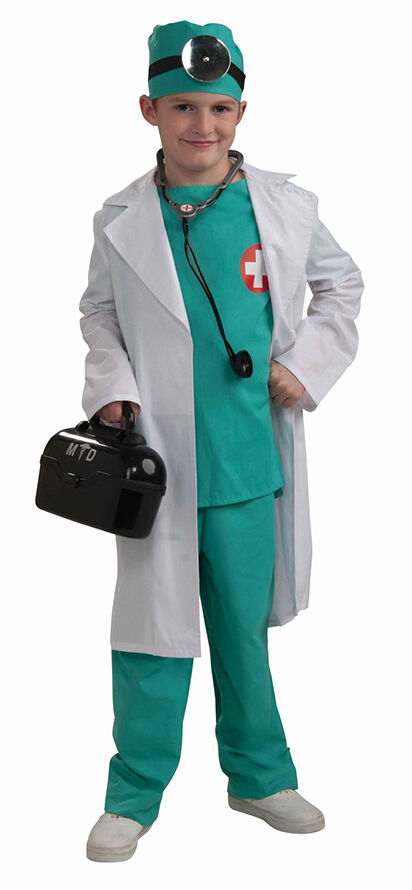 A trusted member of the professional community, an alien protecting the universe, or a knife-wielding, cannibalistic maniac, there are an array of options for a brilliant doctor costume. Each costume has a range of iconic, instantly recognisable costume essentials, from Hannibal Lecter's mask to psychic paper or a stethoscope. Doctor costumes of varying types work well for Halloween costumes or themed fancy dress parties, such as a film villains theme party or a television icons theme party. eBay has a massive selection of costume kits and costume accessories available for any doctor costume, available new and used, at affordable prices.
Types of Doctor Costumes
Although many people simply think of a regular doctor, such as a general practitioner or an emergency room doctor, when it comes to iconic costumes, there is a huge range from which to choose. Shoppers can choose from a zombie doctor, a classic doctor, Doctor Who, or even the blood-curdling Dr. Hannibal Lecter. Terrify and amaze other partygoers with an authentic and imaginative doctor costume.
When purchasing a readymade costume or the clothing to create a costume, consumers must ensure that they buy the correct size for the best aesthetic result; too large, and the costume loses authenticity and shape, too small and the costume is unflattering and looks unsightly. Using a size chart enables shoppers to select a comfortable, correctly sized garment.
| | | | | | | | |
| --- | --- | --- | --- | --- | --- | --- | --- |
| Size | XS | S | M | L | XL | XXL | XXXL |
| Chest (cm) | 77 | 82-87 | 92-97 | 102-107 | 112-117 | 122-127 | 132-137 |
| Waist (cm) | 67-72 | 72-77 | 82-87 | 92-97 | 102-107 | 112-127 | 122-127 |
| Pant Length (cm) | 70 | 72-75 | 76-78 | 80-82 | 84-85 | 87-88 | 89-90 |
Use the chart above to select clothing of the correct size. To find the chest size, measure around the body, under the arms, at the widest portion of the chest. To measure the waist, place the tape measure around the waist, above the hips. Find the appropriate trouser length by measuring the inside of the leg, from the groin to the foot.
Traditional Doctor Costume
A traditional doctor costume is quick and easy to make and it is ideal for a last minute costume party. The main item of clothing that is required is a plain white lab coat worn over the top of a shirt and tie or smart dress. The accessories are the most important part of a doctor's costume. There are many different accessories to choose from including a clipboard and pen or a stethoscope. Make a name badge using a piece of cardboard and a safety pin. Make a head mirror by covering a round disc of cardboard in foil and fixing to a headband made of cardboard. A face mask and rubber gloves complete the outfit.
Zombie Doctor Costume
Nothing is more terrifying than a zombie doctor with a surgical saw or giant syringe in his hands. To create this look for Halloween or a fancy dress party, the basis of the costume is a set of scrubs. By using scrubs, there is no concern of causing damage to clothes with fake blood or face paints. To achieve the look of the living dead, use whiteface paints to look pale. A makeup sponge ensures that partygoers apply white makeup evenly. A dark eye shadow underneath the eyes makes the eyes look sunken. Place prosthetic wounds to the face and blend the makeup around the wounds. Splatter fake blood all over the scrubs and on exposed areas of the arms and face. For an accessory, carry around a plastic saw or large plastic syringe filled with fake blood.
Doctor Who Costume
There are plenty of choices available for people who consider dressing up as Doctor Who. From the cantankerous and forgetful first Doctor played by William Hartnell through to the childlike and lonely eleventh Doctor played by Matt Smith, each Doctor has his own personality and style that makes them easily recognisable.
People know the fourth Doctor Who, Tom Baker, for his long multi coloured scarf and felt cowboy-style hat. He also wore a purple cravat and calf-length frock coat. The tenth Doctor Who, played by David Tennant, has been one of the most popular Doctors. His costume consists of a white shirt underneath a blue suit and brown overcoat. He also wore red Converse boots. Each Doctor carries a sonic screwdriver and his psychic paper. Make psychic paper quickly and easily by placing a plain piece of white paper inside of a black wallet.
Dr. Hannibal Lecter Costume
One of the most famous fictional serial killers from film, Hannibal Lecter from "Silence of the Lambs" is easily recognisable and the costume is easy to create. Make a straitjacket using a white shirt and belts sewn onto the sleeves of the shirt to tie behind the back. Wear white trousers, white shoes, and wear a Hannibal Lecter mask. A hand trolley is an ideal accessory; the costume wearer just needs someone to push him or her. Another well-known outfit that Hannibal Lecter wore was an orange prison outfit. Wear this outfit with the mask and carry around a nice glass of Chianti and a bowl of fava beans.
How to Buy a Doctor Costume on eBay
eBay sellers, including many of those with top-rated status, offer a plethora of doctor-related costume supplies and props, ranging from clothing to fake blood. Be sure to check out eBay Deals for great discounts on costumes and accessories. Make sure your doctor costume fits with the theme of the costume party or event. If you plan on dressing as a zombie doctor, do not forget your face paint. If you decide to dress as Dr. Lecter, make sure you have the iconic face mask. For the universe-saving Doctor Who, remember your psychic paper and sonic screwdriver. To complete a traditional doctor costume, a stethoscope and a white coat are required. All of these items are available on eBay, and many sellers even offer free delivery.