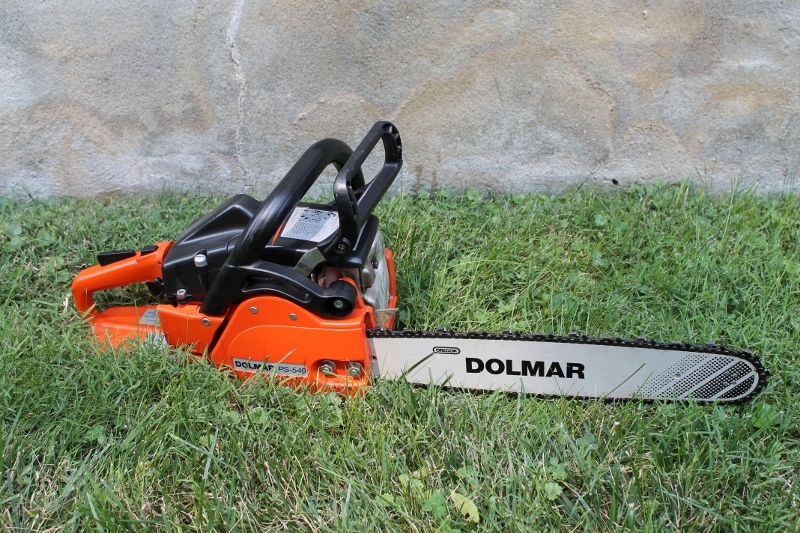 People need chainsaws to chop branches, trees, firewood, and the like, and buyers have many options of chainsaws from which to choose. A majority of users favour petrol models, although they can use electric chainsaws when dealing with small branches. When it comes to brands, Dolmar provides buyers with some rather good alternatives.
Buying a Dolmar chainsaw is not difficult; turning to regular brick and mortar shops is one way to go, and purchasing through websites, like eBay, is another. Buyers should bear in mind that chainsaws are not just powerful, they can be dangerous as well, which is why buying one requires exercising some amount of caution. Buyers should learn how to distinguish between important features.
Choosing the Right Dolmar Chainsaw
Dolmar manufactures both electric and petrol-powered chainsaws, and power is one of the most crucial aspects to consider when making a purchase. Other aspects include guide bar length, weight, durability, and not to forget, safety.
Power
While Dolmar chainsaws with up to 50 cc engines are considered light and best suited for jobs like pruning, other tasks like timber falling, chainsaw milling, and cutting through hardwood require heavy engines between 80 and 125 cc. Medium-powered engines between 50 and 80 cc are best suited to deal with cross cutting, trimming, and cutting small trees.
Guide Bar Length
Guide bar lengths tend to vary in accordance to power with higher-powered chainsaws typically offering longer guide bars. The Dolmar PS-350, for example, comes with a 35.5 cm standard guide bar and a 40.6 cm optional bar. The heavier Dolmar PS-900 comes with four guide bar length options ranging from 50.8 to 81.2 cm. Longer bars are ideal when it comes to cutting through green wood, although shorter bars are better when cutting through dry timber. When it comes to heavy-duty work, a good way to establish suitable guide bar length is to look for alternatives that exceed the diameter of the largest possible logs by more than half.
Weight
The weight of Dolmar chainsaws also depends on power, in which higher-powered chainsaws are heavier. The 32 cc PS-32 weighs 4.1 kg, the PS-35 weighs 4.4 kg, PS-420 weighs 4.8 kg, and the PS-7910 weighs 6.7 kg. Additional features can also have an effect on overall weight, and this is clearly the case with the PS-7910H that weighs 6.9 kg, and the PS-7910W that weighs 7.1 kg. Paying attention to weight before buying a Dolmar chainsaw is important because some can feel extremely heavy when used, which may lead to uncomfortable handling experiences, as well as accidents.
Durability
Durability is not so much a concern when buying a new Dolmar chainsaw since the brand has made a place for itself in the world of outdoor power equipment. However, buyers who are looking for used Dolmar chainsaws should pay attention to the durability of the product.
Safety
Dolmar chainsaws come with SafetyMatic, or integrated chain brakes, to prevent accidents from bumps, jerks, or if it suffers from a kickback. Vibration damping is also an important feature on all Dolmar chainsaws. This feature not only helps to minimise fatigue, it can also help prevent injuries that can result due to excessive vibrations. Some other model-specific safety features include easy start and touch stop options, enhanced fuel level visibility, simplified chain adjustments, and tool-less filter maintenance.
Increasing user safety when using a chainsaw also requires access to other safety equipment, like bar covers, ear muffs, goggles, gloves, and work boots.
Dolmar Chainsaw Power
Dolmar, as mentioned, manufactures both petrol-powered chainsaws as well as electric chainsaws. Buyers who are looking for petrol chainsaws, however, have more alternatives from which to choose.
Petrol
A few of the Dolmar petrol chainsaws include the PS-32, PS-45, PS-350, PS-460, PS-510, PS-5105, PS-6400, PS-7310, and the PS-7910. These do not vary just in terms of engine power, guide bar lengths, weight, and fuel tank capacity, but they also offer users various features from which to choose. For example, while the PS-7910 and PS-7910W do not come with a handle heating system, PS-7910H does. Some of these chainsaws come with adjustable oil pumps that are disabled when the engine is idling, some offer optimum chip flow through, some come with decompression valves, and some of the higher-end models offer up to 15 per cent less fuel consumption through the use of SLR technology.
Other features offered in different Dolmar petrol-powered cordless chainsaws include: easy start, easy restart, automatic chain lubrication, and service-free electronic ignition. Also, all Dolmar petrol-powered chainsaws are capable of functioning at maximum engine speeds of up to 13,800 rpm.
Electric
The ES-173 A is Dolmar's electric chainsaw, and this 5.2 kg saw comes with a 14.5 A motor and a maximum engine speed of 2,600 rpm. It comes with a standard guide bar that measures 40.6 cm, and buyers can also purchase an optional 35.5 cm guide bar. This chainsaw also incorporates Dolmar's SafetyMatic chain brake technology and it comes with automatic chain lubrication. Its chain speed is best suited to deal with a range of cutting and limbing jobs.
How to Buy a Dolmar Chainsaw on eBay
A number of top-rated sellers on eBay sell Dolmar chainsaws, and buyers can expect to find new, refurbished, and used chainsaws through this platform. Buyers also have the option to choose from different petrol-powered, as well as electric, chainsaws when searching through garden tool deals. Some sellers offer free delivery of purchases, and considering the weight of some of these chainsaws, this can definitely cut down on costs.
Size, buyers should remember, is not always indicative of a better chainsaw; furthermore, buyers need to have an idea of the type of work performed by a chainsaw before making a purchase. When dealing with budgetary constraints, look for used chainsaws on eBay.