This is a short guide outlining a simple philosophy on using eBay. When you have decided that you want to buy something, and you intend to use eBay, perhaps you should be a little patient. Don't rush in and purchase the very next item finishing in the next five minutes. Do some research. Compare prices. Look at shipping costs. Look overseas. Look outside eBay. Pick a price setpoint, and stick to it.
I hope I have your attention. I would like to suggest some typical steps to follow that applies when purchasing almost anything on eBay.
Do some research
Compare prices
Look at postage costs

Look overseas
Look outside eBay
Stick to your guns - Google and ess-enn-eye-pee-eee tools

Do Some Research
After you have worked out what you want to buy, so some research. Make use of the Advanced Search options in eBay, and check out the prices for items similar to yours that were actually sold in the last 30 days. For example:
Say you want to buy a Palm Treo 650 PDA. Normally you would put this in a search like this
search for Palm Treo 650
. This will return all the items that mention these terms "palm treo 650" that are about to finish now and in the future. Drill down a little into the results - look at the "Matching Categories" on the left side of the page, and click on the specific category (in this case - "PDAs, Handhelds (7)" ), you can identify the actual item you are looking for, and not all the accessories or other guff.
By scrolling down the page a little, and looking at the "Search Options" on the left side of the page, you can see that there is usually a "Completed Listings" option. Tick this option, and then click on the "Show Items" button.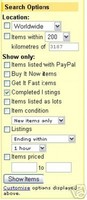 Now you should be able to see some invaluable information - what other people have paid for the item in the last 30 days. This will give you some idea of what the general going price of the item will be.


Compare Prices
You are already part way there if you have checked out "Completed Listings" and seen the prices that people have already paid. Next, you should scroll through a few pages of the search results, to get some idea of the starting prices, and also of the "Buy It Now" prices. If you noticed that most "Completed Listings" prices were higher than "Buy It Now" on items still for sale, it might be worth your while to "Buy It Now". Some people don't pay attention when listing their items, and may set a very low "Buy It Now" price, which could be to your benefit.
Look at postage costs
This is always useful. The total cost that you pay for an item is the final auction price
plus the postage costs.
Don't forget that. So, to get a better idea of how much your item will cost you, I advise you to always display the shipping costs on your "My eBay Summary" page and in the "Search" results. You can do this by customising your display. Click on the "Customise Display" link at the top right of nearly every summary or results page. It looks like this:

You will be presented with a range of choices. Click on the "Postage Cost" entry on the left side (Available Colunns), and then click on the arrows to add it to the right side, Columns to Display. It should look like this when you have successfully added this column: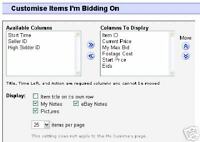 Click "Save" to save this change to which columns are displayed. There are other useful display options that you should also investigate. Now, when you view your items in a summary, such as on your "My eBay" page, you should see an additional column, showing "Postage Costs", like this:

With this additional information, you can make a much better choice about the price that you pay for your items.
You can also add the "Postage Costs" column to the output of the Search. As an additional benefit, the Postage Costs column will also show you details about where the item is being posted from.
Look Overseas
Which brings me to my next point. Look overseas for the item. Search results will identify all those items matching your criteria, within your home country. But it will also, usually, show additional results from overseas sellers. Look at these, and see if you can get it cheaper from them. Usually postage costs lift the price way too high, but sometimes an item including postage, shipped from Hong Kong or China, will be half the price for the same item from an Australian supplier. I don't know how they can do it, but they can.
Look Outside eBay
Before you go full bore into buying everything on eBay, look outside eBay for similar items, to work out the price from other suppliers. Use Google, look at the big sellers like Amazon, check out StaticIce for PC and phone related items in Australia.
Stick To Your Guns
Finally, set a price and stick to it. If you don't need it right now, this very second, then set a price, hold on and watch the prices other's pay. If the item you are looking for is listed many times, then keep an eye on the sold for price and work out the going rate. Make sure that you are paying a fair price as far as you are concerned, and be patient.
The item might show up with a "Buy It Now" price that is in your price range - so, go ahead and Buy It Now. Or maybe the auction ends in the small hours of the morning and no-one has bid on it. Set your price, see if you get it. Or you might notice a supplier listing the item in a one or three day auction, which is unexpected, and you bid on it.
eBay introduced Bid Assistant (late 2007 - early 2008) and has removed it as of late 2008, early 2009.
There are similar tools to Bid Assistant available, search for ess-enn-eye-pee-eee in
Google
and you will find them.
One of these ess-enn-eye-pee-eee tools allows you to identify a few items that you want to bid on, add them to bidding list, then bid on the group , using the tool to place bids on only the item ending soonest. If you win, bidding stops. If you lose that item, it will then place bids on the items in the list to try to win. Have a look at auctionstealer.com and auctionsniper.com.
Don't be too impatient. Research, review and relax.
And enjoy shopping on eBay, like I do.