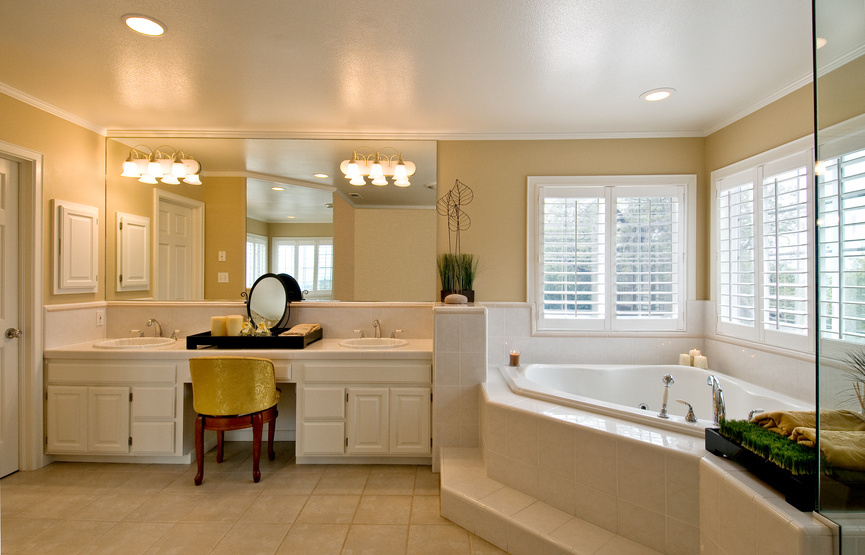 A bathroom is more than just a space for cleaning up and getting ready for work or school, and many homeowners want to turn their bathrooms into beautiful spaces to relax and unwind. From spa-like bathrooms that serve as comfortable retreats to romantic settings, bathroom remodelling possibilities are available to suit all types of consumers. To create dream bathrooms, homeowners have to decide which styles suit their preferences and then choose colours, bathroom fixtures, and accents that match those styles.
Spa bathrooms
A day at the spa leaves most people feeling relaxed and refreshed. To achieve a spa-like setting at home, consumers can start with small touches like soothing paint and fresh lighting or go for bigger changes that involve furniture, sinks, and tubs. Spa bathroom designs focus on creating serene and peaceful environments.
Easy fixes
A simple way to change the atmosphere of the room is to paint the walls a soft colour like light blue, grey, or a shade of cream. Many spas use these colours to soothe customers. Dimmer settings on light switches allow consumers to adjust the lighting for different purposes. They can operate the lights at full power when getting ready for work and then turn them down low for relaxing baths.
Decorative glass jars help de-clutter countertops and gives the room a sophisticated look. Soft robes hanging from hooks on the walls and large fluffy towels displayed neatly on shelves add the finishing touches, and aromatherapy candles, bath oils, and body scrubs provide spa treatment experiences.
Bigger changes
For homeowners who want more complete transformations, adding new fixtures like spa bathtubs with jets, steam showers, and pendant lighting give bathrooms a true spa look. Consumers can replace existing shower heads with rain-shower styles that have an adjustable flow. Bright white tubs and sinks contrast perfectly with the paint, and marble tiles in the shower look great in complementary colours.
Vintage bathrooms
Vintage bathrooms offer romantic charm that is quite appealing to many homeowners. This style is easy to create with some decorative touches. Vintage-style fabrics and retro-style fittings go a long way toward completing the look.
Fabrics and colours
Subtle colours and vintage patterns set the mood in vintage-style bathrooms. Consumers can paint the walls in pastel colours or use wallpaper featuring delicate flower patterns. Lace curtains on windows, old-fashioned apothecary jars on shelves, and chrome finishes on fixtures complete the look. Period pictures provide perfect room decoration.
Tile, hardware, and bathtubs
A classic clawfoot tub is the central attraction in a vintage bathroom. Homeowners can place these tubs in the middle of bathrooms or under large windows. Pedestal sinks come in a number of styles and perfectly mimic turn-of-the-century designs. Small glass or marble tiles on the walls and floors complement the theme, and some oval light fixtures even resemble the gas lanterns of the past.
Zen bathrooms
Zen bathrooms bring natural elements into homes. They provide balance and create an organic feel. Minimalist designs place focus on lighting, water features, colour, and natural materials to create the right mood.
Create harmony
To build harmony in the space, neutral colours like slate, sand, and light shades of green are the best choices. The walls should feature these colours with pops of bright colour, such as deep red, inside cubbies or on shelves. Consumers can match the tiles on the floors and in the showers to the walls and then create backsplashes that use the deeper colour accents. Small stone fountains on counters and live plants bring touches of nature to the room.
Add balance
Consumers can choose materials such as stone for counters and floors. Large soaking tubs look great and are soothing near windows overlooking outdoor gardens. Many people choose tubs and cabinets in dark colours to offset the lighter colours on the walls. For bathrooms without large windows, paintings of scenic landscapes add to the atmosphere.
How to buy essentials for a dream bathroom on eBay
When you are ready to create your own dream bathroom, you can find all the materials you need on eBay. Choose a design idea and then look for the accents and materials you need to make it happen. To search for items, type keywords like "lace curtains" into the search bar located on any page on the site. You can narrow your search by choosing colours, sizes, and more. Scan the list of inventory that comes up to find the items you need. Before you know it, you can start relaxing in style in your perfect dream bathroom.