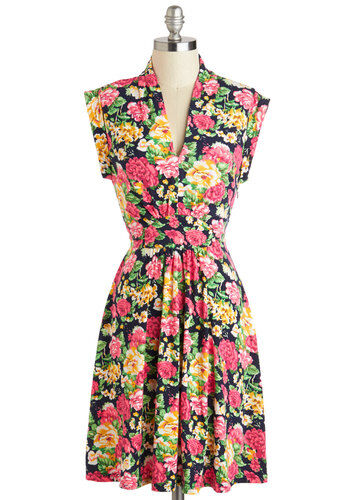 There are many ways one can define dresses; by occasion, length, general style, colour, material, and more. The information that is most useful to the consumer is what kind of dress is most flattering on a certain body type. While knowing styles is important, if the user is wearing a fashionable dress at the correct time and place that does not flatter her figure at all, then the look is all for naught. While every woman has a unique body, there are categories of body types that encompass one's waist, hip, bust, leg, and torso ratios. So before purchasing a dress, the user should understand what her own body type is, and what styles of dresses flatter her the most. After learning about this, she can go to eBay to find deals on the ideal dress for her.
Pear-Shaped
Pear-shaped is a shape that means one has more weight in her hips, thighs, and butt, with a bust that is somewhat smaller. To dress this shape in a flattering way, the shopper should pick a dress that skims her rear, and does not cling to it. With a tea length dress, which has hems that can fall from the bottom of the knee to mid-calf, that has a full skirt and a cinched waist, the shopper has her figured fully outlined in the proper way. The user can also draw attention away from her lower body by selecting a dress that has a plunging V-neck, a halter top, or an embellished neckline.
Apple-Shaped
Being apple-shaped means the shopper has a thick torso; because of this, the consumer wants a dress that elongates her body as much as possible, as well as one that draws attention away from the waist. To accomplish this, the user can buy a dress that has an empire or drop-waist. An empire waist flares out just below the bustline and skims over the midsection, and a drop-waist has the seam at the hips. These lines help to redefine the wearer's waist line, and flatter her figure. This look can also be achieved without a seam, but by using a chain or sash belt that is slung low on one's hips.
Carrot-Shaped
When the narrowest part of the shopper's body is her legs, a fairly loose, longer dress, or midi dress, is desired. With a hemline that hits around her lower calfs, the slimness of the calves and ankles is emphasized.
Heavy or Muscled Arms
If the shopper has flabby or heavily weighted arms, it is advised that she does not wear sleeveless or cap-sleeved dresses; instead, pieces with billowy, bell sleeves that are three-quarters or full length are advised. However, if the user's arms are very muscled, as Michelle Obama's famously are, then she is encouraged to show off her muscle tone by wearing sleeveless dresses.
Large Bust
If the consumer has a larger bust size, she may want to do one of two things: one, wear pieces that emphasize her chest, or two, have dresses that draw attention away from her bosom. The user can choose whichever option she is most comfortable with. To accentuate one's chest, halter top dresses or ones with deep necklines should be purchased. To ensure one's chest does not look oversized, choose fabrics that skim across one's body rather than ones that bind to it. Additionally, the wearer should make sure she has a good, supportive bra so clothing does not have to be adjusted during the day. Thick straps can hide unsightly bra straps. Finally, for users who want to draw attention away from the bust, a dress with an A-line skirt, with a hem that falls one to two inches above the knee, is an ideal option.
Small Bust
For users that have a smaller bust and wish to emphasize what they do have, a dress with pleating or ruffles should be chosen. These frills add volume to the bust area, and help to balance out one's body.
Petite
Women who have smaller, more compact bodies should avoid dresses with very long hems and lots of fringe; this causes the wearer to be swimming in fabric, and leaves the body unoutlined. Mini dresses like bodycons are ideal for petite women.
Plus Size
Plus-size women need to avoid wearing large, baggy dresses in an attempt to cover up their curves; instead, a better option is to wear a wrap dress. This style, flattering on almost any figure, wraps around one's waist, thus emphasizing the smallest part of the body; because of the way a wrap dress works, the wearer also automatically gets a V-neck. Plus-size women also should not shy away from prints; though sometimes small prints work better on larger bodies, there is no reason one should wear a plain, boring dress.
Curvy/Hourglass
An hourglass figure means that the bust and hips are the same size, the waist is well-defined, and that the user has shapely legs. For those with these curves, dresses that have V-necks, flared skirts, and a belt to show off small waists are the ideal pieces.
Boyish
Similar to those who are apple-shaped, drop-waist dresses are the best way to go for those women who have a more straight-up-and-down figure. This retro look, famously worn by many flappers, is exactly right for users with boyish figures.
Short Torso
No matter the user's height, if her torso is short, there is one type of dress that is ideal: an A-line dress. With a hem that flares away from the middle, this dress makes one's torso look longer. Conversely, a cinched waist dress is not a good idea for women with smaller torsos, as belts can make one's proportions look uneven.
Dress Sizing Chart
Besides knowing what type of dress one should wear, knowing one's size is the next most important piece of information. The right size dress can make all the difference in the world, fit-wise, and it helps to have one's waist, hip, and bust measurements memorized for this purpose.
| | | | | | | |
| --- | --- | --- | --- | --- | --- | --- |
| Size | 8 | 10 | 12 | 14 | 16 | 18 |
| Bust | 82 cm | 87 | 92 | 97 | 102 | 107 |
| Waist | 63 cm | 68 | 73 | 78 | 83 | 88 |
| Hips | 88 cm | 93 | 98 | 103 | 108 | 113 |
To get these measurements, the user should wrap a measuring tape around the largest part of one's hips, the smallest part of one's waist, and the largest part of one's bust, keeping in mind not to wrap the tape too tightly. If the consumer is unsure that she measured correctly, see a tailor.
How to Buy on eBay
To start purchasing on eBay, you must first go to the eBay home page. From there, type in keywords that relate to your search into the search box, like "size 12 wrap dress". You can narrow down your search results by choosing to refine certain categories, such as price, brand, colour, and more. To make sure you are buying from a trustworthy seller, look for the "Top-Rated Seller" badge that is located on a seller's page and on the pages of the items they are offering for sale. The "Top-Rated Seller" badge is given by eBay to those sellers who have received consistently positive feedback from buyers in the past, and who have met certain selling quotas that are set by eBay.
Conclusion
As mentioned before, wrap dresses are flattering on just about any figure that exists; this is true for the shift dress as well. Skimming but not clinging to the body, the shift dress hangs straight down from one's shoulders, and some may have a slight A-line cut. Available in heavy winter knits or cool summer cotton, this is an ideal dress for anyone any time of year. As for the myth that black is the most slimming colour, there is truth in that story. However, any darker solid colour, like navy, is flattering, and if the wearer decides to layer over her dress, she should be sure to make the underlayer is darker than the overlayer. This colour contrast causes one's body to sink back and thus look slimmer.