Ducati Motorcycle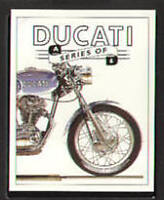 This is one of many illustrated classic Ducati motorcycle guides I've created for the community. I hope you enjoy it. If you wish to find out more about the classic Ducati motorcycle art featured in this guide please click here.
Today, they are world famous for their sporting motorcycles but Ducati's first machines were bicycles with simple clip-on engines. This famous Italian marque, established in 1950, produced its first large-capacity superbike in 1971, a 748cc V-twin overhead-camshaft machine with a top speed of 185kph. This guide details six classic Ducati motor cycle models, including the famous "Silver Shotgun" single of 1971 and the 750 Super Sport of 1974, the definitive factory production racer.
Ducati - 450 Desmo "Silver Shotgun"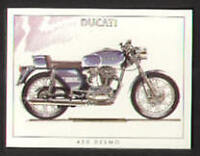 The classic 450 Desmo was first introduced in 1971. Finished in striking metalflake silver with contrasting black frame and chainguard, the new look Ducati quickly became known as the "Silver Shotgun". Racing goodies included Tommaselli clip-ons, a Veglia rev counter, Borrani alloy rims and 35mm Marzocchi racing-type front forks.
Ducati - 750 Sport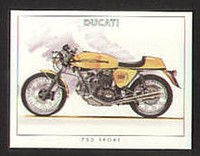 Ducati had been building single-cylinder bikes with shaft driven camshafts for fifteen years when they decided to move into the bigger bike market. The 750, released in 1971, was effectively two singles mounted in a 90 degree V, a layout that was to become a Ducati trademark.
Ducati - 350 Desmo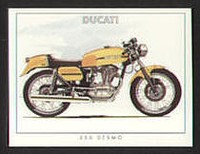 Desmodromic valve gear was offered on all Ducati road bikes from 1971, when the 250, 350 and 450cc single-cylinder models were produced with Desmo cylinder heads. Using an ai-cooled overhead-camshaft four-stroke engine, this 340cc single-cylinder machine produced a healthy 38bhp @ 7,500rpm.
Ducati - 750 Super Sport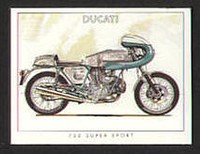 Epitomizing the Italian sporting motorcycle of the 1970s, the "green frame" Ducati 750 Super Sport was a close replica of the Imola 200 winning racer of 1972. Conceived soon after the 1972 race victory, it wasn't until early 1974 that the one and only batch of round-case 750SS s was produced. The definitive factory production racer.
Ducati - 900 Super Sport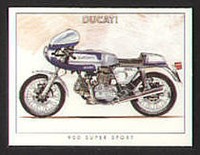 The Ducati 900SS Imola was virtually a racer with road equipment. It featured the famous Ducati desmodromic valvegear system and was probably the lightest and most sparsely equipped superbike of the period. Good for around 140mph (220kph), the 900SS could manage a standing-start quarter-mile in a little over 12 seconds.
Ducati - Mike Hailwood Replica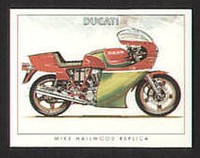 Ducati built the Mike Hailwood Replica to commemorate Hailwood's victory in the 1978 Formula One TT. Introduced in 1979 and based on the 900SS, the body and paintwork echoed Hailwood's racer and the model was to become one of Ducati's biggest sellers in the early 1980s.
Thank you for reading my guide and I hope you found it interesting!