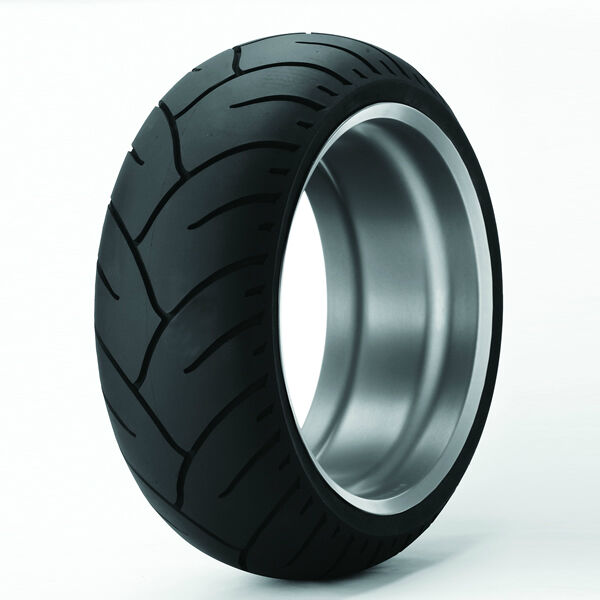 Cyclists around the world respect and appreciate the innovative design of Dunlop motorcycle tyres. For the recreational rider to the racing enthusiast, every type of motorcyclist can find a Dunlop tyre specifically designed to meet the needs of his bike and driving style. Around for more than a century, Dunlop continues to offer an ever-evolving collection of wheels rated for specific weight loads, speeds, and terrain. On a motorcycle, little exists between man and asphalt. Therefore, having safe, effective tyres, such as those from Dunlop, is critical for the safety of cyclists and those with whom they share the open road. When buying tyres, one must consider the style of tyres as well as speed ratings and load ratings, amongst other factors.
Replace Both Tyres at Once
A worn back tyre mixed with a new front tyre can lead to an unstable, shifty ride on any type of vehicle. Especially in the case of motorcycles, where there are typically only two wheels, switch out both tyres at the same time. This leads to even wearing and reduces the odds of an unexpected flat or blowout. It also contributes to improved safety and greater handling.
Tyre Style
Certain types of driving require a certain style of tyre. In the case of motorcyclists, there are three primary options, namely, touring, sport, and off-road. Consumers determine what type of tyres to purchase based on the type or riding they participate in regularly. The same tyres made to accommodate cross-country tours on asphalt roads cannot withstand the harsh, unpredictable terrain associated with off-roading.
Touring Tyres
Touring tyres handle long trips on paved roads, with slow to moderate speed. They are designed to carry the heavier loads associated with travel. The tread pattern of the touring tyre repels water better than most, to withstand rain and snow. These tyres are generally bias-style with a round profile for improved stability and handling.
Sport Tyres
Sport or racing tyres handle short-term bursts at high speeds better than others. They tend to be slicker and thinner than touring tyres. Though they may feature additional treading for handling wet conditions at high speeds, they tend to have a very short lifespan. These tyres feature a pointed profile for better handling and a soft-rubber body for increased grip. They are typically radial in design, as radial tyres are lighter and more nimble.
Off-Road Tyres
Off-road tyres feature knobby, thick treading, designed for better grip of dirty, rough terrain. These tyres are designed for speeding across rocky, unpredictable environments. Motocross as well as recreational off-road enthusiasts use these tyres.
Do Not Mix Radial and Bias
Dunlop offers two primary types of motorcycle tyre, known as radial and bias. These two styles of tyre are not to be intermixed on the same bike.
The main difference between the two relates to design. The sidewalls and tread of radial tyres function as two separate entities. In the case of bias tyres, the tyre is made of multiple, overlapping sheets of rubber. The tyre functions as a unit, with interdependent crown and sidewalls.
Modern motorbike design allows for either radial or bias, but not both. The addition of radial tyres requires changes to the frame and design. It is a good idea to check with the manufacturer's book to determine which of the two tyre types to use. Always replace with the same type and never intermix the two. To do so could be quite dangerous.
Speed Ratings
Every Dunlop motorcycle tyre comes with a speed rating. Consumers who purchase a set of new motorcycle tyres should look for a speed rating that is appropriate for their riding style. Driving above the rated speed for long periods can destroy tyres quickly and increase the odds of a dangerous blowout.
Tyres generally come with a speed to weight marking on the side. Safe speeds decrease with the addition of weight, such as an extra passenger or heavier saddlebags. Look for this information on the tyre coding, next to the size. Some tyres, marked as "V" or "VR", may be capable of reaching speeds up to or exceeding 240 kph.
Load Ratings
Motorcycle tyres carry a weight load rating. With most only having two wheels, motorcycles can only hold so much. When choosing a tyre load rating, a consumer should consider his weight, the weight of his saddlebags, and the weight of the bike. There is also a speed-to-load ratio, which estimates how fast a rider can go with a maximum load on board. Consumers can find this information stamped on the side of most tyres.
How to Buy Dunlop Motorcycle Tyres on eBay
With little between road and man, tyres are expressly important in the case of motorcycles and bikes. Dunlop has offered innovative wheel designs for generations, and the company's tyres are reliable and of good quality. There are several types of Dunlop tyres for motorcycles. Looking for the right size and style ensures a safe, comfortable ride.
You can search for Dunlop tyres on eBay, by using terms related to your needs. Something as simple as " Dunlop motorcycle tyres" yields results with relevant listings. From there, use the eBay refinements provided to narrow the selection to a more manageable list. Also, be sure to look for special promotions on the eBay Deals page. With eBay's selection of products and network of sellers, finding the tyres you need at affordable prices should be relatively easy.